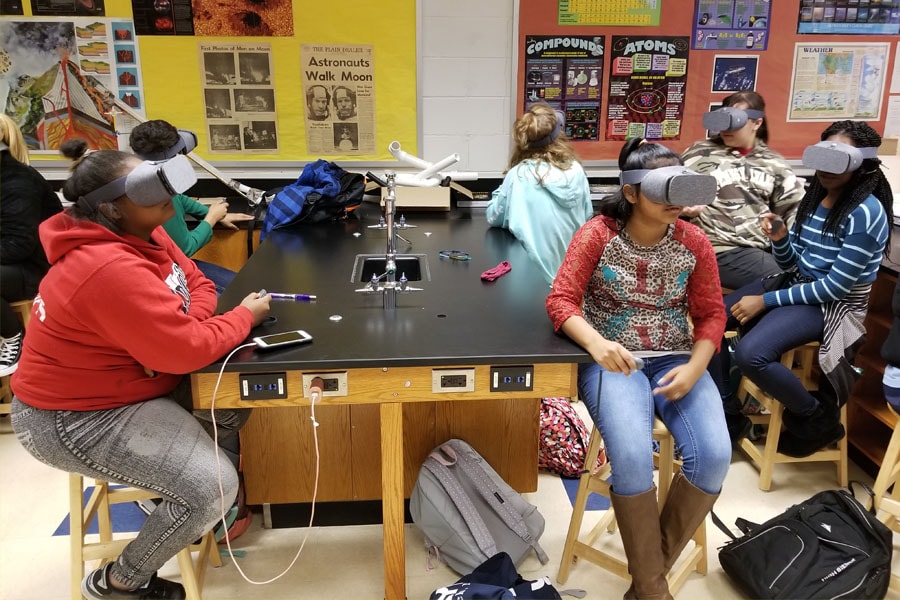 March 01, 2018
ETC Students Create Collaborative Virtual Reality Experience
Project Voyage Eyes Vision of the Modern Classroom
By Hanna Jang
Media Inquiries
Julianne Mattera
Marketing & Communications
A team at Carnegie Mellon University's Entertainment Technology Center is working to make virtual classroom field trips a reality.
"Most VR experiences today are quite isolating and I feel that collaborative experiences could help solve this problem," said ETC student Sharan Shodhan, a producer on Project Voyage.
The Project Voyage team worked with the Cornell School District to create an experience where students and teachers visit a virtual deciduous forest where they take part in a scavenger hunt to learn how to identify plants and animals. What's new is that students and teachers could collaborate in the same virtual reality (VR) environment.
"What makes the Voyage project special is the team's careful attention to the experience design as well as the technical implementation of moderated group VR experiences," said ETC Professor Heather Kelley. "Through research and user testing they identified the social needs of their participants, and built the software's features around those aspects."
Fellow Project Voyage producer Julian Korzeniowsky said the cooperative nature of the VR experience was crucial for keeping classroom communication open during lessons.
"Being able to transport a whole group of people to a different time or place can work wonders for a connected and experiential learning experience," Korzeniowsky said.
Collaboration also proved to be a key theme in Project Voyage's partnership with the Cornell School District.
Kristopher Hupp, director of Technology and Instructional Innovation at the Cornell School District, said the school's teachers requested assistance in teaching lessons about biomes. The teachers provided the essential questions and vocabulary to the ETC team, which used the material to develop a classroom solution.
"The project far exceeded any of our expectations," Hupp said. "They considered the needs of the classroom teachers and students to design a fun and engaging virtual environment. Our students will certainly never forget their lessons about biomes."
Moving forward, the Project Voyage team is working to collaborate with other school districts. Shodhan said he hopes the project will inspire other developers to explore the collaborative VR space.
"This project showed the potential for this space," Korzeniosky said. "We only scratched the surface of exploring VR in classrooms."