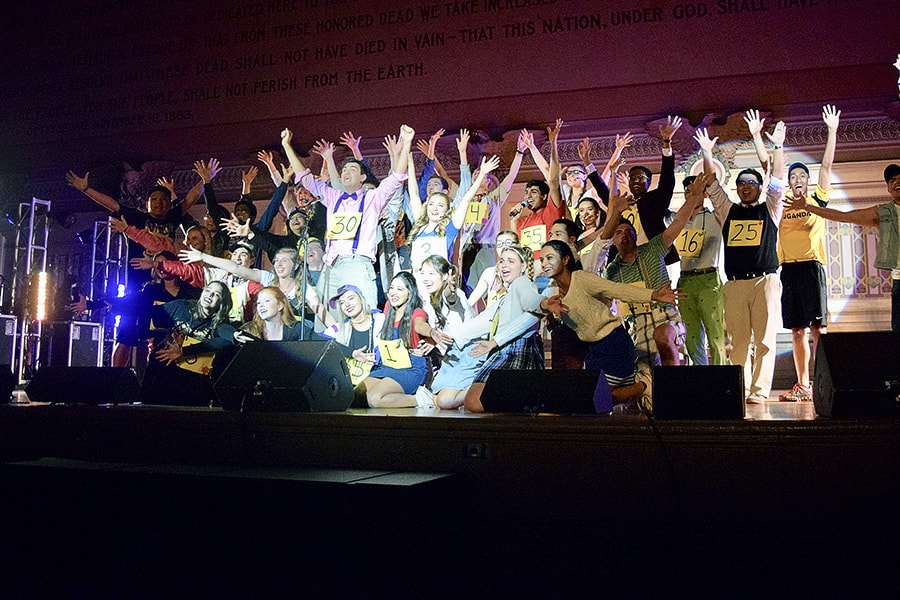 March 13, 2018
Greeks Sing, Dance To Support Families Coping with Cancer
By Kanika Bhandari
Media Inquiries
Julianne Mattera
Marketing & Communications
Carnegie Mellon University's Greek community is singing and dancing their way to support children whose parents are stricken with cancer.
Greek Sing, an annual musical production written, performed and organized by CMU's fraternities and sororities, will take place at 5 p.m., Saturday, March 24 at Soldiers and Sailors Memorial Hall. This year's show will feature short acts based on family favorites like "Alice in Wonderland," "The Jungle Book" and "Tarzan," as well as Broadway hits like "Westside Story" and "Catch Me If You Can." Proceeds from the philanthropic event will benefit Carnegie Mellon's chapter of Camp Kesem, a nationwide initiative that supports children of parents with cancer.
"Every child that has a parent with cancer, no matter how strong they might seem, can and will benefit from being part of a camp that is not primarily about cancer but about being a kid again," said David stone, co-director of CMU's chapter and an ex-camper from Camp Kesem at UCLA.
Lily Daigle, a CMU alumna, founder of Camp Kesem CMU and a full-time employee of the Camp Kesem organization, said more than 22,000 children in the Pittsburgh region meet the camp's criteria, making the need for community support and funding greater than ever.
Last year, CMU's fraternities and sororities pledged to raise $150,000 over two years. In 2017, they raised $100,000 and are now looking to the Pittsburgh community to help them surpass their goal.
Every $1,000 raised allows one child to attend the summer camp and reunion events for an entire year. The funds raised last year also helped to realize a longstanding goal, the establishment of a Camp Kesem chapter at the University of Pittsburgh, which will allow for more campers.
"Cancer touches everyone in some way or the other," said Daigle, who graduated in 2016 with a degree in social and decision sciences. "It's heartwarming to see the community rally around a cause like this."
Daigle, who attended a similar camp as a child, established CMU's chapter in 2014 as a way to give back. Even as it was founded, the chapter received overwhelming support from CMU's fraternities and sororities and the Pittsburgh community, including grants and donations from organizations like the Highmark Foundation.
The same spirit of community runs through Greek Sing.
"Greek Sing is built from the ground up," said Kappa Kappa Gamma Sister Amber Paige, a junior in the College of Engineering. "The participants have been rehearsing since the beginning of the year, building their own sets, playing their own music, and doing all they can to make the show inclusive and family friendly."
Many of the performers are from CMU's School of Drama and School of Music.
"They make their own costumes, and do their own singing. It blows me away every single year," said Ashley Christ, Greek Sing adviser and coordinator of Greek Life at CMU.
This year's show will debut a "Kids' Choice Awards" segment, in which CMU Camp Kesem campers will participate in judging alongside faculty and staff guests.
Tickets are available for advance purchase and will be available the night of the show. Greek Sing also welcomes donations and invites you to follow their Facebook Live stream.
Note: Please credit Carley Johnson for photos.