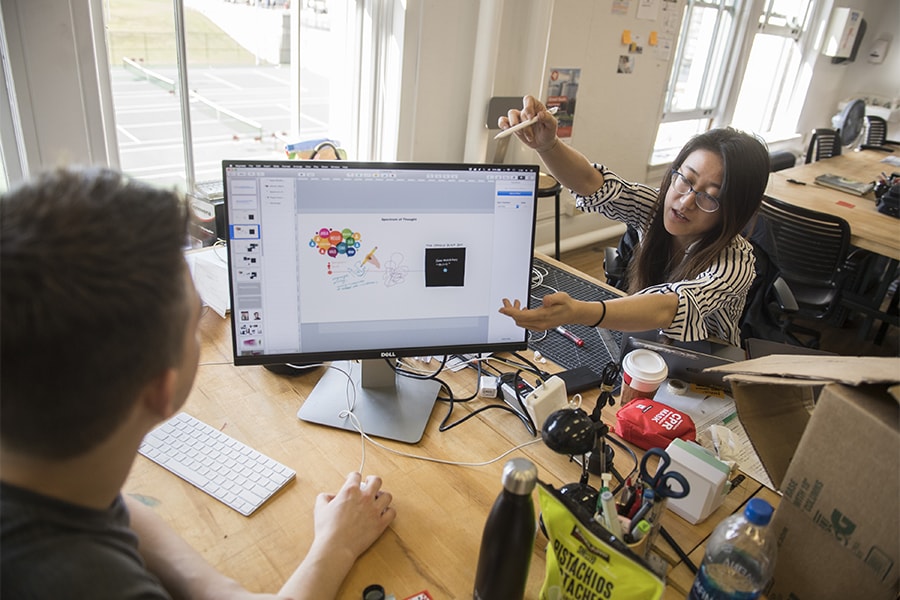 March 06, 2018
Students Study How Design Impacts Artificial Intelligence
By Chris Togneri
Media Inquiries
Design students at Carnegie Mellon University are exploring ways to enhance our interactions with new technologies and the power of artificial intelligence.
"We want the designers of tomorrow to think about the overlap between the human world and AI," said Assistant Professor Dan Lockton, who teaches the course "Environments Studio IV: Designing Environments for Social Systems" in CMU's School of Design and leads the school's new Imaginaries Lab.
"Many of our students are going to go work for companies like Facebook or Google, and they're going to be making decisions that might seem very small in the moment — what text do we put on a button, how easy do we make it for someone to do this thing or that — but those decisions are going to impact people's lives. We want them thinking through how their design has consequences," Lockton said.
Juniors in CMU's School of Design are taking the course, which examines how humans interact with increasingly ubiquitous new technologies.
During a recent class, juniors Cameron Burgess and Marisa Lu spoke about the need for transparency in algorithms and technologies to explain why certain ads and articles appear on specific social media feeds. They argued that transparency is needed to increase tech literacy and bridge the gap between human thinking and machine thinking.
"We take what Amazon and Google say to us at face value, but we shouldn't," Lu said. "We should be asking why."
Other students pitched projects that would allow programmers to take specific aspects of obsolete apps and incorporate them into new technologies and uses for artificial intelligence.
"They are working on creating a speculative 'design fiction' to investigate directions that new approaches to intelligences in environments might lead, and some of the consequences, including ethical problems," Lockton said.
Lockton said it is important for students to consider the ethics of design in everyday life, especially as AI becomes more prevalent.
"The decisions designers make become part of peoples' lives in ways we maybe don't consciously notice," he said. "It happens gradually. It doesn't happen all of a sudden — you don't suddenly decide to exist in a digital world alongside or overlapping with the physical world. We need the next generation to understand that, particularly design students and anyone working with the human side of technology development."
Lockton said traditionally, design students are not schooled in the social, psychological and societal issues surrounding design, but that at CMU's School of Design this has been placed centrally in the curriculum.
"The world is made up of decisions made by designers. It would be irresponsible to not give them an education on the other dimensions of their work."
Carnegie Mellon is a global leader in research and education at the intersection of technology and humanity. The university has been at the epicenter of AI since the discipline was created in the 1950s. CMU faculty, researchers and students are advancing the field today through cross-disciplinary collaboration and proactive dialogue about the ethical implications of innovation. In 2016, global law firm K&L Gates LLP made a $10 million gift to help ensure the university's leadership in this emerging field. A speaker from CMU's K&L Gates Endowment for Ethics and Computational Technologies will address students later this semester, and students also will be collaborating with Data & Society, a New York-based research institute.