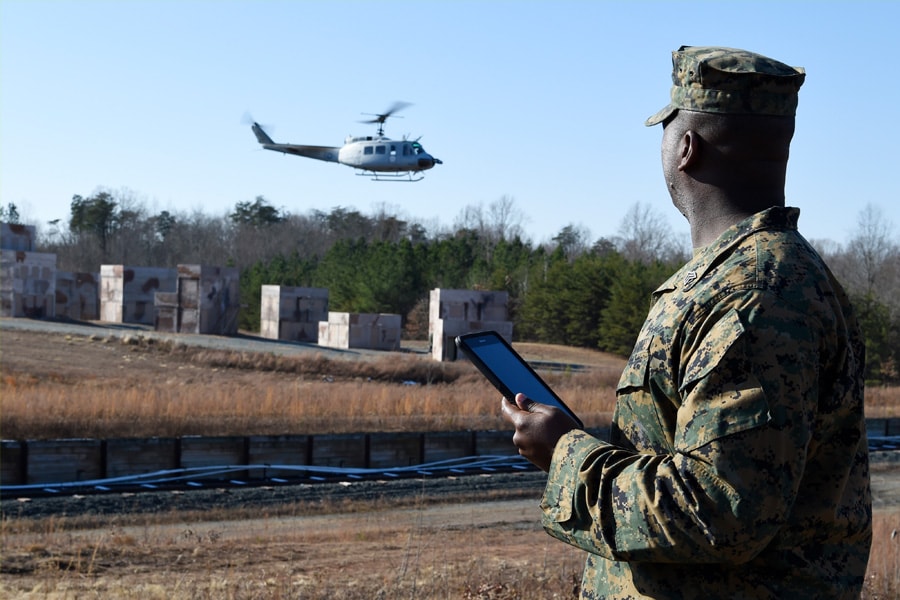 March 09, 2018
Autonomous Rotorcraft System Nominated For Top Aerospace Award
Robotics Institute researchers helped develop sensor/software package.
By Byron Spice bspice(through)cs.cmu.edu
Media Inquiries
Byron Spice
School of Computer Science
An Office of Naval Research project to develop fully autonomous helicopters, which included significant contributions by Carnegie Mellon University's Robotics Institute, has been nominated for the aerospace industry's most hallowed award, the Collier Trophy.
The ONR's Autonomous Aerial Cargo/Utility System, or AACUS, is a package of sensors and software that can be integrated into any existing rotary-wing aircraft to provide autonomous capabilities, including obstacle avoidance, approaches, landings and takeoffs.
ONR said such a system could be used to perform automated military resupply missions in the field, even in contested environments. The technology, however, could have much broader applications.
"AACUS was an open-ended program that did for autonomous flight what the DARPA challenges did for self-driving cars," said Sanjiv Singh, research professor of robotics. The project leveraged decades of research in perception and planning for autonomous flight and prompted Singh and his colleagues to spin off their own company, Near Earth Autonomy, to help accomplish the project's goals.
"This technology will revolutionize the way we move people and goods," he added.
The 105-year-old Collier Trophy, which resides in the National Air and Space Museum in Washington, D.C., is presented by the National Aeronautic Association "for the greatest achievement in aeronautics or astronautics in America, with respect to improving the performance, efficiency, and safety of air or space vehicles, the value of which has been thoroughly demonstrated by actual use during the preceding year."
Previous winners include the crews of Apollo 11, the Mercury 7 and Orville Wright. Projects and programs which have received the trophy include the B-52, the Boeing 747 and the International Space Station.
A Robotics Institute team headed by Sebastian Scherer, systems scientist, led development of AACUS motion planning software that determines flight trajectories and landing approaches. A second group at Near Earth Autonomy, led by Singh, developed the sensor package and perception software and played a key role in field deployment and testing.
The AACUS project culminated in December with a successful demonstration at Marine Corps Base Quantico, VA. This demonstration allowed a Marine, with no prior experience, to program a resupply mission involving a UH-1 "Huey" helicopter after only 15 minutes of training.
"We at ONR are very excited and proud of the AACUS team that was selected as a finalist for this very prestigious Collier Trophy. When you consider that previous winners include the Apollo 11 and the Boeing 747 teams, you realize what a truly outstanding achievement this is," said Knox Millsaps, director of the division of Aerospace Sciences in ONR's Naval Air Warfare and Weapons Department. "But our greatest sense of excitement and pride comes knowing we've provided a technology that could help the Marine Corps warfighter stay out of harm's way during resupply missions."
Other nominees for the 2017 Collier Trophy include the NASA/JPL Cassini Project Team, the Boeing 737 MAX and the Vanilla Aircraft VA001, which last year set an endurance record for unmanned aircraft systems with internal combustion engines with a flight of 121 hours, 24 minutes.
The winner of the award will be announced March 23.
The AACUS project, now complete, is being transitioned to the Marine Corps for further experimentation and development.