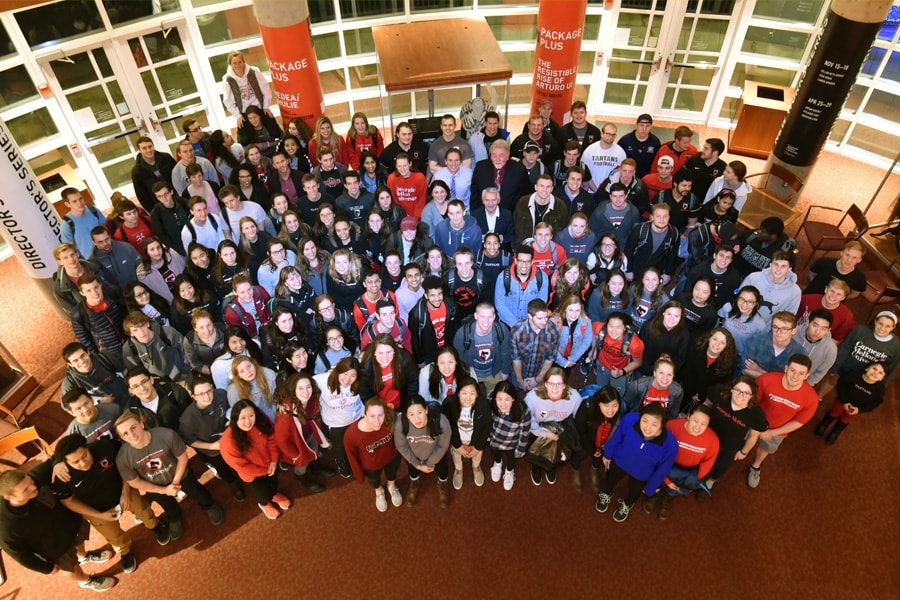 March 01, 2018
Tartans Go to the Theater in Second Act of Athletics-Drama Collaboration
By Andrea James awesp(through)andrew.cmu.edu
More than 150 Carnegie Mellon University student-athletes enjoyed the School of Drama's production of "The Drowsy Chaperone" Feb. 27 at CMU's Philip Chosky Theater. Earlier this semester, drama students attended a men's and women's basketball doubleheader against NYU.
The musical and basketball games marked the second consecutive year of a collaboration between the Athletics Department and College of Fine Arts.
"We have established a wonderful relationship with our colleagues in the College of Fine Arts, and it was a terrific opportunity for our student-athletes to have an evening at 'The Drowsy Chaperone,'" said Director of Athletics Josh Centor.
Senior swimmer Mary St. John said she loved the performance and seeing so many athletes in the theater.
"It was great for this many of us to come to the theater to support the drama students. It was a wonderful musical," said St. John, who is studying mathematical sciences.
Following the performance, a "talk back" session was held on the stage between the drama student performers and the student-athletes in attendance.
"I stayed for the talk back to learn more about the creative process. As audience members, the only people we see are the actors, so I enjoyed hearing from the creative team about their process," St. John said.
Centor said the partnership with the School of Drama is to benefit students.
"Carnegie Mellon is a world-class university, and there are incredible things happening every day — sometimes those things are happening on the fields of play, sometimes they are in the theater, in classrooms and all over campus," Centor said. "Our ambition in the Athletics Department is to help make connections so we can provide the best possible student experience for all."