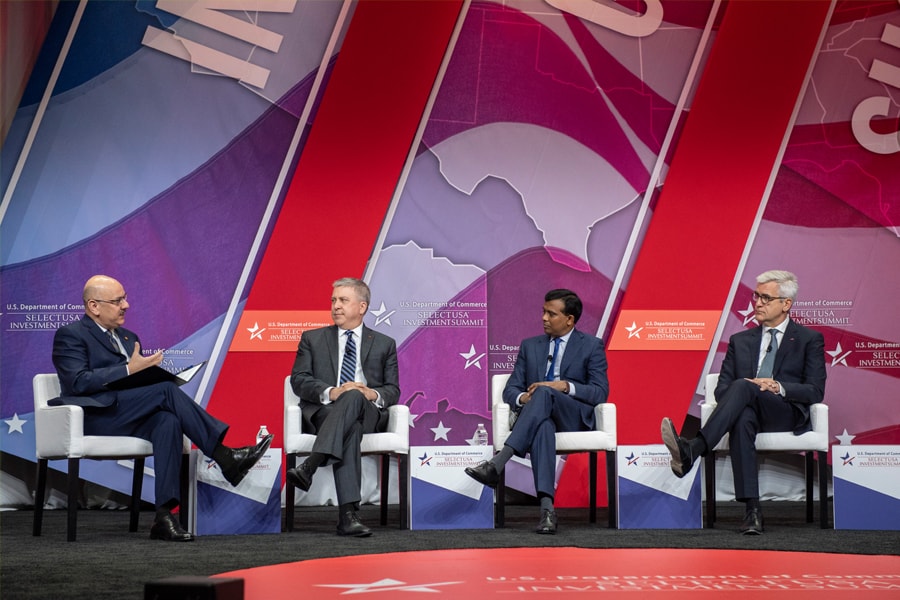 June 20, 2018
CMU President Leads SelectUSA International Panel on Innovation
Farnam Jahanian and panel shared perspectives on how international business thrives on the innovation, talent and environment of the U.S. ecosystem
Media Inquiries
Matthew Nagel
Marketing & Communications
Carnegie Mellon University President Farnam Jahanian led an international panel discussion on the innovation ecosystem titled "Growth Beyond the Bottom Line" for the 2018 SelectUSA Investment Summit Friday morning in Washington, D.C. This annual summit, hosted by the Department of Commerce, is the highest-level foreign direct investment event in the United States.
Panelists from three diverse global firms shared their perspectives on the opportunities afforded by the U.S. innovation ecosystem to advance an international strategy.
The panel featured Dave Henderson, president of United States Operations, Commercial and State Government at CGI; Ravi Kumar, president and deputy chief operating officer at Infosys; and Ulrich Spiesshofer, chief executive officer of ABB.
During his introductory remarks, Jahanian commented on the unique partnerships that bring investment and innovation together.

"Across the United States, partners from industry, academia, government, and regional economic development organizations are working together to help global businesses invest, grow and succeed in their communities," Jahanian said. "Global firms can tap into the U.S. innovation ecosystem through talent acquisition and workforce development, research and development opportunities, technology transfer, and other partnerships across 52 U.S. states and territories — including with universities like Carnegie Mellon."
CMU President Farnam Jahanian moderated the panel "Growth Beyond the Bottom Line" for the 2018 SelectUSA Investment Summit.
The panel discussion touched on the importance of talent, the future of work in the age of disruption and how businesses can utilize new technologies to drive their business.
On the topic of talent, Kumar remarked on a prevailing myth that tech companies are only hiring students with STEM educations. He said that Infosys has invested in a 8-12 week training program to complete the "last mile" of education for new employees hired directly from academic institutions to succeed in their roles.
"We're not only hiring from STEM colleges, we're also hiring from liberal arts and design schools," Kumar said. "To me, that's what's needed in the field of technology businesses — you need talent across the value chain. It's not just STEM talent that's focused on engineering, products and services. You need liberal arts and design talent to go far."
In addition, Kumar said that Infosys is committed to addressing the lack of gender diversity in the tech space.
"We want to make it a part of our endeavor to have a very inclusive environment," Kumar said.
"Our partnerships with educational institutions have helped create a pipeline of talent for us from top universities and community colleges, enhancing our ability to attract and reskill local talent throughout the country," @imravikumars. #SelectUSASummit pic.twitter.com/3ye3AKr3RM

— InfosysEvents (@InfosysEvents) June 22, 2018
Spiesshofer said that academic partnerships, such as the one ABB has with Carnegie Mellon, are essential to the company's business.
"We would not be the global leader in power grids, moving from classic technologies to now using artificial intelligence to run a smarter grid, without our many partnerships with leading-edge institutions all over the world, and especially here in the U.S., the largest economy in the world," Spiesshofer said.
ABB would not be the global leader in power grids, if we didn't work with partners around the world. Partnerships allow us to focus on our strengths, and to complement the strengths of others. -us @SelectUSA #SelectUSASummit https://t.co/2a1G83T2oF

— Ulrich Spiesshofer (@ABB_CEO) June 22, 2018
He added that the future of workforce development is using technology like automation and AI to augment the tasks done by skilled workers and ultimately create better jobs, which will lead to more prosperity and growth. To do so will require ongoing partnerships.
"We need to bring educational institutions, the government and companies together and say 'let's really drive this in a positive way.' ... This will be the winning formula," Speisshofer said.
Henderson reiterated that there's no escaping the fact that everyone is part of a global ecosystem. Along with having a global talent network, he said finding ways to harness the massive quantities of data being collected through the Internet of Things and smart phones is essential to businesses.
"Data is really something we are all trying to master," Henderson said. "Right now, we're throwing a lot of technology at our business so that we can derive more insights from the data. But we have only scratched the surface of what we can do when we capture this enormous power."
CGI's Dave Henderson at this morning's #SelectUSASummit discussing how we partner with communities to build a 21st century workforce, discover and deploy new technologies, and enable growth and job creation. Thanks @SelectUSA pic.twitter.com/u5xgA9onOS

— CGI United States (@CGI_USA) June 22, 2018
SelectUSA, hosted by U.S. Commerce Secretary Wilbur Ross, serves as an initial point of contact for companies seeking to invest in the United States and for economic development organizations exploring new ways to attract investment. Industry leaders who attended the summit discussed how companies can navigate and position themselves advantageously in this fast-paced economy.
The Department of Commerce's SelectUSA Investment Summit hosted more than 3,000 government and industry leaders from around the world. Speakers included senior U.S. government officials, C-Suite business executives, and other thought leaders, discussing key policies and trends related to the U.S. investment environment and business opportunities.
In addition to moderating Friday morning's panel, President Jahanian also participated in high-level roundtable discussions on workforce development and infrastructure during the three-day summit.