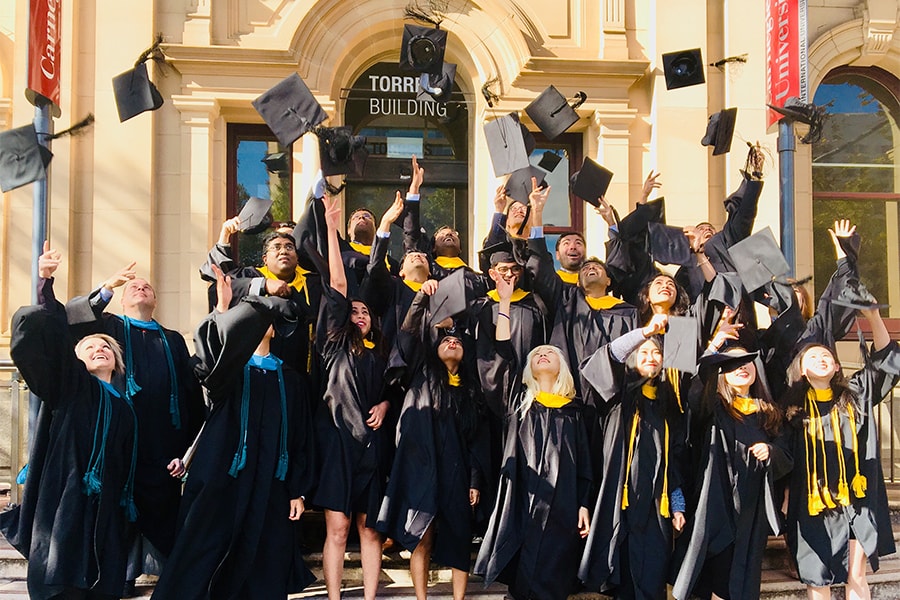 June 01, 2018
CMU-Australia Graduates Urged To Embrace Meaningful Change
By Faith Yong fyong(through)andrew.cmu.edu
Media Inquiries
Shryansh Mehta
Heinz College of Information Systems and Public Policy
Keynote speaker Joanna Batstone, vice president of IBM Watson & Cloud Platform, encouraged the 2018 graduates of Carnegie Mellon University in Australia to choose innovation that matters, strive for excellence and build trust in relationships.

"The programs at CMU in Pittsburgh and here in Adelaide have equipped you with a global view of the opportunities in technology," said Batstone, who has held a number of technical and business leaderships roles in IBM's Research and Development Laboratories in Australia, New Zealand and the United States.

"Not many graduates in Australia have had the opportunity to study in the USA. You have a real edge, a real competitive advantage. So bring that experience, bring that global experience to your local economy here. For those of you who are moving abroad, bring that experience to your new countries and leverage all that the university here has taught you."

She challenged them to be bold, take actions and embrace change.

"As scientists, engineers, public policymakers, future leaders in government, as you make choices, choose work that is significant, that's meaningful, that's essential," Batstone said. "Be essential for your future employers, for your families, for your friends."

Since 2006, Carnegie Mellon Australia has graduated nearly 500 students in information technology and public policy and management. The program, which is located in Adelaide, South Australia, is part of CMU's Heinz College of Information Systems and Public Policy.

Graduation is a momentous occasion," said Heinz College Dean Ramayya Krishnan via a video message. "Keep the CMU flag flying high. Bon voyage, and best wishes."

Head of Carnegie Mellon University in Australia and Distinguished Service Professor of Public Policy Professor Emil Bolongaita thanked family and friends who have supported the graduates throughout their journey.

"Your labors of love have borne fruit, and I trust the graduates will return the favor in due course. They are smiling ear to ear as I look at them now," Bolongaita said. "Now comes the hard part. As you know, and as Joanna has alluded in her presentation, the world today is hyper globalizing because of breakthroughs in science and technology, which are changing our very world right before our eyes. And these unprecedented changes present enormous opportunities for individuals and organizations that are prepared to take advantage of these changes."

Jonathan Teubner, a Downer-Rann Scholar and manager of Economic Regulatory Development at Australian Rail Track Corporation, was selected as one of three student speakers. He began his part-time public policy degree in 2015, and shared how the program has enhanced his understanding of the policy development process.

"I can now frame debate in a compelling, alternative economic framework that actually explains the industry and the policy issues confronting it, highlighting the future directions that are required to repair not just gas policy, but also energy, rail and other utilities that have faced the same competition reforms over the years," Teubner said. "The diversity of thought CMU-A promotes and the innovation and quality of its teaching has opened my mind to new thinking and possibilities and I feel energized and richer for it."

Teubner, who will present a paper on his research at the 7th Annual International Conference on Law, Regulations and Public Policy in Singapore in late June, was one of three students who were presented with Excellence Awards. Teubner earned the public policy and management award, and Zhaohan Wang and Vinaya Sai Davuluri received the information technology management and business intelligence and data analytics awards, respectively.
Student speaker Yulin Zhou, who graduated with a master's degree in information technology in business intelligence and data analytics, said she and her peers were held to the highest master's degree standards in the world.

"Students are not taught step by step how to write code. Instead, we are pointed to the right path and encouraged to explore every solution where we can learn so much more from hands-on experience and reflect on our work in depth," Zhou said.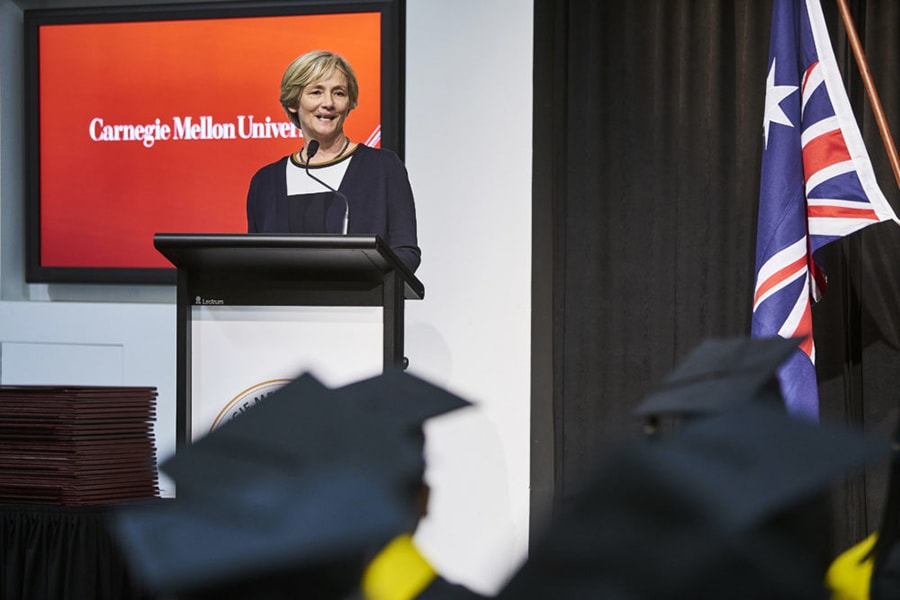 Keynote speaker Joanna Batstone told graduates to choose work that is significant, meaningful and essential.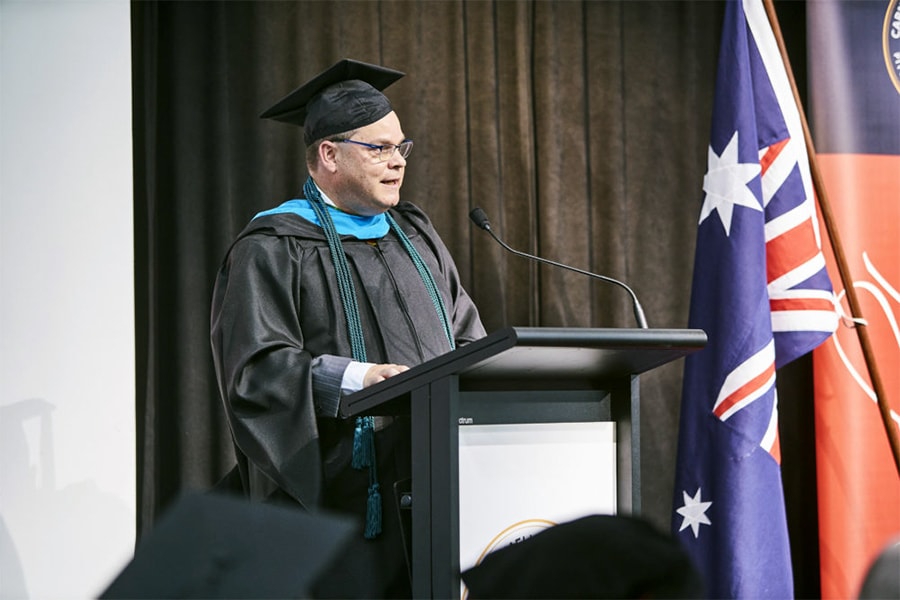 CMU-A graduate and Downer-Rann Scholar Jonathan Teubner said the CMU-A program has opened his mind to new thinking and possibilities.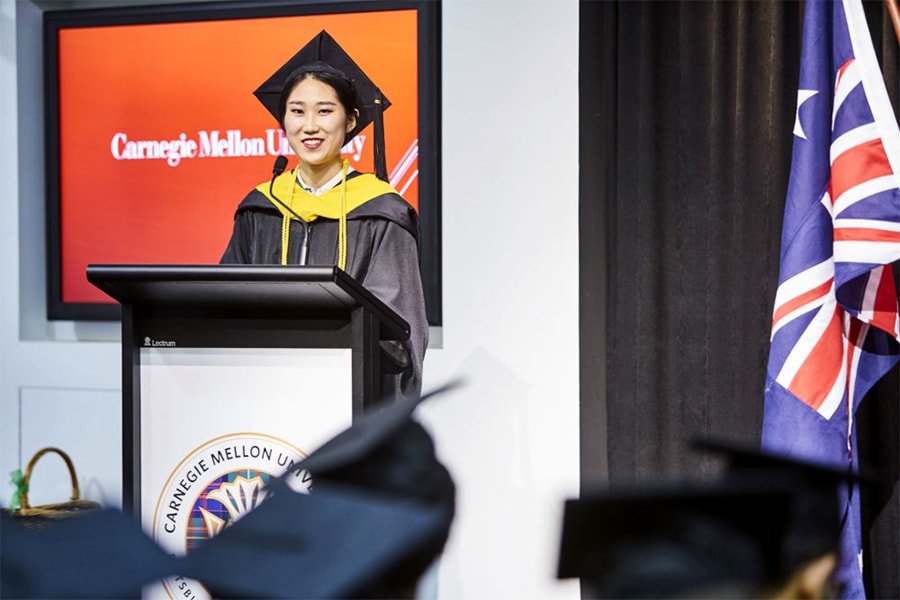 Student speaker
Yulin Zhou praised the hands-on learning at CMU-A.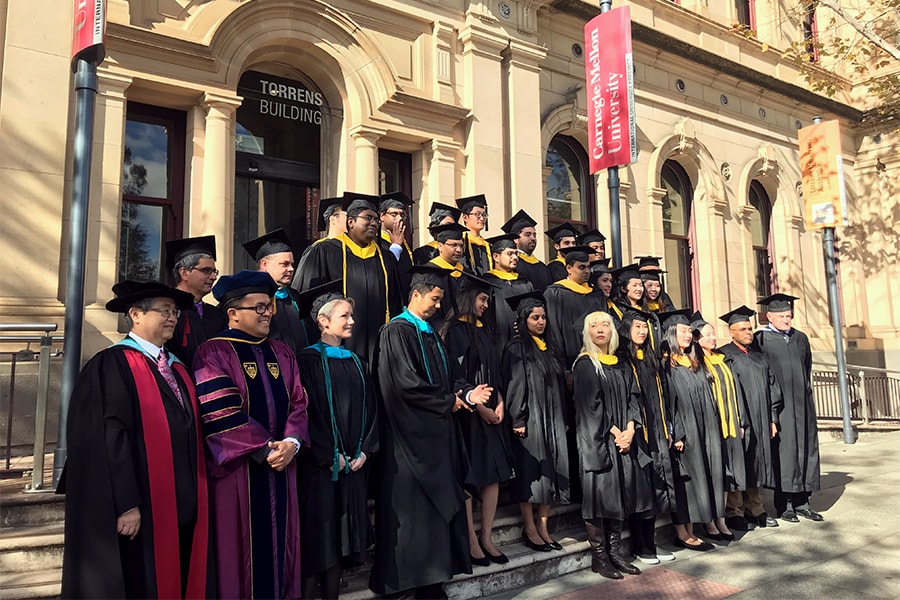 CMU-A's Class of 2018 poses for photos in front of the Torrens Building.