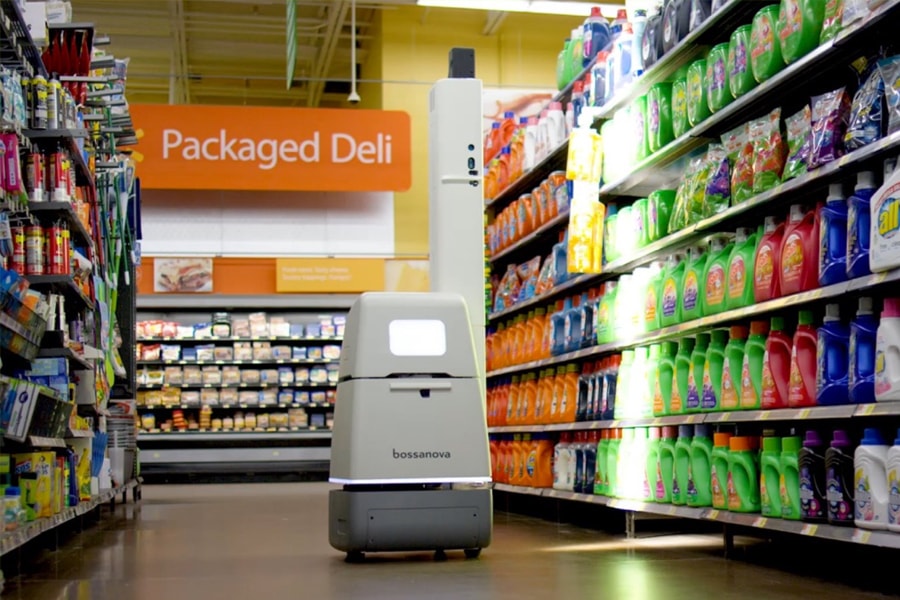 July 18, 2018
Carnegie Mellon Partners with Bossa Nova To Bring Best-in-class Artificial Intelligence to its Data and Analytics for Retailers
By Daniel Tkacik dtkacik(through)andrew.cmu.edu
Media Inquiries
Carnegie Mellon University announces a research partnership with Bossa Nova, the leading provider of real-time, on-shelf product data for the global retail industry, to develop and integrate artificial intelligence into service robots in retail stores nationwide. Bossa Nova's robots are currently used in 50 Walmart stores across the United States, making it the largest deployment of this kind of technology in any retailer.
"This exciting collaboration between Bossa Nova and Carnegie Mellon reflects the growing synergy between universities engaged in cutting-edge research and companies that specialize in emerging technologies," said Farnam Jahanian, president of Carnegie Mellon. "By bringing together CMU's expertise in advanced artificial intelligence with Bossa Nova's revolutionary software and industry partnerships, we can improve the retail experience for millions of consumers."
Bossa Nova recently acquired the AI company, HawXeye, a CMU spinoff founded by Professor Marios Savvides and Andy Lin. Savvides is the director of the CyLab Biometrics Center and a professor in the department of Electrical and Computer Engineering.
CyLab's Marios Savvides and his biometrics lab will be teaming up with Bossa Nova.
"With the leadership of Prof. Savvides, the HawXeye team has an impressive track record of successfully transferring AI research out of a lab environment and into reliable and scalable products," said Bruce McWilliams, CEO of Bossa Nova. "We have only scratched the surface of what's possible in retail and together, we will accelerate the development of advanced, AI-powered, data-focused solutions. We're thrilled to welcome the HawXeye team and Prof. Savvides to Bossa Nova and to further expand our relationship with CMU."
To date, Savvides' biometrics lab has largely focused on using AI to detect and identify faces for authentication or surveillance applications. Through this new partnership with Bossa Nova, Savvides' lab will adapt their AI analytics to detect and identify retail products on store shelves.
"We're very proud of Marios for his groundbreaking work in biometrics," said James H. Garrett, Jr., dean of Carnegie Mellon's College of Engineering. "This is an exciting illustration of the College of Engineering engaging in unique approaches and applications of AI."
Savvides' lab will work to implement AI analytics into Bossa Nova's technology, which work in-tandem with store managers and associates, for precise product recognition at large scale, out-of-stock detection and misplaced products by autonomously scanning retail store shelves.
CMU has a long history in artificial intelligence including the creation of the first AI computer program in 1956 and pioneering work in self-driving cars, facial recognition and natural language processing. CMU recently announced a new undergraduate degree in artificial intelligence — the first of its kind in the U.S. — providing students with in-depth knowledge of how to transform large amounts of data into actionable decisions.