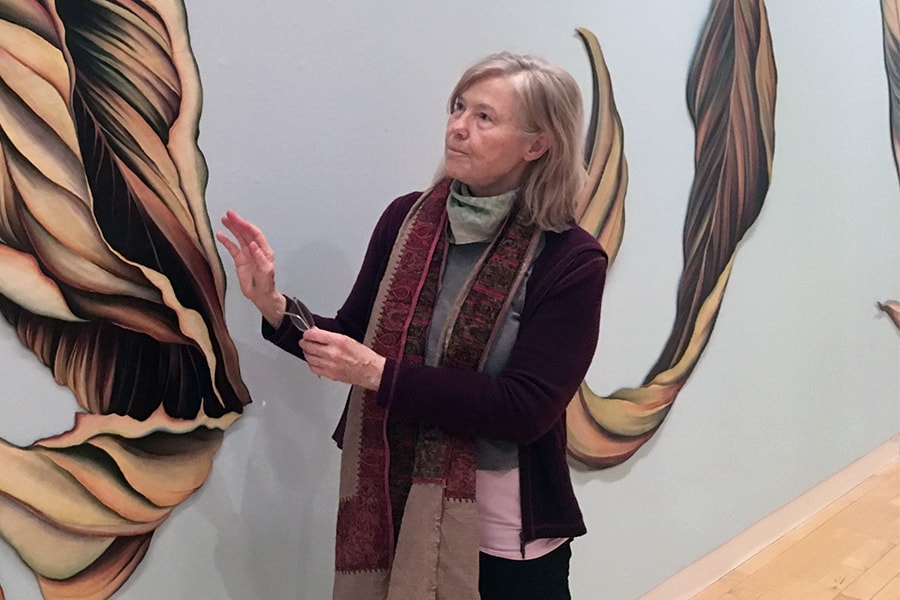 January 29, 2018
Feminist Artist Compares '70s Movement to #metoo, "Time's Up" Campaigns
Faith Wilding's Exhibition, "Fearful Symmetries," Now at CMU Miller Gallery
By Pam Wigley pwigley(through)andrew.cmu.edu
Media Inquiries
In the late 1960s and early 1970s, artist and former Carnegie Mellon University Visiting Professor Faith Wilding was an art student at California State University, Fresno. She, like so many others during this time period of political unrest, the civil rights movement and the Vietnam War, became directly involved in political action and resistance work.
Together with other women at California State University, Wilding began a "consciousness-raising discussion group" to tackle taboo subjects like rape and oppression by male counterparts — things that, Wilding said, simply were not discussed openly. Through their frank weekly discussions, group members ventured down a new and largely untrodden path, giving a voice to the challenges facing women at the time. Wilding's artwork became a manifestation of these conversations and revelations. As a result, she found herself becoming a leader in the feminist art movement.

"There were so many female art students at our university, yet there were no female faculty," Wilding recalled. She said UCLA grad and artist Judy Chicago was invited to teach at Fresno and demanded to instruct an all-female art class, working with Wilding to interview women and develop a curriculum.
"We were so fortunate to have Judy come, and we had an enlightened head of the School of Art, so we began to find and create a tradition of feminist art," Wilding said. "Because that's how art begins. Art comes from other art."

Their work focused on how women's bodies were being treated and depicted, which Wilding sees as a direct association with the current environment surrounding women's empowerment via the "#metoo" and "Time's Up" campaigns. And yet, she said, 40 years have passed and progress has been very slow.

"These issues have always been so secret for so long," Wilding said. "[As a woman], you didn't think anyone would believe you, so we wanted to find a way to make art relate to our experiences. Back then, no one talked about rape and how it wasn't a woman's fault."
Wilding said while that has changed to some extent, the events being made public within the entertainment industry show there is still a long way to go.

A widely exhibited international artist, Wilding has strong connections to Pittsburgh. She was a visiting assistant professor in Carnegie Mellon's School of Art from 1995-1998. She has been a fellow of CMU's Frank-Ratchye STUDIO for Creative Inquiry since 1998. She also co-founded and collaborates with subRosa, originating in Pittsburgh in 1998.
"I brought Faith Wilding's retrospective to CMU because of its historial relevance, her connection to the university and because feminism is at the forefront of news within our society," said Miller Gallery Director Elizabeth Chodos. "This work is here because I wanted the gallery to offer the campus and Pittsburgh communities insight into this pressing issue within a public environment that encourages engagement with the topic through dialogue, contemplative space and exchange."
Chodos went on to note that current events surrounding "women's voices and women's truths are affecting and influencing the political landscape in unprecedented ways." She said Wilding's exhibition offers an intimate, politicized and poetic view on the female experience.
Miller Gallery Assistant Director Margaret Cox was a student at Carnegie Mellon in the 1990s when Wilding served as a visiting professor. Cox said she remembered Wilding being very open when teaching about the female body and, specifically, female identity.
"It was the '90s — a time when buzz words like 'obsolete body' and 'anonymity of the internet' promised to set us free from ideas of race, gender and sexuality," Cox said. "Faith was talking about the body, she was talking about identity. It's interesting how we've returned to these core ideas of being as a way to heal in society."

"The body is a very delicate and very strong thing. It is sacred," Wilding said. "Just talking about what has happened — both in the '70s and now — is a form of empowerment for so many women. It's not just one of us. It's all of us."