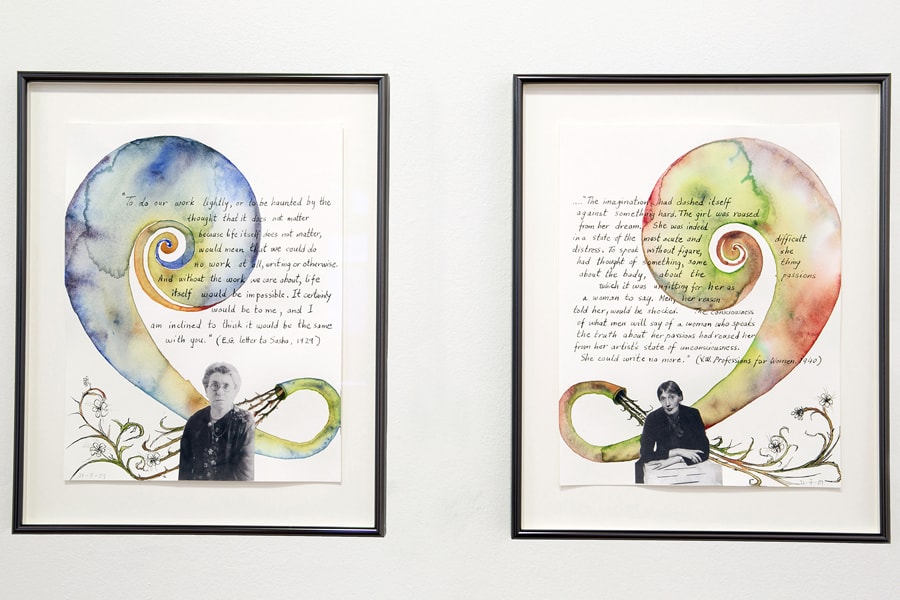 January 08, 2018
Carnegie Mellon's Miller Gallery Hosts "Faith Wilding: Fearful Symmetries" Jan. 20 - Feb. 25
By Margaret Cox mc94(through)andrew.cmu.edu
Media Inquiries
Carnegie Mellon University's Miller Gallery presents "Faith Wilding: Fearful Symmetries," the first retrospective exhibition of the influential feminist artist, Saturday, Jan. 20, through Sunday, Feb. 25.
An Artist Talk will take place at 5 p.m. Friday, Feb. 16, followed by a reception from 6-8 p.m., co-sponsored by the Center for the Arts in Society. The exhibit, talk and reception are free and open to the public.
Wilding played a key role in the formation of the Feminist Art Program at California State University in Fresno and at the California Institute of the Arts in the early 1970s. She was a major contributor to the historically significant month-long collaborative installation "Womanhouse," sited in an abandoned mansion in Los Angeles in 1972, where she performed her highly celebrated work, "Waiting."
A widely exhibited international artist, Wilding has strong connections to Pittsburgh. She was a visiting assistant professor in Carnegie Mellon's School of Art from 1995-1998. She has been a fellow of CMU's Frank-Ratchye STUDIO for Creative Inquiry since 1998. She also co-founded and collaborates with subRosa, originating in Pittsburgh in 1998.
"Faith Wilding: Fearful Symmetries," curated by Shannon R. Stratton in collaboration with Wilding, includes a selection of works from Wilding's studio practice spanning the past 40 years, highlighting a range of works on paper — drawings, watercolors, collage and paintings. Taking up key allegorical imagery in Wilding's work, the exhibition focuses on themes of becoming, both the transformative event itself, and the threshold to transfiguration. This state of in-between-ness is articulated through imagery of leaves, the chrysalis, hybrid beings, and liminal circumstances themselves, such as waiting, the subject of Wilding's two prominent performances "Waiting" and "Wait-With."
Wilding's work is both delicate and harsh in its exploration of the pivotal moment between private revelation and public manifestation. Viewed together in this exhibition, her work makes a powerful impression about psychological and physical transition and transformation. In the depiction of the chrysalis and the embryo, for example, gestation is suggested, while in imagery of tears, wounds, and recombinant bodies, emergence and materialization are pronounced. The sum of these parts provides a unique account of how themes of emergence were central to Wilding's articulation of feminism, and her own reflections on a childhood growing up in an intentional Christian commune.
The exhibition will be accompanied by a publication featuring original writings by Wilding, Irina Aristarkhova and Mario Ontiveros.

About the Artist: Faith Wilding is professor emerita of performance art at the School of the Art Institute of Chicago, a graduate faculty member at Vermont College of Fine Arts, and a visiting scholar at the Pembroke Center, Brown University. Born in Paraguay, Wilding received her bachelor's degree from the University of Iowa and her master's degree in fine arts from the California Institute of the Arts. Wilding was a co-initiator of the Feminist Art programs in Fresno and at CalArts, and she contributed "Crocheted Environment" and her "Waiting" performance piece to the historic "Womanhouse" exhibition. Her artwork has been featured in major feminist exhibitions including "WACK! Art and the Feminist Revolution"; "Sexual Politics"; "Division of Labor: Women's Work in Contemporary Art"; and "re.act Feminism." Her writing has been featured in such books as "The Power of Feminist Art," "By Our Own Hands," "The Feminism and Visual Culture Reader," "MEANING" and many more.
Wilding has exhibited nationally and internationally, including at the Reina Sofia Museum in Madrid; Centre for Contemporary Art in Glasgow; MoMA PS1 and the Bronx Museum of Art in New York; Museum of Contemporary Art and Hammer Museum in Los Angeles; University of California Riverside Museum of Art; the Singapore Art Museum; and many others. Wilding co-founded and collaborates with subRosa, a cyberfeminist cell of cultural producers using bioart and tactical performance in the public sphere to explore and critique the intersections of information and biotechnologies in women's bodies, lives and work, and she is the co-editor of "Domain Errors! Cyberfeminist Practices!" She is the recipient of a Guggenheim Fellowship, Creative Capital grant and artist grants from National Endowment for the Arts.
Faith Wilding: Fearful Symmetries originated at Threewalls in Chicago in January 2014 with an archive, reading room and screenings curated by Abigail Satinsky. It has since been exhibited at: Rhodes College, Memphis, Tennessee (Sept. 5 - Oct. 4, 2014); Pasadena Armory Center for the Arts, Pasadena, California (Sept. 26, 2015 - Jan. 3, 2016) and University of Houston-Clear Lake Art Gallery, Houston, Texas (Sept. 2 - Dec. 8, 2016).