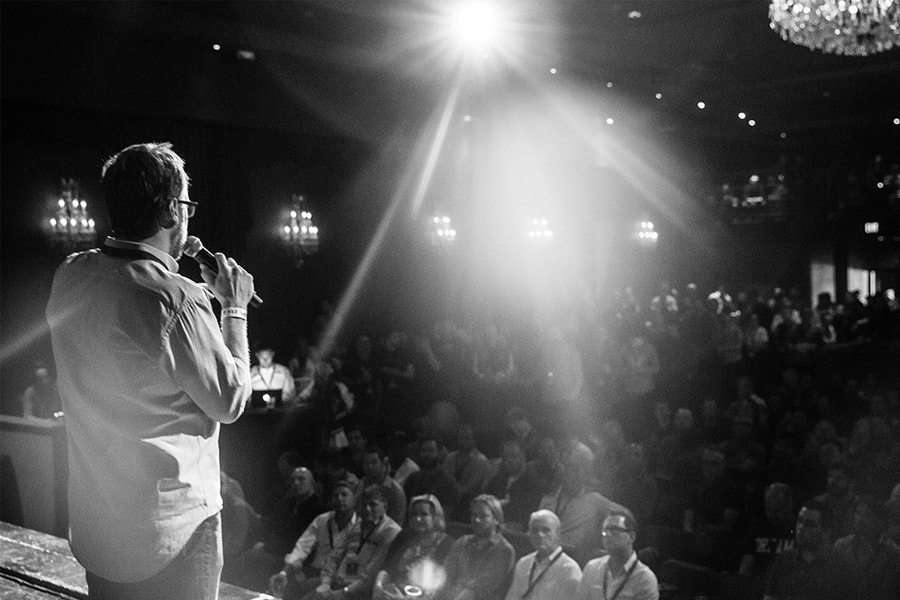 February 08, 2018
Alumnus Helps Musicians Get in Tune with Their Fans
By Pam Wigley pwigley(through)andrew.cmu.edu
Media Inquiries
Bob Moczydlowsky's knack for finding innovations within the music industry is right on key.
As managing director of music at Techstars, Carnegie Mellon University alumnus Bob "Moz" mentors and invests in industry startups that will, ultimately, benefit everyone in the industry. Moczydlowsky works with a group of leading companies in the music business — Sony, Warner, Harmonix Music Systems, to name a few — to cull the next best thing in music.

"We're looking for radical tech innovations," said Moczydlowsky, a graduate of the Masters of Entertainment Industry Management program, which is a joint program between CMU's Heinz College of Information Systems and Public Policy and the College of Fine Arts. "That means we want startups that bring something totally different to the industry — something that benefits everyone, including the artists and music fans."

The fan experience is important to Moczydlowsky. In fact, he has focused a good portion of his career to enhancing the artist/fan relationship. Throughout his career at places like Twitter, where he was head of music, and Topspin Media, where he was senior vice president of Product & Marketing, Moczydlowsky concentrated on removing obstacles between artists and their fans.

"It's important for talent to build a connection with their fan base," he said. "It can drive loyalty, and that translates to increased concert ticket sales and merchandise."

So who is exemplary when it comes to the "ultimate" fan experience? There are many artists who do it well, Moczydlowsky said, but he points to Drake and Taylor Swift as two of the top industry stars who make the most of their fan base.
"They put themselves in their fans' shoes ... they have a conversation with them in various ways. They don't just sing at them, but to them," he said.
"[Drake and Taylor Swift] put themselves in their fans' shoes ... they have a conversation with them in various ways. They don't just sing at them, but to them." — Bob Moczydlowsky
But before someone builds a fan base, there is the whole process of finding a niche in the music industry, and today's focus is on tech-driven solutions. Software and hardware are driving the music business, and that is where Techstars comes in. Moczydlowsky said Techstars is not looking for the next pop superstar or trying to create a new record label.

"There's a transition in music tech right now," he said. "We've seen a huge change through the past few years in the way people consume music. We've gone from hard CDs to subscription-based services and streaming."
In fact, 60 million people subscribe to music services; Moczydlowsky points to Apple Music and Spotify as industry leaders. He adds that streaming services tend to appeal to younger people, but the average age for customers is 30. Beyond streaming, the future will hold more changes. Moz and industry giants are looking for the "next great thing." 

Along with being a MEIM alumnus, Moczydlowsky teaches the Digital Innovation and Entrepreneurship course for the program from Los Angeles. He also is a 1997 graduate of the University of Kansas, where he created his first licensed music streaming site.
"Bob's insight of the entertainment world has been a great addition to the MEIM program," said Dan Green, program's director. "He continually challenges our students both in and out of the classroom. His current class focuses on how disruption creates significant business opportunities — especially for artists and artist's business partners."
The Techstars Music Accelerator Program boasts members like major record labels Warner and Sony; global artist management and live event companies, such as QPrime Management, Silva Artist Management, Young Guru's Era of the Engineer and Bill Silva Entertainment; independent game studios like Harmonix Music Systems; and Sonos, creator of the whole-home audio system. This consortium mentors and invests in 10 startups that are selected for a slot in Techstars' three-month, Los Angeles-based program. Every year, Techstars Music invests $1.2 million into 10 of the best music-related software startups from around the world, hoping to find the next consumer-driven favorite that's driven by software innovation — whether that is gaming, artificial intelligence, virtual reality or beyond.

"We want people and groups of all ages, all experience levels," he said. "We know it when the team and the people within the startup are the right fit with our group."
For more about the annual startup application process, visit Techstarsmusic.com.