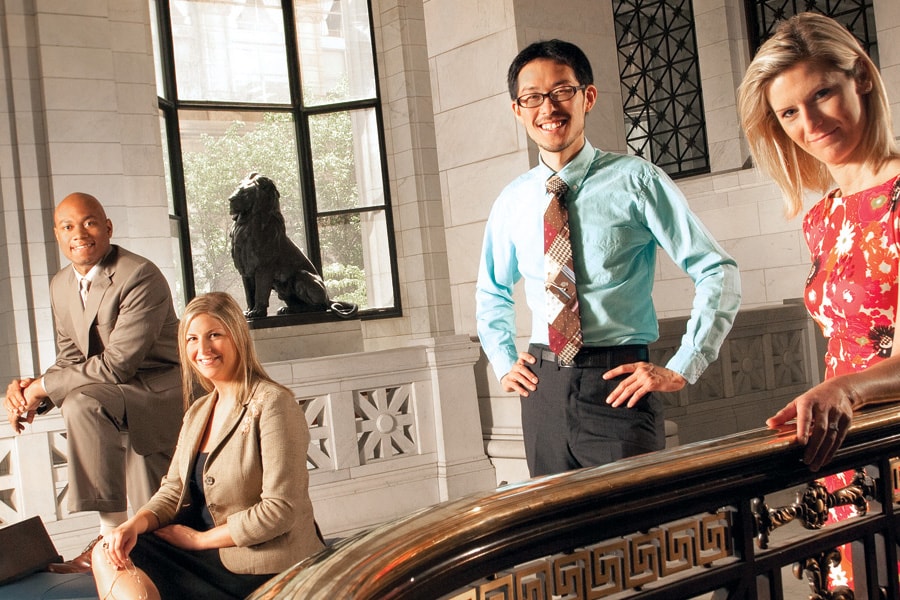 February 14, 2018
Tepper School MBAs Outpace Other Programs with Tech Jobs, Record-Breaking Salaries
Media Inquiries
Noelle Wiker
Tepper School of Business
Mara Falk
Tepper School of Business
The Tepper School of Business has released its 2017 Full-time MBA Employment Report, which summarizes the job offers for full-time MBA graduates and summer internships for rising second-year students, by industry, function and median compensation.
A record-setting 43 percent of the graduating class — up from 34 percent last year — accepted tech sector jobs. With numbers that outpace most other top MBA programs, the percentage of Tepper School students entering the tech field has approximately doubled over the past five years.
Additionally, a record-breaking 58 percent of women MBAs in the Class of 2017 entered the tech field — up from 45 percent for the Class of 2016.
"We're incredibly proud of the Class of 2017 and look forward to celebrating their future successes," said Robert Dammon, dean of the Tepper School of Business and professor of financial economics. "The results of the 2017 Employment Report further emphasize the quality of a Tepper MBA, and I am confident that the employment successes of our students will continue to impress as we move into our new physical home in the Tepper Quad next year."
"The most recent employment data demonstrates the significant success of our students, particularly in the technology industry," said Stephen Rakas, executive director of the Career Opportunities Center at the Tepper School. "This year's report highlights the Tepper MBA program's continued success in preparing outstanding next-generation leaders at the intersection of business and technology."
The Tepper Career Opportunities Center was ranked No. 11 in effectiveness of career services by alumni in the Financial Times' most recent survey, and No. 11 in student satisfaction by The Economist. In addition, the Tepper School was ranked No. 10 in Bloomberg Businessweek's employer survey.
"Going to the Tepper School was one of my best decisions. Not only did I meet lifelong friends, I got my dream job," said Karin Lilliedahl, who graduated with an MBA in 2017 and is a project and process manager for Google Business Services. "At Tepper, I mastered skills in leadership, time management and most importantly, working in cross-functional teams. In my role, I work between business operations and engineering. Things are constantly changing, and there is always a new challenge, but my Tepper experience allows me to face these challenges in an innovative and productive way."
In August 2018, the David A. Tepper Quadrangle, the business school's new home, will open. In addition to being a state-of-the-art learning and research facility, the Tepper Quad will amplify the connection between technology and business education to prepare students for leadership roles within a complex world driven by technology, big data and the power of analytics.
"The education I received at Tepper has been instrumental for my success in my current role," said Saraswati Kaul, who graduated in 2017 with an MBA and is a senior product manager for Technical Products at Amazon. "The rigorous program at Tepper included a strong balance of skills spanning tech acumen, problem-solving, financial know-how and design courses that I use on a daily basis. In my role I'm often working with both engineers and customers, and the communication skills that I learned have been extremely helpful."
Success across industries
Overall 20 percent of the MBA class entered jobs in the consulting industry (24 percent men, 11 percent women), 15 percent of the class accepted jobs in financial services and 9 percent in biotech, health or pharmaceuticals.
Salaries continued to grow over last year's all-time high, with the median starting salary at $120,000. Students entering consulting roles were especially successful, with a median starting salary of $140,000.
The top three employers for the Class of 2017 were Amazon, Microsoft and PricewaterhouseCoopers, with 15 percent of the graduating class accepting offers from Amazon. One-third of the class took on roles on the West Coast, followed by 26 percent in the northeast U.S.
"The Silicon Valley trek is a perfect opportunity for students to get a sense of what to expect from various companies and what it would be like to live there," said Shavak Asthana, a current MBA student and vice president of the Business & Technology Club. "The trek always provides insight into one or two companies that surprise students and gives them an opportunity to learn a lot about a specific business they might not be very familiar with. There are typically other Tepper alumni meeting with us at each location, so it's really helpful to hear from someone who has been where you are now."
This achievement comes at a time of great momentum at Carnegie Mellon University for women in science, technology, engineering and mathematics (STEM) fields. For the first time, women made up the majority of first-year undergraduates this academic year, a distinctive milestone among top-ranked universities that award the majority of their undergraduate degrees in STEM fields. Within the Tepper School of Business, 57 percent of incoming undergraduate students were women, up by 12 percentage points over the previous year.
For a more comprehensive breakdown of career and internship statistics, review the 2017 MBA Summary Employment Report.