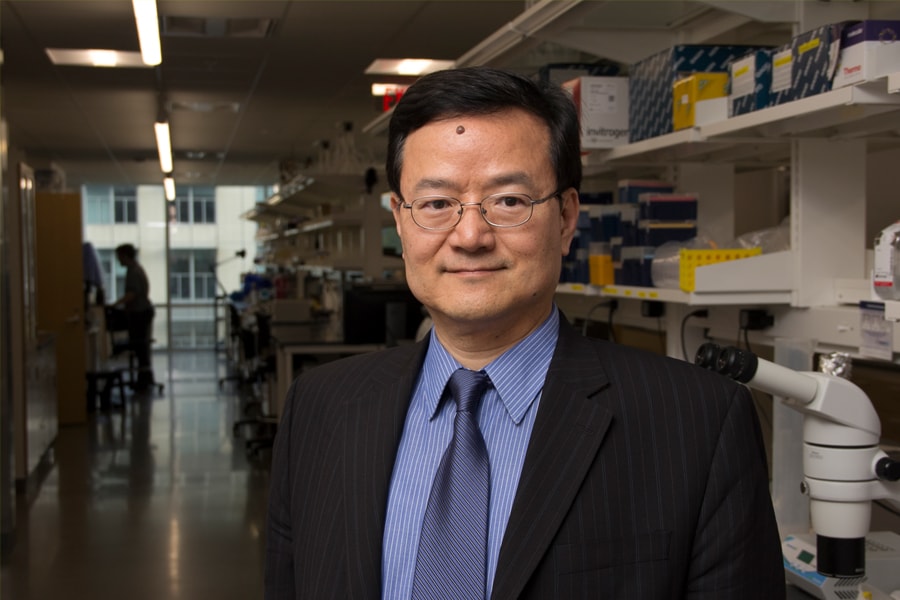 February 08, 2018
Acclaimed Researcher Heads Biomedical Engineering at Carnegie Mellon
By Emily Durham edurham1(through)andrew.cmu.edu
Media Inquiries
Bin He, a pioneering researcher in biomedical engineering and electroencephalography (EEG), has been appointed head of Carnegie Mellon University's Biomedical Engineering Department. He, who began his appointment Feb. 1, succeeds Yu-Li Wang, the R. Mehrabian Professor of Biomedical Engineering, who has served as department head since 2008.
He comes to CMU from the University of Minnesota, where he was the Distinguished McKnight University Professor of Biomedical Engineering and the Medtronic-Bakken Endowed Chair for Engineering in Medicine. He is director of the Biomedical Functional Imaging and Neuroengineering Laboratory, which he has moved to Carnegie Mellon.
"We are very excited to welcome Professor Bin He to the College of Engineering community," said James H. Garrett Jr., dean of the College of Engineering. "His pioneering work has transformed electroencephalography into an important dynamic, three-dimensional neuroimaging modality for noninvasive brain research and management of brain disorders. As a renowned scholar and a recognized and highly regarded leader, we are certain that Dr. He will be an exceptional leader of the Department of Biomedical Engineering."
He's research is at the convergence of engineering, biology and medicine. His primary research goal is to develop novel engineering technologies that can lead to a better understanding of the dynamics of the brain, and to leverage these advancements to develop next-generation neuro-robotics.
"CMU is the ideal place to advance biomedical engineering through engineering innovation," He said. "It is one at one of the finest engineering schools in the world, and I'm extremely excited to work in CMU's exceptional intellectual environment with top notch people in the College of Engineering, robotics and artificial intelligence."
One area of He's research is to improve noninvasive dynamic brain imaging technologies so they are faster and more spatially precise. The conventional EEG, while used in every clinic in the world, is essentially a one-dimensional technique that does not provide information about the distributed nature of brain activity. He's research aims to use the very small electromagnetic signals generated by neurons to produce dynamic 3-D images of the brain function and dysfunction.
"Essentially, we attempt to read the extremely small electromagnetic signals generated by neurons, which is equivalent to a small boat in the Atlantic Ocean during a storm," He said. "How do you pick up that small signal in such a noisy environment? It is a major scientific and technical challenge to sense, localize and image signals noninvasively from targeted neurons considering our brain has about a hundred billion neurons. I have been spending my entire life pushing EEG technology in this direction."
For his research, He received the IEEE Biomedical Engineering Award, the highest honor from IEEE in the field of biomedical engineering. He also has earned several other prestigious awards, including the Academic Career Achievement Award from the IEEE Engineering in Medicine and Biology Society, for his research contributions and commitments to interdisciplinary education.
A former president of the IEEE Engineering in Medicine and Biology Society and a former chair of the Publications Committee of the American Institute of Medical and Biological Engineering, He is chair-elect of the International Academy of Medical and Biological Engineering.
He has served on numerous editorial boards and conference committees, and is the editor-in-chief of IEEE Transactions on Biomedical Engineering. He is a member of the National Institutes of Health BRAIN Multi-Council Working Group.