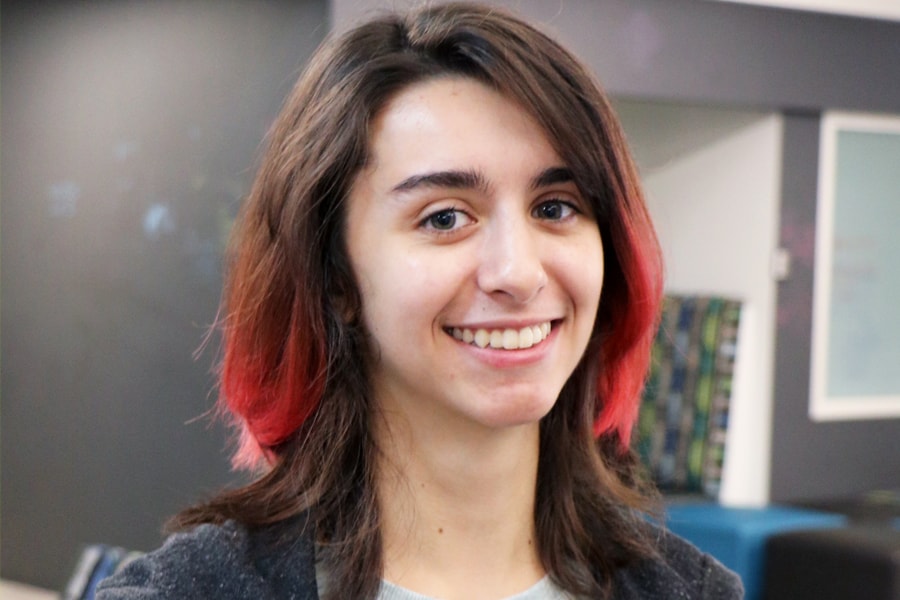 December 05, 2018
Fellowship Advances Women in Cybersecurity
Elite hacker Carolina Zarate was named this year's EWF INI Fellow
By Jessica Corry jcorry(through)andrew.cmu.edu
Media Inquiries
Christa Jones
Information Networking Institute
While women make up just 24 percent of the cybersecurity workforce, Carnegie Mellon University and its Information Networking Institute is closing the gender gap one student at a time.
Carolina Zarate, an elite hacker and aspiring security professional, is attending Carnegie Mellon through a partnership between the INI and the Executive Women's Forum on Information Security, Risk Management and Privacy, sponsored by Alta Associates. This fall, she became the 11th recipient of the full-tuition EWF INI Fellowship, which was established in 2007 to support a graduate student from a historically underrepresented population.
"Our partnership with EWF has been crucial in affording remarkable women and underrepresented minorities with the opportunity to study information security," said Dena Haritos Tsamitis, the Barbara Lazarus Professor in Information Networking and director of the INI. "We are committed to developing the next generation of women leaders and cultivating a culture of 'paying it forward' to lift future scholars toward success."
At the 16th Annual EWF National Conference on Oct. 23-25, Zarate was recognized and celebrated alongside the 10 previous recipients, many of whom are now working at major companies such as Microsoft, Apple, Google, Facebook, Palo Alto Networks, Red Hat and Ernst & Young.
"If you can identify security vulnerabilities that are exploitable, and tell the company how you did it — that means you're hacking for good reason: to protect people." — Carolina Zarate
"We are proud to partner with Carnegie Mellon's INI in not only providing scholarships for remarkably talented students, but also including them in the EWF community where they are nurtured, supported, mentored and sponsored," said Joyce Brocaglia, founder of EWF and CEO of Alta Associates. "Our EWF members are generous with their knowledge and their time, so not only are students receiving an outstanding education, they are gaining access to the leading women in our industry who guide them through their careers."
Zarate earned her undergraduate degree in computer science at Carnegie Mellon in 2018 and, through the INI's integrated master's degree program, seized the opportunity to obtain her master's degree in one year rather than two.
"Hacking competitions called capture-the-flags (CTFs) are what got me into security," Zarate said. "Security is such a diverse field. There's so much to learn, and even then, it's constantly changing and evolving, so there's always something new and interesting to learn from."
Zarate is a member of CMU's internationally acclaimed competitive hacking team, the Plaid Parliament of Pwning (PPP), and helped PPP win their fourth title at the DefCon security conference in 2017, a feat achieved by no other team in the contest's 22-year history.
Her message to parents of kids interested in hacking: embrace it.
"They can be a good hacker who does not do bad things, and they will get paid very well for that," she said. "If you can identify security vulnerabilities that are exploitable, and tell the company how you did it — that means you're hacking for good reason: to protect people."

At the EWF Conference, Zarate was accompanied by fellow INI classmates Casey Means and Teri Wen, recipients of the Joyce Brocaglia EWF Endowed Fellowship.
Means aspires to work for a privacy-centric company that helps consumers secure their data, and Wen wants to work on finding security holes that no one has discovered and fix them before an attack is possible. Both students say the INI will help them develop the skills and knowledge needed to accomplish those dreams.
Founded in 2002, the EWF is the largest member organization serving emerging leaders and influential female executives in the security, risk management and privacy field. In addition to financial assistance, the fellows gain access to the EWF community of mentors who have reached executive levels in their careers.
"The fellowship means an incredible amount to me," Zarate said. "Being able to be part of EWF is humbling, and I am very thankful for this opportunity. I hope to exchange much knowledge with other women in the field of security."