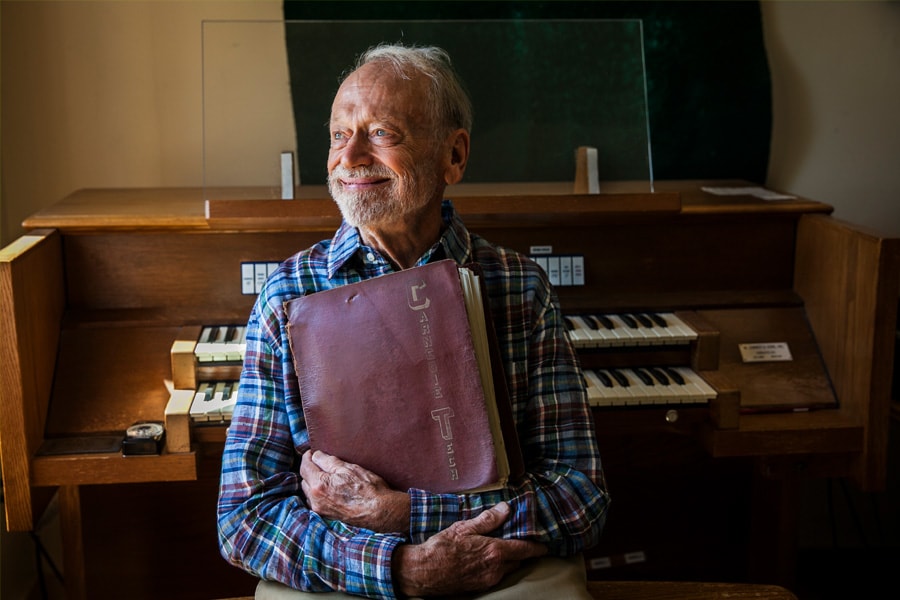 August 30, 2018
Lost and Found: Uncovering New Beginnings for Old Songs
By Rege Behe
Media Inquiries
Emily Rybinski-Benish
Pam Wigley
A long-lost leather-bound notebook from the 1950s, with Carnegie Tech etched down the front cover, was discovered in the rubble of a demolished warehouse and returned to its owner hundreds of miles away, bringing new life to the original music that filled its pages.
As a student at now-Carnegie Mellon University's School of Music, Alan Wingard, who graduated in 1957 from then-Carnegie Institute of Technology with a degree in pipe organ music, worked as a part-time service station attendant and pipe organ repairman to pay tuition. Wingard does not recall losing the notebook, but said it may have happened while he was working as a reporter at WHJB-AM in Greensburg after graduation.

Today, Wingard is an accomplished composer, pianist, organist, teacher and published poet and novelist. His music, classical with a tendency to the avant-garde, has entertained audiences around the world.

"I was just astonished by what was inside, because I have totally eclipsed whatever I knew," said Wingard, now 85, who called being reunited with his notebook a "cosmic thing." "There was music that I had composed, there were sketches for other pieces I was going to do, there were homework assignments for harmony and counterpoint, and essays for a psychology course."

The notebook may have stayed lost if not for Jerry Frick, whose neighbor, Bill Maloberti, found the notebook. Maloberti, a musician, recognized it could be important, so he passed it to Frick because his son, James Frick, had worked at Carnegie Mellon.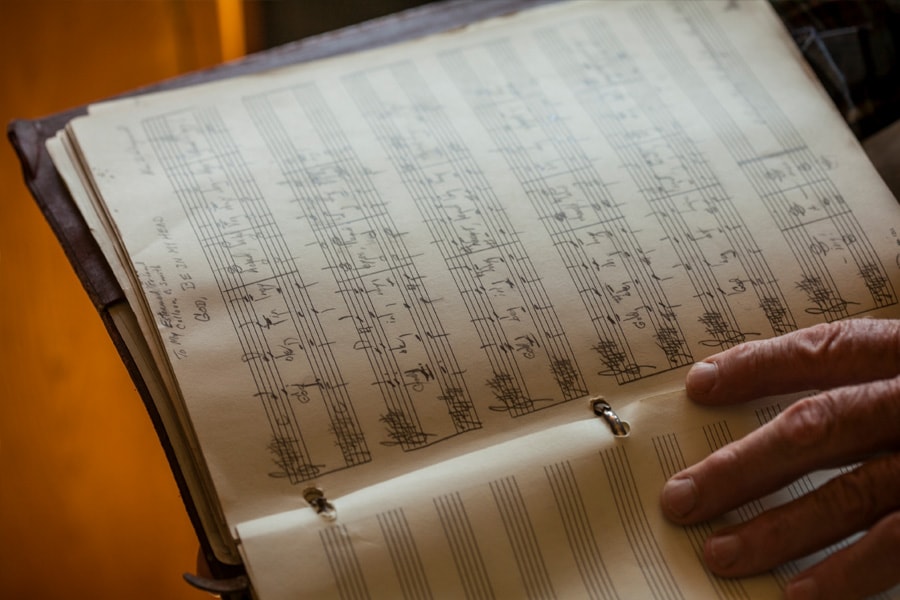 "Had the notebook just said anything else on the front I probably would have passed it on to the School of Music," said Jerry Frick, who instead decided to see if he could find the man whose name was inside the notebook. An online search returned 98 Alan Wingards. Frick emailed an image of the notebook to a man who seemed to be the right age.
That was all it took.

"Dear Jerry, opening your letter, I was thankful I was seated. Such a wonderful happening! That the material should have survived intact over multiple decades, months and years," Wingard wrote back as a reply. "I look forward to welcoming the material back into my hands and heart. I'm grateful beyond words."

Wingard grew up in Edgewood and Squirrel Hill near CMU, and graduated from Taylor Allderdice High School, where he sang, accompanied and occasionally conducted a school chorus. In third grade, he fell in love with the organ, when he heard and saw the pipe organ at the church now known as First Presbyterian Church of Edgewood. He eventually received permission to practice on a pipe organ at Homewood Cemetery in Point Breeze.
Wingard had two mentors while in college, The Rev. Dr. Donald D. Kettring, minister of music at East Liberty Presbyterian Church, and Roland Leich, composition teacher and director of CMU's choir.
"We learned the 'Mozart Requiem,' and Carl Orff's 'Carmina Burana,' both performed with the Pittsburgh Symphony Orchestra under William Steinberg," Wingard said. "And choral episodes from opera with theater department's productions. Under Professor Leich, they performed Kodaly's 'Missa Brevis' at Chatham College, (then Pennsylvania College for Women), accompanied by me on the then-new M.P. Moeller organ.
"Kettring must have seen qualities worth cultivating, and took me under his wing," Wingard said.
Among recovered treasures in Wingard's notebook is a hand-written note from Kettring, who responding to a composition written by the student reads: "I think that generally you have caught the spirit of the text, and there are some beautiful passages in it."
Wingard also recalled Colleen Claire Smith, who taught eurythmics.
"Colleen was a first-rate teacher and pianist," Wingard said. "She was knowledgeable, musical, very funny, and quite lovely."
Wingard has lost touch with fellow students, but recalls playing chess with William "Bill" Aiken, now a renowned painter, and that he admired the work of pianist Henry Spinelli, who graduated in 1955 from CMU's School of Music.
Wingard has influenced music through his own teaching. Tom Mueller, now an organist at Third Presbyterian in Los Angeles, took his first class from Wingard and has performed Wingard's organ composition "Pavane for Healing of the Earth" in concerts across the United States.
Another student, Abbi Chapman, is now an internationally acclaimed vocalist.
As an eighth grader from a Maine town with a population of 2,200, Wingard was a revelation for Chapman.
"He sort of changed my world," Chapman said. "He was unlike anybody I'd met before. In the classroom he'd say things that were off the wall as a way to get your attention. ... He was the first sort of artistic personality I came in contact with in my small town, and he really helped me come out of my shell."
Wingard continues to work on his artistry and is now transcribing the long-lost music from the notebook. He is especially pleased with one composition, "Come Thou, Long Expected Jesus."
Wingard is not quite sure why the notebook has returned to him now. But life unfolds in mysterious ways, he said.