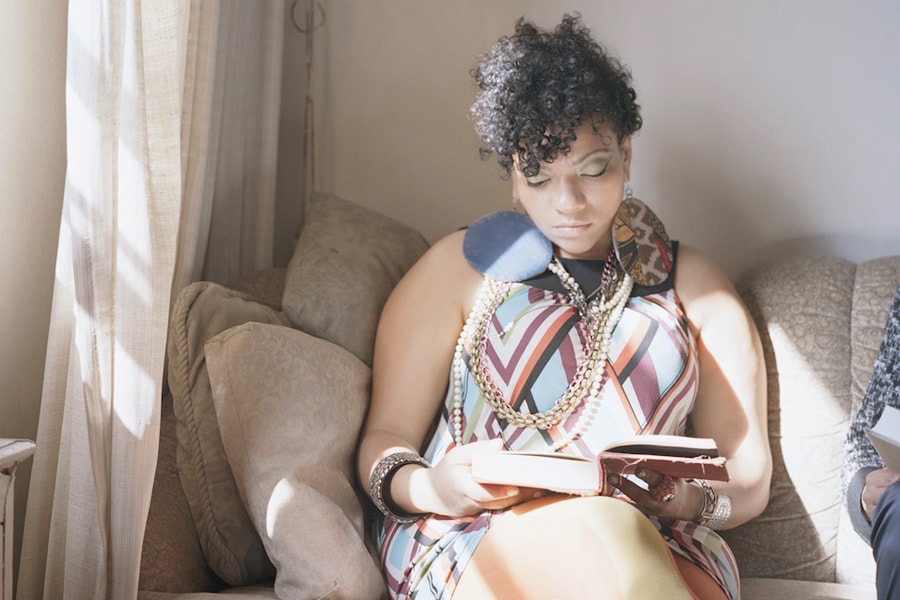 August 29, 2018
Carnegie Mellon's Miller ICA Debuts with "Carrie Schneider: Reading Women"
By Margaret Cox
Media Inquiries
Carnegie Mellon University's newly re-envisioned Miller Institute for Contemporary Art presents "Carrie Schneider: Reading Women," a solo exhibition of photography by CMU alumna and international artist Carrie Schneider through Sept. 9. The exhibition features nine photographs of sitters reading texts authored by women and is part of Schneider's "Reading Women" series.
A reception will take place from 6-8 p.m. on Friday, Sept. 7, with a reading from Autumn House Press from 6-7 p.m. The exhibit, event and reception are free and open to the public. Additional conversations with the artist will be published in the Miller ICA's upcoming "Varia" video series.
"This exhibition ushers in the 2018-2019 school year with a focus on the power of reading, studying and being absorbed by knowledge," said Elizabeth Chodos, director of the Miller ICA.
To make "Reading Women," (2012-2014), 100 friends — many of them artists, writers, and musicians living in New York — were asked to sit for a portrait while reading a book of her choice, written by a woman author, in her own home or studio for two hours. Each two-hour sitting allowed the reader to become engrossed in her text, and lose awareness of the camera and her pose. Cumulatively, the archive of 100 portraits reveals a constellation of influences including highly regarded artists and curators — such as Michelle Grabner, Cauleen Smith, and Claire Pentecost.
"This project is a rhizomatic view of the thinkers who make up the intellectual capital of the artist's community, as well as being a meditation on the potency of representation. 'It's a man's world,' after all, but this exhibition offers a way through that dilemma for women," Chodos said. "This exhibition also becomes a proposition: What would a world look like if we were all only reading women?"
Schneider, who earned her undergraduate degree in 2001 from CMU's Bachelor of Humanities and Arts program, said the body of work "reveals a constellation of influences among my creative peers."
To learn more, go to http://millergallery.cfa.cmu.edu/exhibitions/CarrieSchneider/index.php. For details on the Sept. 7 closing reception, go to: https://www.facebook.com/events/1783779445047740/.