April 20, 2018
Satellite Views Show Humans Rapidly Changing the Planet
Carnegie Mellon and World Economic Forum launch EarthTime website
Media Inquiries
Byron Spice
Carnegie Mellon University
Max Hall
A new website, EarthTime, draws on the technical expertise of Carnegie Mellon University and the vast data sets and proficiency of the World Economic Forum to provide graphic evidence of how humans are rapidly changing the planet.
Launching publicly on Earth Day, April 22, EarthTime.org enables users to view the entire world, or focus in on just a corner of it, to visualize the effects over time of air pollution, trade, deforestation, economic inequality and other powerful forces.
"EarthTime is a means to tell stories," said Illah Nourbakhsh, a CMU professor of robotics whose lab has spent more than a decade developing EarthTime's technology. "The impact of humanity can be seen globally and in individual communities — and at every scale in between.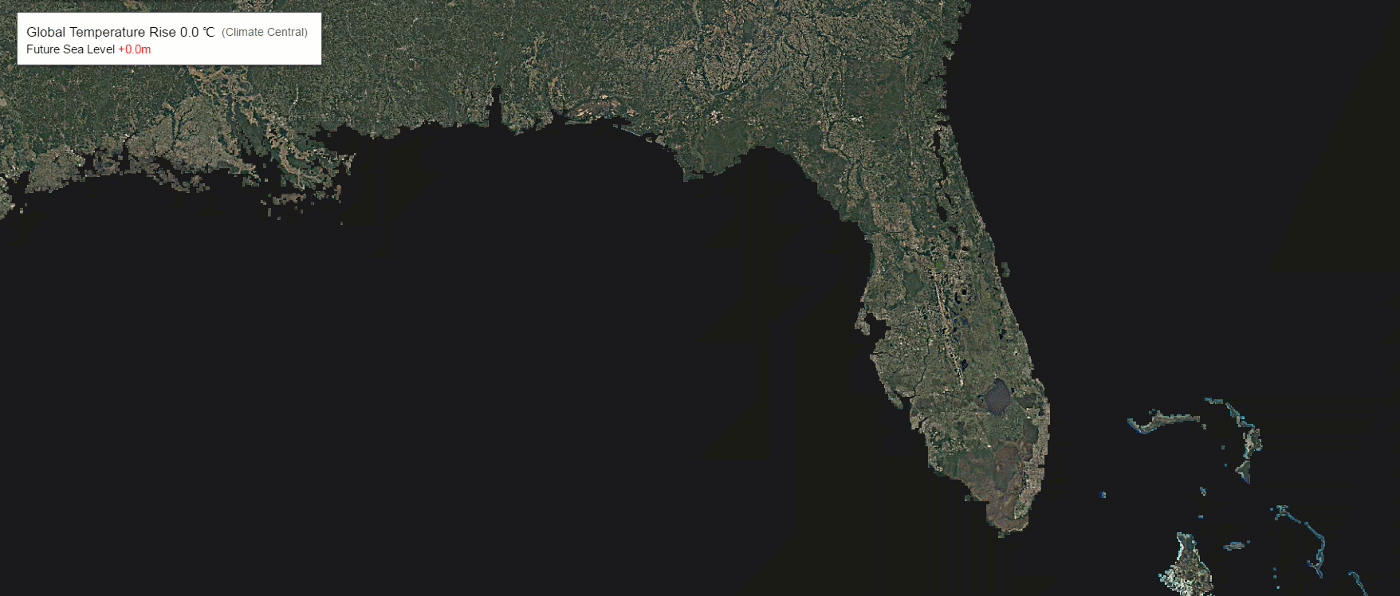 A time lapse from EarthTime shows how rising temperatures are expected to affect the southeastern United States. 
"You really can't understand climate change, migration or major social and political trends without examining their connections across time, across space and between each other," added Nourbakhsh, who serves as a World Economic Forum Global Steward. "EarthTime enables you to do that."
Since 2015, EarthTime has been a staple at the Forum's annual meetings in Davos, Switzerland, and Dalian, China, helping businesses and policymakers to better explore and explain some of the most pressing and contentious issues of the day. Now it is available to everyone. The goal is to empower all people to make informed decisions about the lives they live and how they impact the planet.
The platform developed by Nourbakhsh, commercialization specialist Randy Sargent and other researchers at Carnegie Mellon's CREATE Lab in collaboration with the World Economic Forum, is constantly growing. It now draws on the the World Economic Forum's network of experts and more than 300 free, open-source geospatial data sets — an unprecedented number for data visualizations of this kind.
Sources include the World Bank, the U.N. Refugee Agency, NASA, the Stockholm International Peace Research Institute, the International Renewable Energy Agency and the World Wildlife Fund, to name a few.
Visitors to the site can use its global maps and images from space to explore a wide variety of phenomena on their own and create their own stories. Or, they can take advantage of some of the site's existing stories on deforestation, glaciers, coral bleaching, renewables, city growth, urban fragility, sea level rise, fires at night, and surface water gains and losses.
The EarthTime project is sponsored by foundations and corporations that wish to forge common ground between citizens, businesses and governments, including The Heinz Endowments, JPMorgan Chase and S&P Global.