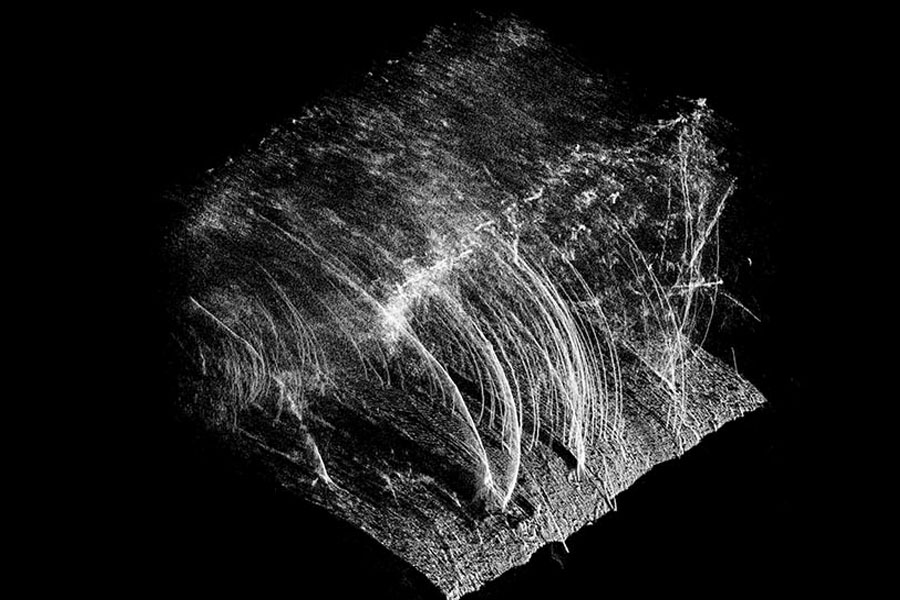 September 22, 2017
Carnegie Mellon's Miller Gallery Hosts Exhibition on History and Contemporary Practice of Computational Design Sept. 22 - Nov. 12
"Designing the Computational Image/Imagining Computational Design" features rare historical materials, film and interactive work along with a selection of national and international computational designers, artists and architects working today
By Margaret Cox mc94(through)andrew.cmu.edu
Media Inquiries
A new exhibition at the Miller Gallery at Carnegie Mellon University showcases a selection of rare photographs, drawings, films and high-quality reproductions illuminating the evolution of computational methods for design representation, simulation and manufacturing.
"Designing the Computational Image/Imagining Computational Design" examines the formative period of numerical control and computer graphics technologies between 1949 and 1976. From blips on radar screens to perspectival representations and free-form surfaces, the materials reveal how technical innovations in software, data structures and hardware enabled new design theories and methods. A series of innovative 'software reconstructions' specially produced for the show enable visitors to interact with some of the earliest computer systems for drawing and 3-D modeling from the early 1960s. A selection of works by cutting-edge artists, architects and designers reimagines the future of these practices.
The exhibition opens on Friday, Sept. 22, with a reception from 6-8 p.m. Free and open to the public, the exhibition runs through Sunday, Nov. 12.
A two-day symposium with leading scholars, architects and artists will accompany the exhibition on Oct. 7-8 at Carnegie Mellon's Frank-Ratchye STUDIO for Creative Inquiry to explore new perspectives on the histories, practices and technologies of computation in design. A full schedule of events, participating artists and speakers can be found on the Miller Gallery's website.
The historical materials featured in the exhibition are drawn from the archives of institutions key to the development of these technologies, including Carnegie Mellon University; the Massachusetts Institute of Technology; the University of Cambridge, U.K.; and the Computer History Museum, among others. The exhibition received generous support from the Graham Foundation for Advanced Studies in the Fine Arts, and from Carnegie Mellon's College of Fine Arts, School of Architecture and STUDIO for Creative Inquiry.
"A key objective of this exhibition is to make visible computational design practices' multidisciplinary roots in government-funded postwar era research at places like Carnegie Mellon and MIT," said curator Daniel Cardoso Llach, assistant professor in CMU's School of Architecture.
"I would like this exhibition to make visible the artistry of engineers and technologists, and its role in shaping contemporary visual and spatial languages," Liach said. "Similarly, I would like it to shed light on a vibrant landscape of artists, architects and designers actively appropriating, re-specifying, and re-imagining these systems, discovering new forms of creative expression today."
Image Description: Image from a custom software system developed for the exhibition, which reconstructs Steven A. Coons' pioneering mathematical technique for parametric surface representation, the "Coons patch," enabling users to interact with it. City and Year: Reconstruction: Pittsburgh 2017; Based on papers from 1963-1970, MIT. Country: United States. Rights: Daniel Cardoso Llach