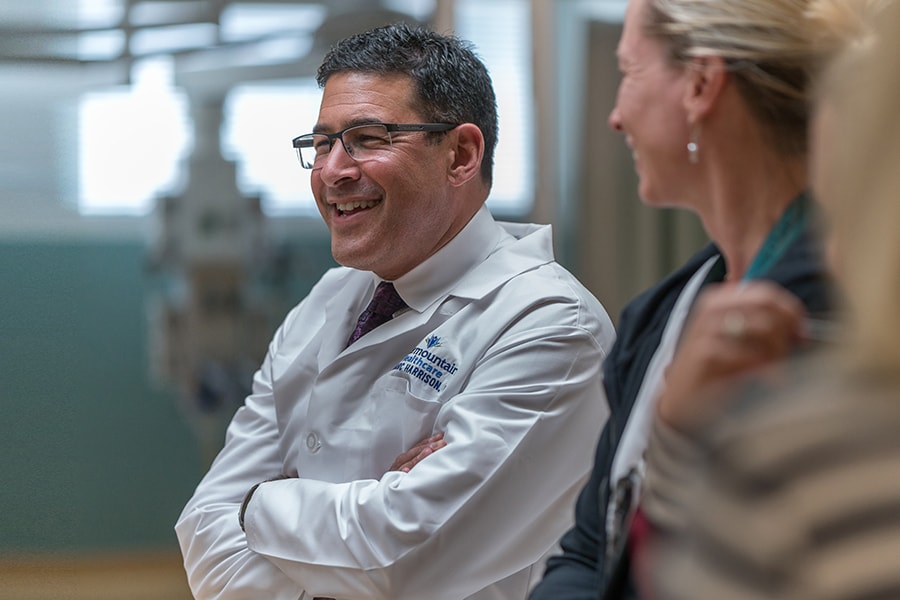 September 06, 2017
Harrison Climbs to the Peak of Health Care
As CEO of Intermountain Healthcare, Carnegie Mellon University alumnus Dr. Marc Harrison oversees Utah's largest health care provider. He also makes rounds and interacts with patients and residents.
"Health care is really a team effort," Harrison said. "There are different kinds of players on the team. I believe the physician leader is increasingly taking on a bigger and bigger role as leader of that team."
Harrison leads a 22-hospital system with 180 clinics, a health plan and 1,500 physicians. He said research shows that physician leadership can produce safer, higher-caliber care. He also is working on ways to control costs. Intermountain's SelectHealth Share program links patients' insurance rates to healthy behaviors, and the system is moving from a fee-for-service model toward a value-based model — linking health care costs to enrollments and patient outcomes rather than volume of services provided.
"This results in a reduction in variability of services," Harrison said, "greater transparency around data, and engaging our clinicians in doing the right thing for patients." He sees the accompanying risks with this approach as an opportunity. "This level of risk accelerates improvements in quality and cost, and that's good for patients."
One example: Empiric Health, an Intermountain spinoff, provides physicians and surgeons with comparative cost data on procedures and other expenses, thereby improving transparency and enabling practitioners to lower costs and shorten hospital stays.
Harrison earned his medical degree at Dartmouth College and completed his residency at Intermountain 25 years ago. Before returning to Utah last year, he served as chief medical operations officer and chief of international business development for The Cleveland Clinic. He brought together a multinational workforce of 3,500 employees to establish Cleveland Clinic Abu Dhabi, where he was CEO.
Harrison earned a master's degree in medical management (MMM) at CMU's Heinz College of Information Systems and Public Policy in 2007. He said the curriculum "took on everything from project management to business ethics to infrastructure and computer science. It also really encouraged us to develop relationships with one another."
"Health care is really a team effort."
—  

Dr. Marc Harrison

Laura Synnott, associate teaching professor of health care policy and management at Heinz College, said Harrison understands what it takes to lead a health care system.
"It's important that you understand your operations and understand the culture of a hospital," Synnott said. "Physicians have a particular culture. Hospital leaders have a particular culture. The challenge for MMMs is to get these different groups to work together. Marc is that kind of leader."
Kristen Kurland, teaching professor of architecture, information systems and public policy, and a recent university trustee, teaches enterprise data analytics and infrastructure management to executive physicians.
"Marc has a unique ability to analyze quantitative data while maintaining personal relationships with patients, health care workers and external partners," Kurland said. "This makes Marc a leader that we are very proud to have as a CMU alumnus."
Complementing Harrison's skills as a physician leader are his own empathy-building experiences. Eight years ago, after complications during a triathlon — he has completed 35 of them — Harrison was diagnosed with bladder cancer. Two years later, his son suffered a traumatic brain injury.
Harrison and his family benefitted from the kind of health care he has spent his life working to provide for others.
He is now cancer free. His son recovered and is now in medical school — a fourth generation of medical practitioners in the Harrison family.
Harrison reflected on these experiences in a recent blog post.
"We're all going to face some tough times," he wrote. "To the extent they help us better connect to others, learn how to accept help from others, and give us the drive to pay it forward — those times make us stronger and deepen our humanity."