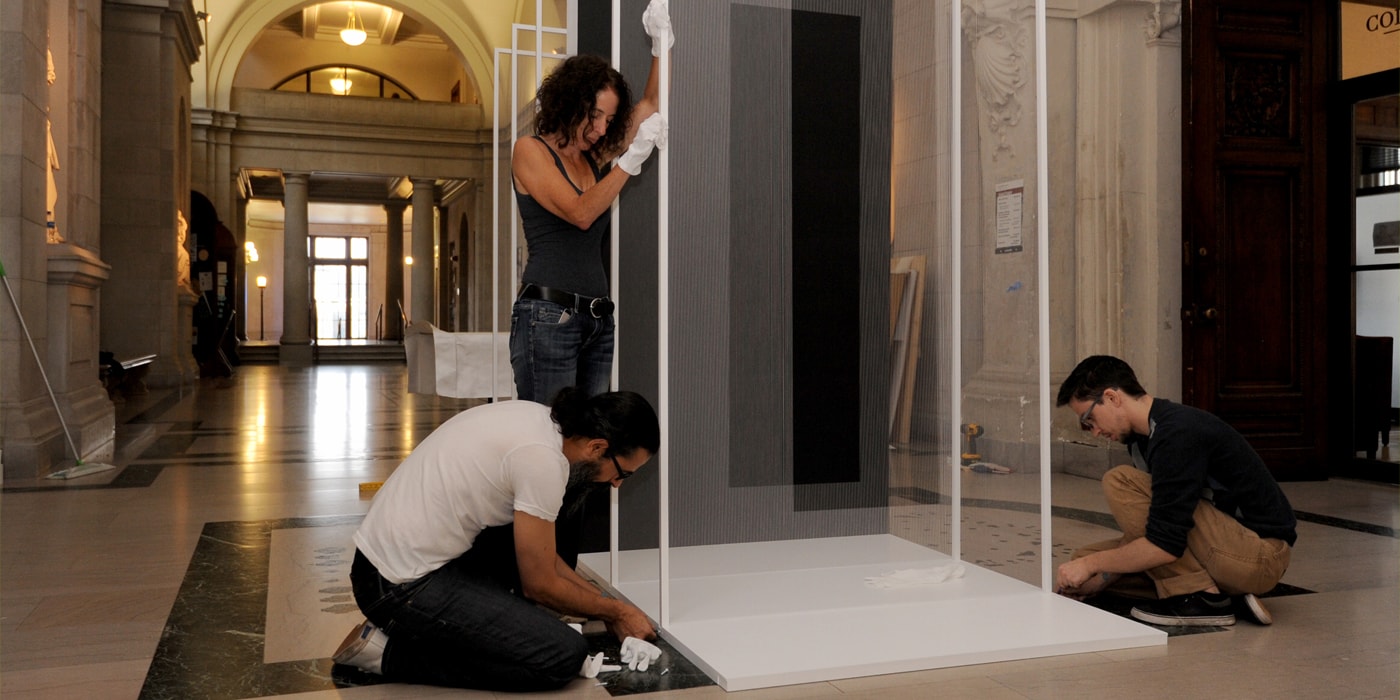 October 17, 2017
wats:ON? Festival Returns to Carnegie Mellon Nov. 2-4
"SHIFT" features works that focus on physical and perceptual space
By Pam Wigley pwigley(through)andrew.cmu.edu
Media Inquiries
The wats:ON? Festival returns to Carnegie Mellon University Thursday-Saturday, Nov. 2-4, with visual, sensual and perceptual exhibits and performances. Spike Wolff, wats:ON? artistic and executive director, and special faculty in the College of Fine Arts, is curating the festival titled "SHIFT," with Eddy Man Kim, assistant professor in the School of Architecture.
The festival, free and open to the public, has been a staple in the CMU community since it began in 1997. Wolff has curated the festival for seven years and calls wats:ON? "accessible to all."
"The works will appeal to arts people, tech people and, in general, people who love and support the creation of great art," Wolff said.
The event brings to campus an art exhibition by renowned artist Hadi Tabatabai and performance art titled "Body Drift." CMU's Miller Gallery is hosting Tabatabai's work in an exhibition titled "Transitional Spaces," through Nov. 12. An original work — the largest piece Tabatabai has created — also titled "Transitional Spaces," will be installed in the College of Fine Arts' Great Hall. Wolff describes Tabatabi's grand creation as "elegant in its simplicity" and notes that several large panels will feature intricate threadwork that Tabatabai painstakingly made by hand to create an indeterminate sense of space.
An opening reception for the installation of "Transitional Spaces" will be held at 5 p.m. Nov. 2, followed by a talk by Tabatabai at 6 p.m. in Kresge Theater. The installation will run through Dec. 2.
"Body Drift" is an immersive audiovisual performance by Jakob Marsico and Chris Carlson that uses video-driven animation and multichannel sound to examine the subtle shifts that take place in the development and degradation of sensory perception. The performance mirrors human growth and evolution, involving performers of various ages. Three large screens feature an audio-visual experience that surrounds the audience and the presentation differs every time.
"Multiple performers will be on stage sitting or standing in a custom-fabricated rig. From a distance they will appear to be still," said Marsico, a 2014 alumnus of CMU's Masters of Tangible Interaction Design program. "As the performance evolves, it will become apparent that the performers are moving on a micro scale; their movements are being captured and magnified on the large projection screens."
A 6:30 p.m. reception in CFA's Great Hall on Friday and Saturday, Nov. 3 and 4, will be followed by the presentation at 7:30 p.m. in Kresge Theatre. Immediately afterwards, Marsico and Carlson will host an informal master class for anyone who has an interest in learning more about the technologies behind "Body Drift."
"At the core of the festival is a sense of true transdisciplinary involvement," Kim said. "It involves works that cross all disciplines within CFA and illustrates what we mean when we talk about the intersection of the arts and technology."
Carnegie Mellon's biennial Jill Watson Festival Across the Arts (wats:ON?), celebrates the creative accomplishments of the late Jill Watson, a professor in the School of Architecture who was working toward a master's of fine arts degree when she perished in the crash of TWA Flight 800 on July 17, 1996. The festival is dedicated to Watson's love of all art forms and her advocacy for engaging varied groups of people in the arts, whether they were her students or a broader community audience. wats:ON? is sponsored by the Jill Watson Family Foundation and CMU's College of Fine Arts.
For more information on the wats:ON? Festival, visit www.watsonfestival.org.