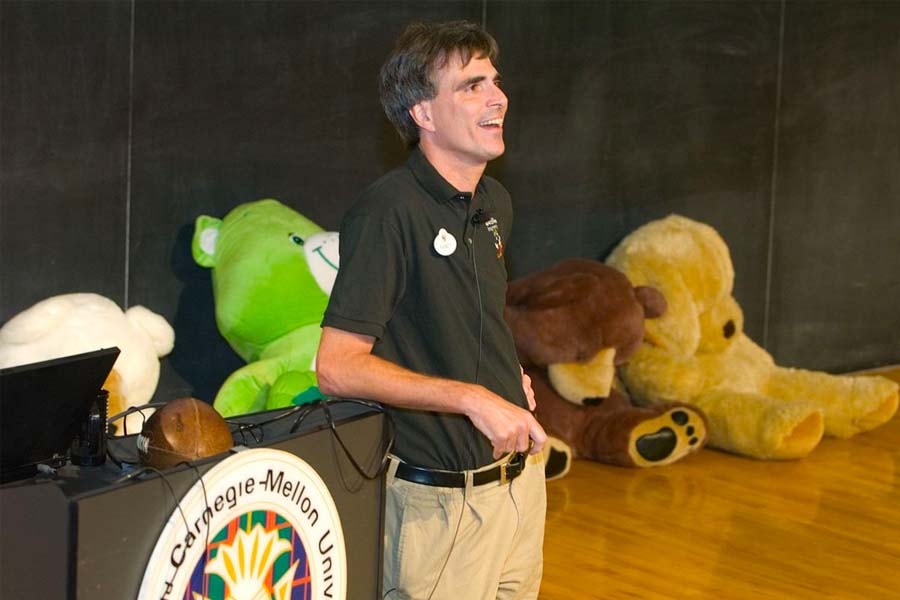 October 06, 2017
"Last Lecture" Screening, Panel Discussion Planned for Oct. 11
By Heidi Opdyke opdyke(through)andrew.cmu.edu
Ten years after Randy Pausch delivered the now-renowned "Last Lecture," Carnegie Mellon University is hosting a series of events to highlight its ongoing impact at the university and around the world.
The events begin with a screening of "The Last Lecture" and a panel discussion from 4:30-6:30 p.m. on Wednesday, Oct. 11, in McConomy Auditorium in the Cohon University Center.
"Randy Pausch embodied many of the ideals of Carnegie Mellon University," said Amy Burkert, vice provost for education. "We have seen the messages he shared through 'The Last Lecture' resonate not only on campus but around the world. For many years, every entering undergraduate has read and discussed his book as part of their orientation to our community. We are marking the 10th anniversary of his lecture by hosting a rescreening and panel discussion. We are looking forward to reflecting on his timeless message and to recall how his work continues to impact so many lives."
Panelists include:
Jesse Schell, a video game designer,  acclaimed author, CEO of Schell Games and a distinguished professor of the practice of entertainment technology at CMU's Entertainment Technology Center;
Jessica Hodgins, professor in CMU's Robotics Institute and Computer Science Department and former vice president of research for Disney;
Cleah Schlueter, a former project coordinator in the Computer Science Department;
Daniel P. Siewiorek, the Buhl University Professor of Electrical and Computer Engineering and Computer Science; and
Laurel Beatty, a double alumnus of Carnegie Mellon.
"Randy Pausch was the reason I joined the ETC 15 years ago, and the opportunity to carry on his work is the reason I stay," Schell said. "Randy's last lecture was meant to be an intimate message to friends and family, but it so powerfully articulated the values Randy cared about most, it has impacted millions. His message that life is short, and what we do matters is something that is timeless, and will surely continue to inspire people for generations to come."
A Carnegie Mellon alumnus, Pausch co-founded CMU's Entertainment Technology Center and led researchers who created Alice, a revolutionary way to teach computer programming.
He was widely respected in academic circles for bringing together artists, dramatists and designers to break new ground by working in collaboration with computer scientists. As a professor, he inspired countless students in the classroom.
On Sept. 18, 2007, only a month after doctors told him that he had three-to-six months to live following a recurrence of pancreatic cancer, he presented a lecture called "Really Achieving Your Childhood Dreams" to a packed auditorium at Carnegie Mellon.
The moving and often humorous talk recounted his efforts to achieve such childhood dreams as becoming a professional football player, experiencing zero gravity and developing Disney World attractions. In the process, he shared his insights on finding the good in other people, working hard to overcome obstacles and living generously.
The lecture has been viewed online more than 18 million times and led to a book version. "The Last Lecture" was co-written by CMU alumnus Jeff Zaslow, who died in 2012. The book was on the New York Times bestseller lists for 112 weeks and has been translated into 48 languages.
Learn about additional events and activities being planned at etc.cmu.edu/lastlecture10.