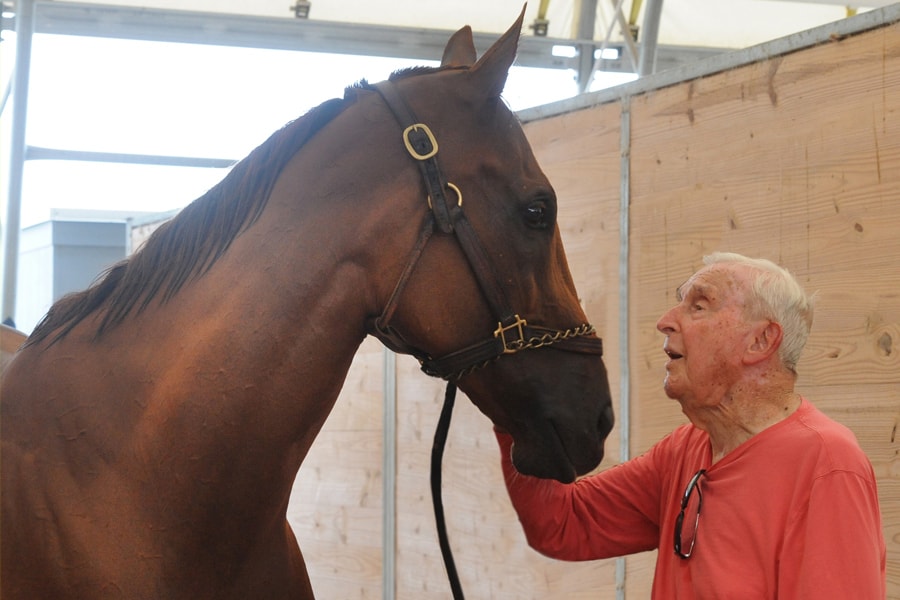 October 18, 2017
At 96, Alumnus Makes Racing History
Carnegie Mellon University alumnus Jerry Bozzo is enjoying life at the racetrack.
Bozzo, who will be 97 on Oct. 25, owns a thoroughbred stable, and three of the horses he trains have made nearly a dozen starts in 2017. In a maiden race, he watched his horse Cotton Tooyah stretch out a 4 1/2-length victory at Florida's Gulfstream Park. The win on June 3 made him the oldest U.S. thoroughbred trainer to win a flat race.
He also set the record for being the oldest licensed horse trainer at 96 to win a stakes race, when his horse Flutterby won the 2015 Sea Lily Handicap.
"People say to me, 'What the heck are you doing out there at that age, standing at the rail?' I say I'm enjoying it, that's why," Bozzo said after the victory.
Bozzo, who earned his undergraduate degree in civil engineering in 1942, said he gets his greatest thrills watching his thoroughbreds sprint around the track. His own journey from being a civil engineer to owning and training thoroughbreds was more circuitous.

After graduating from CMU, he earned an aeronautics degree from the Massachusetts Institute of Technology, and served in the military, where he helped expand the Navy's air corps during World War II. He started his career as an aeronautical engineer and later bought into ownership of the Pierce Glass Company, a bottle manufacturer in northwest Pennsylvania. It was that role that ultimately triggered Bozzo's need to find a diversion.
"Jerry's generosity helps us train the next generation of problem-solvers in areas that touch all of our lives." — Dave Dzombak
"Work at the bottle plant was stressful," he said. "You can't start up or shut down a glass furnace very easily, so it becomes a 24-hour a day job. To keep from going nuts, I had a farm on the side, and one of things I did was ride horses. It would help me withstand the pressure of things going wrong at two in the morning in the factory."

Bozzo's distraction became a passion, and he turned to breeding thoroughbreds in the late 1950s, sending the prospects off to various trainers. That fervor evolved into a full-time commitment.
"I sold my interest in Pierce Glass and bought 120 acres of land in Boynton Beach [Florida], where I established a breeding and training center," Bozzo said.

The rest is racing history. Over the years, Bozzo estimated he has saddled more than 2,100 racehorses, racking up more than 200 wins and pulling in earnings approaching $4 million.

Some of those earnings have found their way back to his alma mater, where he established a civil engineering scholarship.
"[Carnegie Mellon] gave me the education I needed to be successful. So giving others that opportunity makes sense to me," Bozzo said.

Bozzo's philanthropy is much appreciated by David Dzombak, who heads CMU's Department of Civil and Environmental Engineering.
"Jerry's generosity helps us train the next generation of problem-solvers in areas that touch all of our lives," Dzombak said, "everything from advanced infrastructure systems to sustainability."

As for the suggestion of retirement in Bozzo's future, do not bet on it.

"What would I do, sit around and vegetate?" he said. "As long as I can get out to watch the horses, that's what I'm going to do."