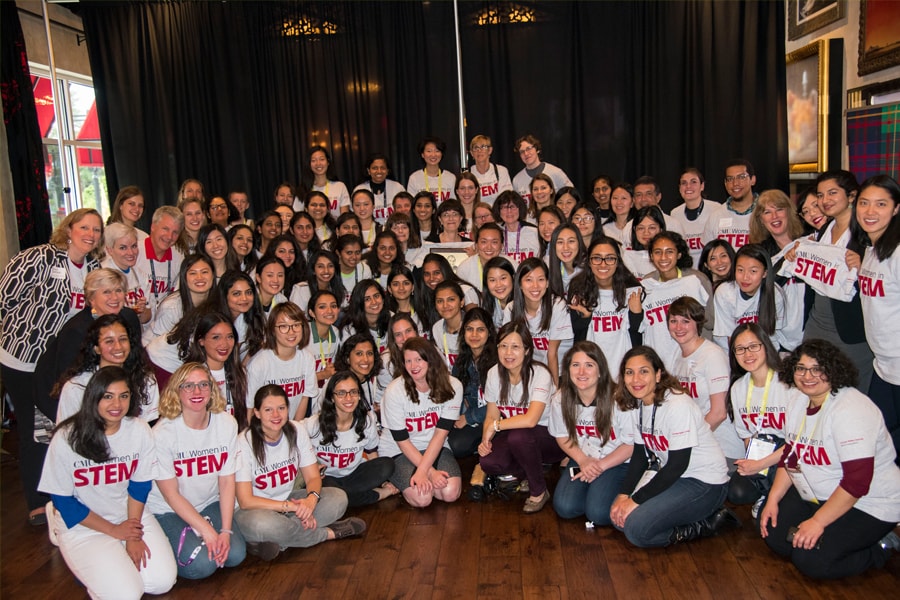 October 11, 2017
CMU Women Honored at Grace Hopper Celebration
By Abby Simmons abbysimmons(through)cmu.edu
Media Inquiries
Abby Simmons
Marketing and Communications
Two women from Carnegie Mellon University were honored for their contributions to increasing diversity in the fields of computer science and technology during the Grace Hopper Celebration of Women in Computing, Oct. 4-6 in Orlando.

The event, co-presented by AnitaB.org (formerly the Anita Borg Institute) and the Association for Computing Machinery, is the world's largest conference for women technologists, with this year's attendance estimated at more than 18,000.

Carol Frieze, director of Women@SCS and SCS4All, received the Computing Research Association's A. Nico Habermann Award, and CMU-Africa alumna Marie Claire Murekatete received the AnitaB.org's Change Agent ABIE Award.

The Habermann Award is given to a person who has made outstanding contributions aimed at increasing the numbers and/or successes of underrepresented members in the computing research community. The award is named for the late Nico Habermann, a longtime head of CMU's Computer Science Department and the first dean of its School of Computer Science. Habermann, who also served as head of the National Science Foundation's Computer and Information Science and Engineering directorate, was deeply committed to increasing the participation of women and underrepresented minorities in computing research.

Frieze's work has helped SCS consistently enroll and graduate a significantly higher percentage of women than the national average. For the past two years, nearly half of the incoming first-year class in SCS was women. Female undergraduate enrollment also reached a record high across the university this year, with women making up 51 percent of the Class 2021.

Murekatete is a software development division manager at Rwanda Information Society Authority. She earned a Master of Science in Information Technology from CMU-Africa in 2014. The Change Agent ABIE Award honors an outstanding international woman who has created or expanded opportunities for girls and women in technology.

In 2014, Murekatete founded Refugee Girls Need You, an organization that teaches information and communication technology (ICT) skills to teenage refugees in Rwanda. Each year the organization teaches at least 400 young women basic computer programming, web design, ICT support and graphic design. After their training, participants work on ICT solutions to raise standards of living for refugees as a whole.
Among the speakers was Saralee Kunlong, a senior software engineer at YP (formerly Yellow Pages), hosted a well-attended workshop in the career workshop track called "Consciously Tackling Unconscious Bias," with similar themes to the BiasBusters@CMU initiative.
"What makes Grace Hopper so great is seeing all the strong, intelligent women from different generations come together," said Kunlong, who graduated in 2012 with a master's degree from CMU's Information Networking Institute where studied at the College of Engineering's Silicon-Valley location. She helped establish an employee resource group called YP Women. Part of her motivation to do so was her membership in Women@INI and attending GHC as an INI student. As a minority in the field, Kunlong recognized that women face challenges and feel out of place.
"When you are exposed to other women who are also in the same fight that you are, you don't feel alone anymore," Kunlong said. "You feel more encouraged to continue on, not just for you, but for other women in your group as well, and for me, also for the next generation."
The INI was a platinum academic sponsor of this year's Grace Hopper conference.
In addition to the award recipients, more than 100 students, alumni, faculty and staff from technology-focused programs across CMU's schools and colleges attended a reception hosted by CMU's Alumni Association.