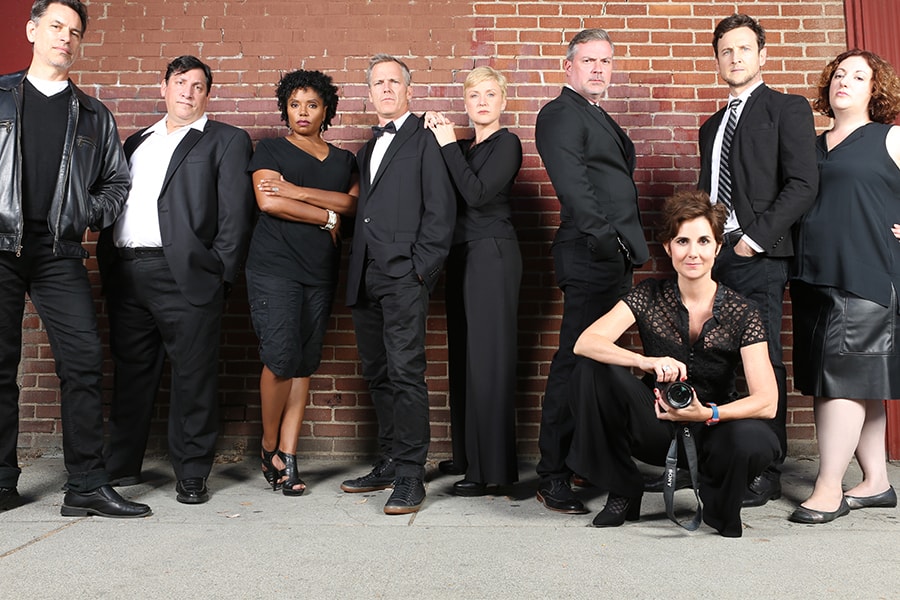 October 25, 2017
Digital Drama Causing "Conversations in L.A."
The digital drama series "Conversations in L.A.," written, produced and starring Carnegie Mellon University alumna Anne Marie Cummings, is becoming the talk of the town.
The dark comedy received rave reviews from The Huffington Post and three nominations for Daytime Emmy Awards this year. Cummings was nominated for Best Actress in a Digital Daytime Series and fellow CMU alumna Vanita Harbour got a nod for Outstanding Supporting Guest Actress. Cummings and Harbour, who has played in the ionic "General Hospital," are among nine CMU alumni working on the series in front of and behind the camera.
"I would never have been able to predict this two years ago," Cummings said. "This was not what I was expecting at all."

The Huffington Post describes "Conversations in L.A." as "a story about self-discovery and finding who we are without the influences of those around us." It calls Cummings' performance "raw, real and authentic," and her writing "brilliant."

The series follows the relationship between a young man and an older woman (played by Cummings) who is dealing with career transition, pet loss and menopause. The show just released its second season, which is available for viewing on Amazon, ITunes and via the show's website.

"Conversations" uses a one-shot format — each episode is shot in one take without cuts — a decision inspired by Cummings' 30-year career as a theatrical actress, playwright, director, artistic director and producer.
"I think of it as 'submerging the viewer into the work.' My work feels more like virtual reality to me," she said.

Rebecca Metz, a fellow School of Drama alumna and actress in "Conversations in L.A.," said the one-shot format "borrows equally from theater and film.
"We rehearse it like a play and shoot in one long take, so in that way, it's like a theater performance. hat blend of disciplines and skills was really interesting to work with," Metz said.

Cummings said her CMU education was vital in developing the show's unique style.
"The Carnegie Mellon training is invaluable ... you have to work with people you trust, and I have that with people from Carnegie Mellon. I know that we'll have a similar approach to the acting, and there's an openness and a flexibility with the directing," she said.

"Conversations" marks Cummings's first deep immersion into film after a career in theater. After a nearly a decade of running a theater company in Ithaca, New York, she sold her house in 2015 and moved to Los Angeles.
"I was ready for something new ... something bigger," Cummings said.

She first wrote a feature film, "Eat Bitter, Taste Sweet," which is in pre-production with director Wendey Stanzler, whose credits include "Orange is the New Black" and "Parks and Recreation." Next came "Conversations," which began as a simple scene for her on-screen acting reel and developed into a series written and financed entirely by Cummings.
"It went from "we're just doing scenes' to 'I think we have a series here," she said.

When it came time to expand the crew and casts, her first call was to her School of Drama classmate Brett Benner, who helped cast the series with several other alumni and later directed several episodes.

Benner brought Metz onboard.
"It's hard to overstate the value of the CMU alumni mafia in Los Angeles," Metz said. "There are so many alumni working in every aspect of the business, we all kind of have a built-in support network in each other, which is invaluable."
Jack Plotnick, another CMU alumnus on the show, said that  it has been a dream acting alongside classmates.
"They were all brilliant," Plotnick said. "CMU attracts fantastic talent, and they taught us well."
He added that Cummings was smart to create her own content.
"So many actors give up their power as artists by just waiting until they are hired to get to do their craft. I have always believed that when you are doing what you love, for the love of doing it, you attract work," Plotnick said.
Having just released season two, Cummings said she hopes to sell the series to a streaming platform like Amazon or Hulu, and develop additional seasons, a goal she is confident she will achieve.
"You work toward what it is that you love, you keep doing the things that make you feel passion, and at some point, things will just start to fly," she said.