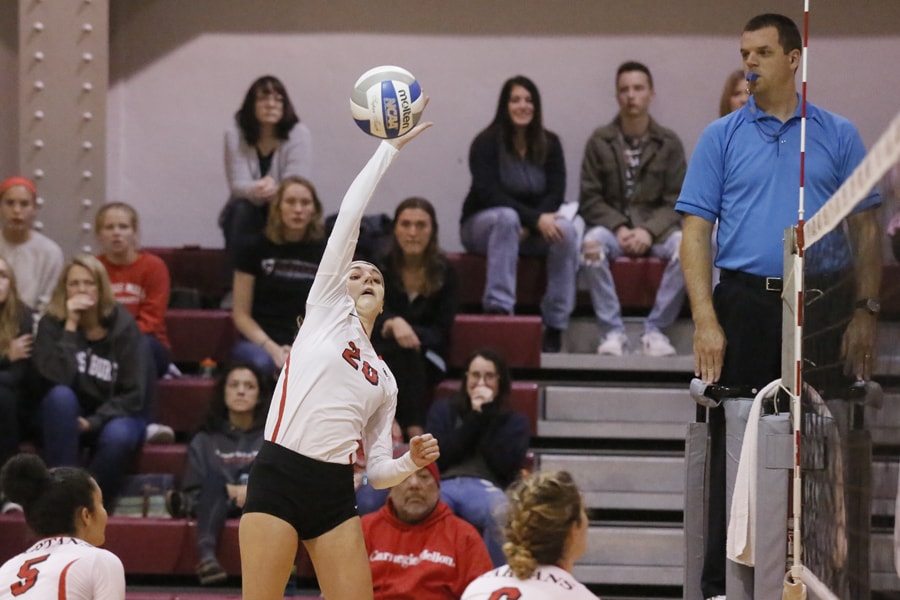 November 06, 2017
Women's Soccer, Volleyball Teams Advance to NCAA Post-Season Play
Soccer team to host four-team regional Nov. 11-12
By Bruce Gerson bgerson(through)cmu.edu
Media Inquiries
Mark Fisher
Sports Information Director
Carnegie Mellon University's women's soccer and volleyball teams have received at-large bids to the NCAA Division III Championships.
The women's soccer team, ranked 9th in Division III under Head Coach Yon Struble, will be competing in the NCAA tournament for the sixth straight year after finishing the regular season with a 13-2-2 mark and a third-place finish in the University Athletic Association (UAA). The Tartans will host a four-team regional tournament and will play Farmingdale State College (13-7-2) at 5:30 p.m. Saturday, Nov. 11. Franklin College (14-4) will take on Arcadia University (15-5) at 8 p.m. The two winners will play Sunday, Nov. 12.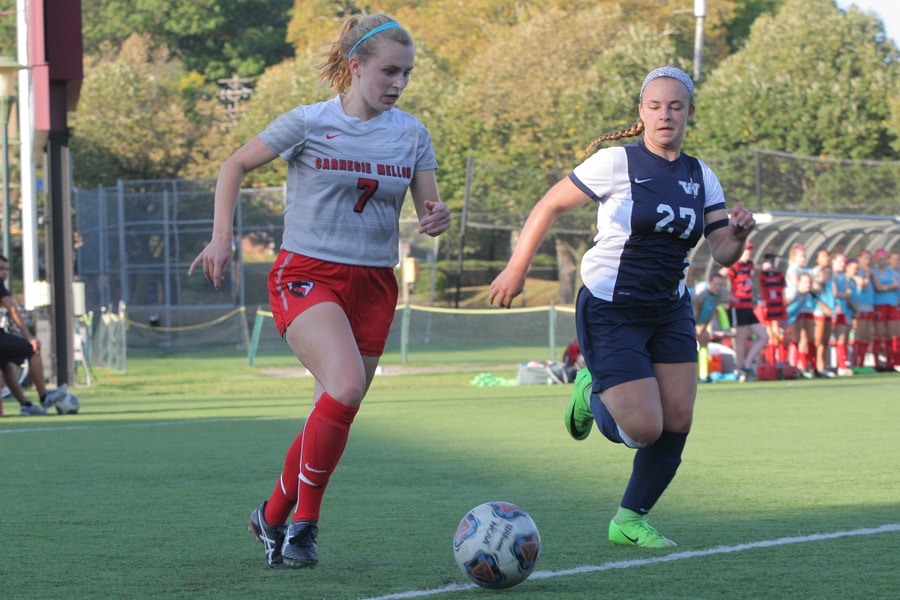 Senior forward Haili Adams (above) leads the Tartans with 10 goals and three assists. Freshman goalkeeper Carolyn Botz has recorded 29 saves and nine shutouts.
"Making the NCAA tournament isn't guaranteed, it's something earned and this group worked hard starting in the spring to earn this opportunity," Struble said. "We have a tough first-round game but I'm confident the team is ready to compete. I'm looking forward to what they bring to the field this weekend."
CMU's volleyball team, also ranked 9th in Division III, will be making its second straight post-season appearance and fourth under 13-year Head Coach Kim Kelly. Kelly notched her 250th victory at CMU and 500th career win earlier this year.
The Tartans (29-4) are the top seed in the Mid-Atlantic region. Carnegie Mellon will face Eastern University (20-12), winner of the MAC Freedom Conference, at 3 p.m. Friday, Nov. 10 at Stevenson University in Baltimore. CMU defeated Eastern, 3-0, in late October.
The Tartans are led by a pair of junior hitters in Lauren Mueller (425 kills) and Sarah Jurgens (327). Defensive specialist Kayla Yew leads the team with 710 digs, including a career-high 41 in a UAA tournament match vs. Brandeis University.
"I am extremely proud of what this team has accomplished this season," Kelly said. "They are an amazing and resilient group of young women. It has been a great journey and I can't wait to see what happens next."
The winner of the Carnegie Mellon-Eastern match will face the winner of the Randolph-Macon College (23-6) vs. Swarthmore College (21-7) contest. Stevenson (32-1) will face Hunter College (27-4) in the first round with the victor advancing to play the winner of the Johns Hopkins University (24-3) vs. Kean University (28-10) match. The regional championship will be played Sunday, Nov. 12.