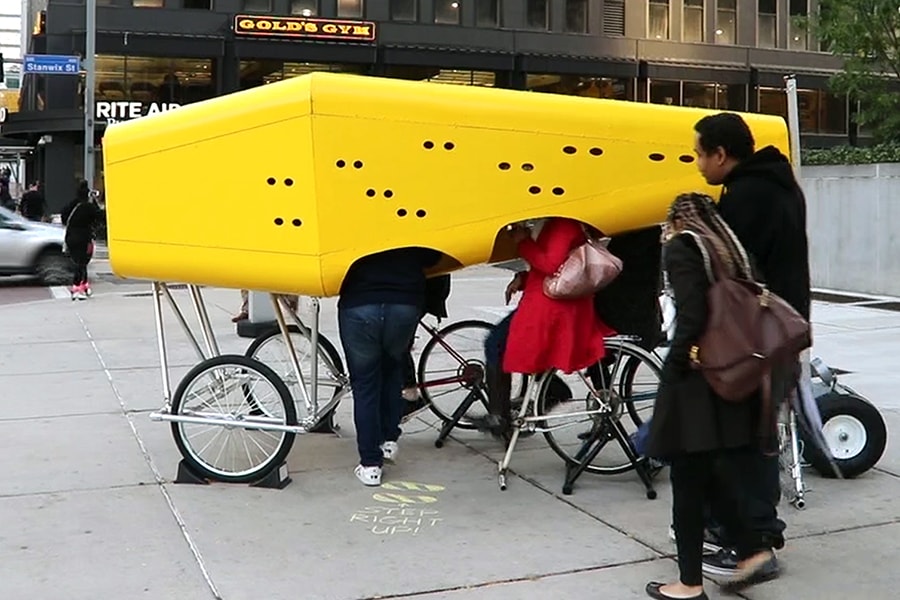 November 14, 2017
Hiding in Plain Sight
By Meredith Marsh mamarsh(through)andrew.cmu.edu
Media Inquiries
Meredith Marsh
Pam Wigley
There is no sitting down, relaxing and eating popcorn at Stefan Gruber's traveling movie theatre.
Gruber, the Lucian and Rita Caste Assistant Professor and chair of the Master of Urban Design program at Carnegie Mellon University's School of Architecture, is prompting passersby to climb on bikes and produce a public cinema. His pedal-powered pop-up movie theatre, "Hiding in Plain Sight," is on display at Four Gateway Plaza in downtown Pittsburgh through Nov. 19. Visitors are asked to ride a bicycle to generate power to show a variety of short films.
"I was interested in how public space is increasingly defined by people absorbed by their phones. So I began thinking about how I could feed our obsession for moving images while having people actively engage with one another," Gruber said.
Among the films being shown include the 1926 "Anemic Cinema" by Marcel Duchamp, the 1987 "The Way things Go" by artist duo Fischli and Weiss and the historic clips by William G. Beal from the archives of the Senator John Heinz History Center. Short films curated by Pittsburgh Filmmakers also are being shown.
The installation was created by STUDIOGRUBER, an architecture and urban design office with a specific interest in the design and activation of public space through civic engagement and community participation. The office is part of the Pittsburgh Downtown Partnership's BetaBurgh program, which promotes innovative ideas to test and launch products and services within the downtown marketplace.