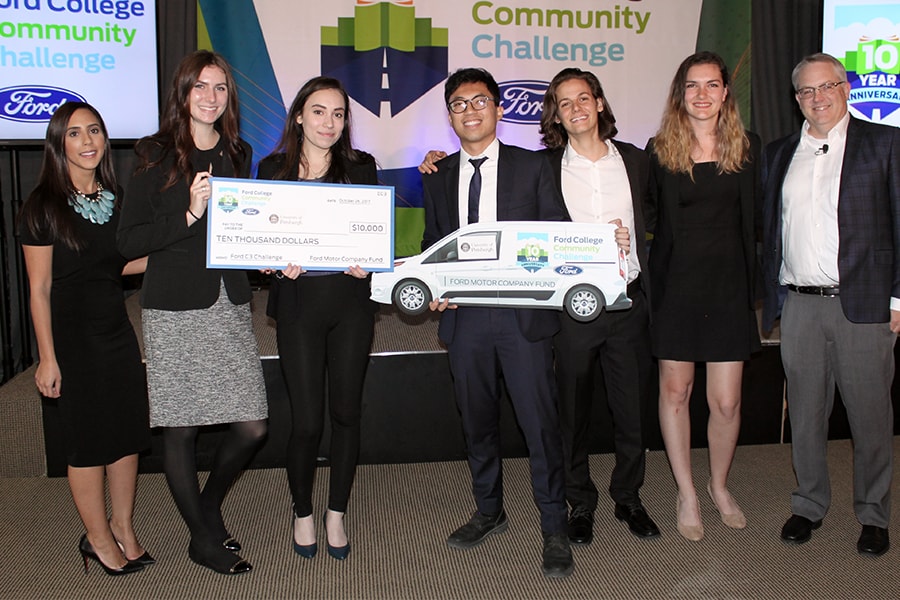 November 07, 2017
CMU Students Win Ford's Mobility Challenge
By Amanda King alking(through)andrew.cmu.edu
Media Inquiries
Amanda King
Wilton E. Scott Institute for Energy Innovation
The Aquaponics Project, a club at the University of Pittsburgh that has ties to Carnegie Mellon University and the University of Michigan, recently won the Ford College Community Challenge's (Ford C3) mobility-themed competition, receiving $10,000 and a Ford Transit Connect passenger van to transport its portable aquaponics facility that provides solutions to food production and waste, and soil remediation.
The club, which specializes in urban agriculture by raising aquatic animals and plants in one, small environment, includes CMU students Alexis Hoane, a sophomore in the Mellon College of Science, and Sasha Cohen Ioannides, a sophomore in the College of Engineering. 
"The vehicle will improve our aquaponics startup, allowing us to start integrating anaerobic digestion, and improve food rescue mobilization in Pittsburgh. This will create a 21st century food system that we hope other urban areas can model," said Cohen Ioannides, director of design and maintenance for The Aquaponics Project.
Established in 2016, the company deployed Pittsburgh's first portable aquaponics farm, which produced 50 pounds of basil and 80 tilapia last year. The team previously pitched their anaerobic digestion system at the 2017 Ford C3 and won $25,000. The system involves a series of biological processes in which microorganisms break down food waste in the absence of oxygen. The end product is biofertilizer and biogas, which is used for energy and heat.
Ford celebrated the 10-year anniversary of the Ford C3 with the special mobility competition, focusing on solutions that make lives better by changing the way people move. As part of the challenge, Ford invited three of the 10 teams that previously won, including The Aquaponics Project, to pitch their solutions to a panel of Ford executives for the chance to win the passenger van and additional monetary prizes.
"The future of C3 will broaden our goal to help students create meaningful, sustainable social enterprises to drive change," said Mike Schmidt, director of education and global community development for Ford Motor Company Fund, in a press release on the challenge. "Our goal is to create a movement, not a program, that allows students to be a powerful force for good in this world and to help make people's lives better across the globe."
Home Inc.Ubator, led by CMU architecture major Sophie Nahrmann, was an additional 2017 C3 winning team that received $25,0000 for its portable residential housing module prototype, equipped with reality computing and advanced virtual reality that enables residents to have input on the design of their affordable housing.
"The team at CMU's Wilton E. Scott Institute for Energy Innovation would like to thank the leadership team of the Ford Motor Company Fund for their generous support of The Aquaponics Project and Home Inc.Ubator," said Anna J. Siefken, associate director for Innovation and Strategic Partnerships at the Scott Institute. "It's partnerships like this that allow the most exciting technologies and ideas to flourish into companies that will have a lasting impact on how we achieve urban sustainability."
The Aquaponics Project partners with various organizations around the city including Repair the World, The Door Campaign, and 412 Food Rescue, co-founded by CMU alumna Leah Lizarondo, a 2003 graduate of the Heinz College of Information Systems and Public Policy. 412 Food Rescue provides compost for the startup's anaerobic digestive system.
"My biggest passion is creating accessibility to food," said Cohen Ioannides. "The Aquaponics Project allows me to collaborate with other students on and off campus, get out and do the things I'm passionate about and get involved with the community."