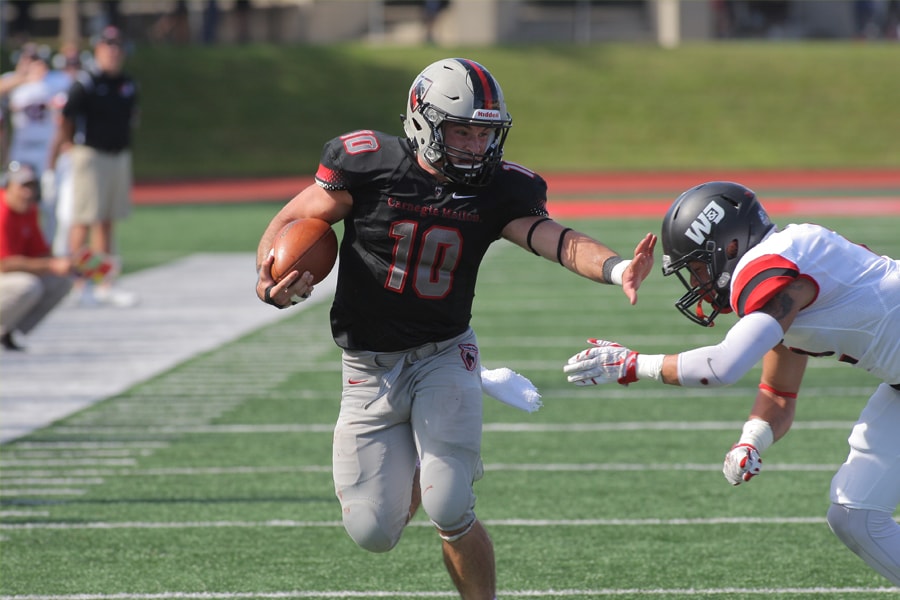 November 01, 2017
Benger Named Campbell Trophy Finalist as a Top Scholar-Athlete
CMU's all-time leading rusher will attend awards dinner in NYC Dec. 5
By Mark Fisher mwfisher(through)andrew.cmu.edu
Media Inquiries
Carnegie Mellon University senior running back Sam Benger was named one of 13 national finalists for the National Football Foundation (NFF) and College Hall of Fame's 2017 William V. Campbell Trophy, which recognizes the top collegiate football-playing scholar-athlete in the United States. Benger is the lone finalist from an NCAA Division III institution and one of only two finalists from a non-NCAA Division I school.
Benger, a business administration major in the Tepper School of Business with a 3.67 grade point average, is the Tartan's all-time leading rusher with 5,197 yards in 41 career games. The 5'8", 185-pound senior has rushed for 58 touchdowns and has six receiving scores for 64 touchdowns in his career. He needs one more rushing touchdown to become the school's all-time leader. Last season, he set CMU's single-season school record with 26 rushing touchdowns.

"I am honored and humbled to be recognized. I am truly fortunate because my teammates, coaches, trainers, and family have put me in a position to be successful," said Benger who was selected from a pool of 181 semifinalists from all NCAA divisions and NAIA schools.

"I try my hardest to capitalize on the opportunity I was given to be a student-athlete at CMU, so seeing this recognition is gratifying. Ultimately, it's a testament to the quality of the people I have around me," Benger added.

The 13 finalists will each receive an $18,000 postgraduate scholarship as a member of the NFF's class of scholar-athletes. The class will travel to New York City for the 60th NFF Annual Awards Dinner on Dec. 5, when Fidelity Investments will present one finalist with the 28th William V. Campbell Trophy. The winner's postgraduate scholarship will be increased to $25,000. The event at the New York Hilton Midtown will be live streamed on ESPN3, starting at 8:30 p.m. ET.

"Sam is the most talented football player I have had the honor to coach in my 32 years at the helm of the Carnegie Mellon football program," said Head Coach Rich Lackner. "Sam's physical tools, stats, awards and accomplishments speak for themselves. Beyond his academic accomplishments in our Tepper School of Business and football accolades, you should know that Sam is one of the most driven, humble and unselfish individuals I have ever met. His work ethic, determination, positive attitude and moral compass are unmatched within our program."

Benger currently leads the team in rushing and ranks first in the University Athletic Association (UAA) and fifth in the Presidents Athletic Conference (PAC) with 864 yards on 140 carries for an average of 6.2 yards per carry. He has recorded two 200-yard rushing games this season and has eight for his career.

During his sophomore and junior seasons, Benger surpassed 1,000 yards rushing. He ran for 1,671 yards last season and in 2015 led the nation with 2,092 yards, averaging 190.2 yards per game. Benger became the 21st player in Division III history to reach the 2,000-yard plateau, which also set the school's single-season mark.

Benger has earned several All-America and Academic All-America honors and is a two-time PAC Offensive Player of the Year. He was the UAA Offensive Player of the Year and an Associate Press All-American as a sophomore.
Benger also is involved in community service. He has volunteered for Pittsburgh's Children's Hospital and is a mentor to several young men battling illness. Benger suffers from diabetes, and he works with fellow diabetics to help them manage their illness. He has volunteered for the Special Olympics games at Carnegie Mellon and for the 1,000plus Service Day initiative at CMU, which brings together students, faculty, staff and alumni to volunteer at multiple sites throughout the greater Pittsburgh area.

Benger took part in the 2017 Innovate x PGH Social Innovation event, in which he organized a student competition aimed at solving some of Pittsburgh's toughest social problems, like homelessness, hunger and poverty.

"Sam is the epitome of a student-athlete, and has represented our university as well as anyone can for the past four years," said CMU Director of Athletics Josh Centor. "While his accomplishments on the field speak for themselves, it is the impact Sam makes off the field that makes him so remarkable. He is a leader of leaders, and his humility knows no bounds. Watching him play football, and getting to know him as a student and person, has been one of the great privileges of my career."

Benger is the Tartans' fourth NFF Scholar-Athlete, joining 1987 honoree Bryan Roessler, 2006 honoree Aaron Lewis and 2008 recipient Brian Freeman.