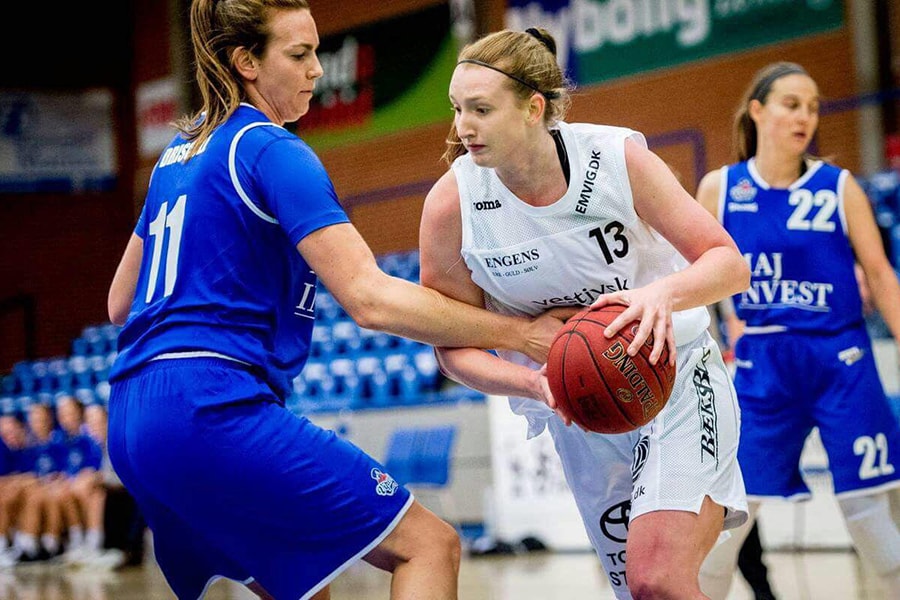 November 13, 2017
CMU Basketball Star Turns Pro
Murphy Eyes Future Career as Special Ed Teacher
Chalk up another milestone for Lisa Murphy, the first Carnegie Mellon University alumna to play professional basketball. As of early November, the 2017 CMU graduate is the leading scorer with 19.2 points per game for Lemvig Basket, one of the premier teams in Denmark.
Although she enjoyed a stellar collegiate career at CMU, turning pro was not in her sights until the very end.
"When senior year came along, I was excited about my plans to go to graduate school and didn't think much about playing professionally," she said. "But as I came off the court after my final game, I told my parents, 'I don't feel done.' From that point, I turned all my efforts toward getting signed."
Agent Matt Krejci of MK Sports and Entertainment received Murphy's highlight reel and was instantly impressed.
"She has the whole package — athletic ability, a good head on her shoulders, a strong work ethic and a desire to get better every day," Krejci said.
The 6'1" forward filled a trophy case and record book at CMU, becoming the Tartans' all-time leader in points (2,306), rebounds (1,180) and blocked shots (232), marks that also set records in the University Athletic Association (UAA). In her senior year, the All-America selection led CMU to a top 10 national ranking in NCAA Division III and set the NCAA record for all divisions by making 78 percent of her shots.
Murphy is a two-time UAA Player-of-the-Year, a two-time All-American, a two-time Academic All-American and a recipient of the 2017 Jostens Trophy, which is awarded to the top Division III student-athlete based on basketball ability, academic performance and extracurricular and/or civic activities.
A psychology major with a concentration in child development, Murphy was focused on and off the court.
"I had a detailed daily planner, and I budgeted my time. I never wanted to compromise on either academics or sport, so I took all the little things seriously, like sleep, nutrition and personal time," Murphy said.
CMU Head Coach Jacquie Hullah said Murphy was driven and smart on the court.
"Every day at practice Lisa was completely absorbed with what she wanted to accomplish,' Hullah said. "She always made strong decisions on the court that got her into a position to take great shots she knew she could make."
Although she is excited to be playing professionally in Denmark, Murphy is looking toward life after basketball and is shooting to be an early childhood special education teacher.
"I'm particularly interested in working with children with autism spectrum disorders. It's my dream to not only assist children with challenges, but also help cultivate more accepting young minds. Empathy and belongingness need to be more prevalent in our world today," Murphy said.
That career path should be a layup for Murphy, according to Sharon Carver, her academic adviser and director of CMU's Children's School.
"Lisa has the foundation, savvy, strength and drive to truly impact children and families," Carver said.