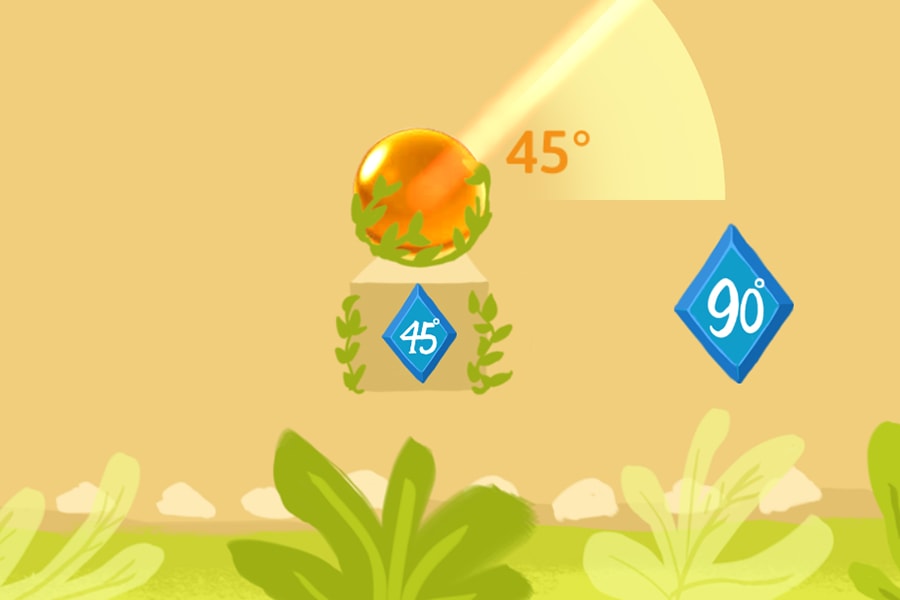 November 14, 2017
Angle Jungle Gets Straight to Math, Fun
By Heidi Opdyke opdyke(through)andrew.cmu.edu
A game created by Carnegie Mellon University's Entertainment Technology Center angles to help grade school students take the right path to learning.
"Angle Jungle" was created this past spring, for Intermediate Unit 1 and Colonial School in Coal Center, Pennsylvania. The iPad game, which has 30 puzzles to teach geometric concepts and the use of a protractor, was designed by Jibran Khan, Jun Wang, Xueyang Wang and Yonglin Zhang. The game is available in the Apple store, and the team hopes to have it available for Android devices in the future.
"Given that the team only had a semester to design, test and build the game that is a lot of puzzles," said Ricardo Washington, special faculty with the ETC, who with Scott Stevens advised the students on the game. "They did a fantastic job of testing ideas early and evolving the final puzzle designs based on feedback from test groups."
Washington said that games can offer ways to enhance learning in unexpected ways.
"A game that is designed to blend learning into fun and engaging experiences has a good chance of sharing more than just a good time with players," Washington said. "At the ETC, we encourage our students to fully explore games as teaching systems for any number of audiences and subjects. Players can be learners, and vice versa."
Audrey Mowry, a curriculum specialist in Intermediate Unit 1, said this was the fourth project the district has collaborated with CMU. Younger students have helped develop applications as well as work with college and graduate students who act as mentors and role models.
"The experiences of working with the teams of CMU students, and their professors, have been extremely beneficial to our students and staff at the Intermediate Unit 1 Campus Schools," Mowry said. "We are also pleased with the lasting relationships that we have developed with Carnegie Mellon University and the Entertainment Technology Center that have allowed us the opportunity to collaborate on such high caliber technological experiences that have enhanced the educational experiences of our students."
The team said they were pleased with the results of the game.
"Based on the feedback in the playtest sessions, students preferred to use this game in class instead of worksheets or textbooks," Jun Wang said.
Khan said that he enjoys working on educational projects, and this semester he is working on one that helps promote environmental sustainability.
"Making fun games is all I've ever wanted to do," said Khan, who was the game designer. "At the ETC, I have followed that drive into education game projects, where I attempt to apply my desire for fun to create enjoyable educational experiences."
Xueyang Wang said that the experience was so interesting that she is taking a class on learning media design, which is part of CMU's master of education technology and applied learning science (METALS) program.
"I hope this can give some insights," Xueyang Wang said. "In the future, I would like to make both 2-D and 3-D games, maybe also combined with physical tools, to teach children STEAM [science, technology, engineering, arts and mathematics] learning."
An animation artist, she said that the ETC's interdisciplinary approach to learning lets each student shine through their skillsets.
"This is the fantastic space I can devote my skills to make real products. I can work and collaborate with programmers to make our story become real," she said.