May 02, 2017
Pittsburgh Steeler, CMU Grad Student Urges Tartans To Reach Full Potential
By
Mark Fisher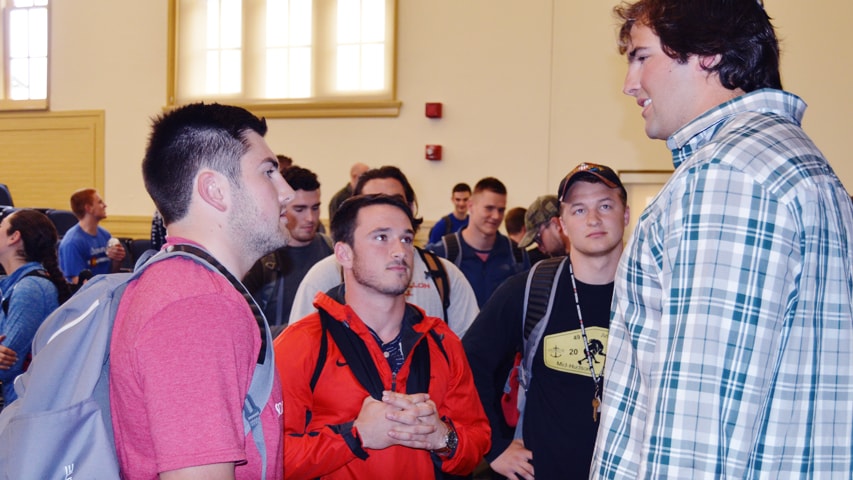 Alejandro Villanueva talks with CMU football players (l-r) Stanley Bikulege, Sam Benger and Quinn Zsido.
Pittsburgh Steeler Alejandro Villanueva told fellow Carnegie Mellon University students they should believe in themselves. "Always bet on yourself," he said.
Villanueva, a former Army Ranger and current graduate student in the Tepper School of Business, delivered the advice during a talk to CMU student-athletes. He spoke about leadership and how his experiences have made him who he is today.
After graduating from the U.S. Military Academy in West Point, N.Y., Villanueva served three highly decorated tours in Afghanistan. As an Army Ranger and captain, he earned several military awards, including the Bronze Star Medal and the Bronze Star Medal of Valor for heroism in combat.
"Alejandro's unflinching fearlessness and confidence in the face of danger and denial was inspiring," said Tartan junior running back Sam Benger. "Often times we have no idea of our true potential until we get out of our comfort zone and push ourselves."
Following his military career, Villanueva turned to football and joined the Steelers as a free agent in 2014. During the last season he played a key role for the Steelers as their starting left offensive tackle.
In fall 2015, he enrolled in the Tepper School's Part-Time, On-Campus MBA program to prepare for his next set of experiences.
"It was a privilege to have Alejandro spend time with our student-athletes," said Director of Athletics Josh Centor. "I have had the chance to spend time with him, and have found his perspective on leadership — as an American hero, elite athlete and student — to be incredibly inspiring."
Villanueva's talk was the latest event in an expanded leadership program offered by the Department of Athletics. Earlier this spring, student-athletes heard from Carnegie Mellon alumni Mark Weinsten, a senior managing director of corporate finance at FTI Consulting Inc., and Buddy Hobart, founder and owner of Pittsburgh-based Solutions 21. Hobart played basketball for Carnegie Mellon from 1977-1981.
Related Link:
Villanueva Prepares at CMU for Life After Football