May 03, 2017
Three-Minute Thesis Exhibition in Posner Center
Ph.D. student puts research on display
By
Shannon Riffe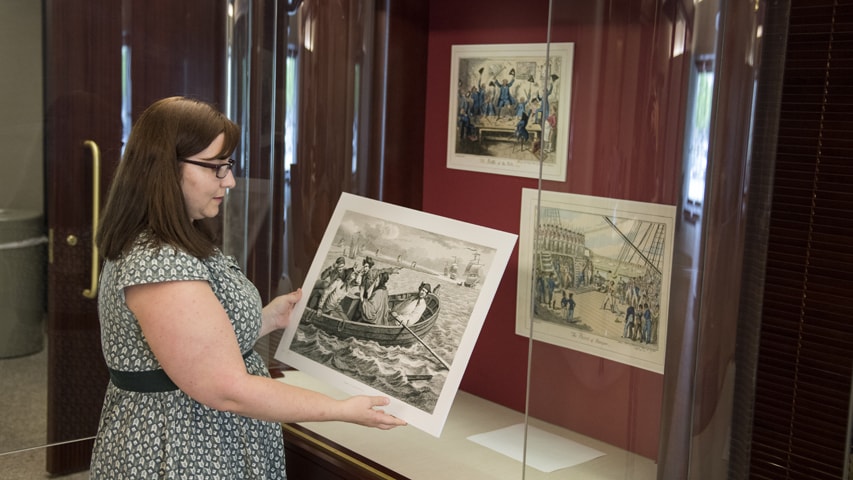 Juliann Reineke works on her exhibit in the Posner Center.
Juliann Reineke is bringing her thesis to life.
Last year, the Carnegie Mellon University Ph.D. student in English celebrated a second-place finish in the university's Three Minute Thesis (3MT) Championship, a competition hosted by University Libraries that challenges doctoral candidates to explain their research to a general audience in three minutes or less.
This year, the Posner Center intern is hoping individuals will spend much more than three minutes viewing her work on display at the Posner Center. "Three Sheets to the Wind: Sailors Disrupting Society" opens May 4 and runs through Nov. 30.
"Three Sheets to the Wind" investigates how the common British sailor, popularly known as the Jolly Jack Tar, reflects 18th and 19th century Britons' concerns over the expanding empire and Britain's place in the world. It's a topic that has modern day relevance as well, illustrating how current perceptions of sailors and veterans developed in the 18th century.
As this semester's Posner Center Intern, Reineke spent 15 weeks working with Special Collections Librarian Mary Catharine Johnsen to identify materials from the Posner Collection and the University Libraries' Special Collections for her exhibition. The internship program, established in 2004, is sponsored by the Posner Fine Arts Foundation in association with University Libraries.
Interns have curated exhibitions over the years ranging in topics from robots to "Das Kapital." As the 23rd intern, Reineke's prior experience with 3MT gives her a bit of an edge.
"Participating in the 3MT competition helped me distill my ideas and focus on narrating my dissertation to a non-expert audience, which are vital skills for curating my exhibit," Reineke said. "Furthermore, both the Posner Internship and the 3MT competition improved my ability to communicate the relevance of my work."
Reineke said she strongly recommends other students consider the Posner internship.
"It is a great opportunity to delve more deeply into your research area and think critically about your audience. Ultimately, sharing one's research with interested audiences from across the CMU community is a joy and an honor," she said.