May 16, 2017
Print Isn't Dead: Students Prefer It Over Digital for Academic Reading, Study Finds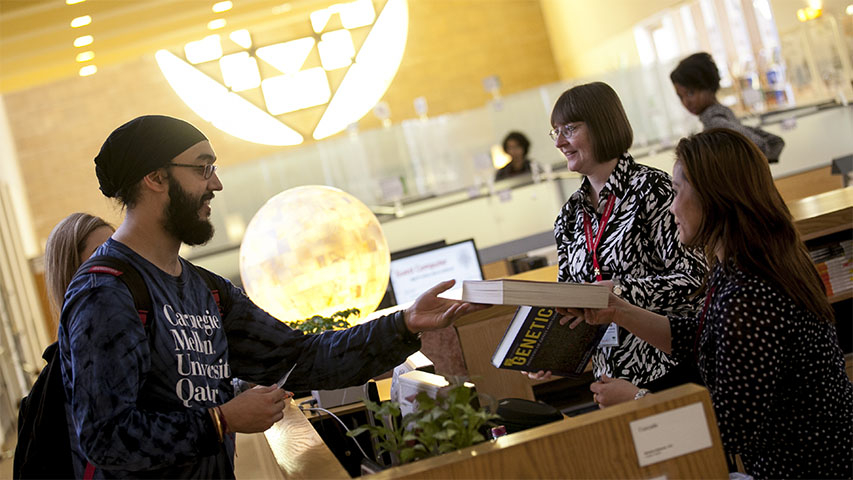 Millennials grew up using technology at an early age, but when it comes to academic reading they prefer print materials over digital formats.
The finding comes from a study conducted by Carnegie Mellon University in Qatar Reference & Instruction Librarian A. M. Salaz, alongside researchers from Qatar University and Edith Cowan University in Perth, Australia. The work builds on prior research showing that in many cases students perform better academically after working with print materials. 
Salaz does not advocate a return to print; digital is here to stay. Instead, she said there are opportunities to continue research into optimizing the use of digital formats for effective use and learning.
"Many people seem to look at this research and immediately think it's an argument for reverting to print forever, which is not how I see it," Salaz said. "It's an argument for being careful and thoughtful about how and where we deploy digital resources in learning contexts and for continuing to advance research into which devices, platforms, tools, behaviors and knowledge will move us toward erasing the digital disadvantages."
The study's findings could influence how instructors and librarians train students to interact with course materials that are increasingly available only in digital format.
Using Tobii Pro glasses to record eye-tracking data, university students in Qatar were asked to read two chapters from an undergraduate psychology textbook, one in print and one on a tablet with a Kindle app, and then write a 100 to 150-word summary of the chapter. Salaz and the other researchers then analyzed the eye and hand movements of the participants.
They found students reading the digital format engaged less meaningfully with the text — swiping back and forth and skimming more frequently — and started to write their summary during their first reading. When reading print, however, students engaged with the entire text before beginning to summarize and recalled the material with less difficulty. The behavior observed in the study supports the results from the Academic Reading Format International Study (ARFIS) survey, which investigated print versus digital reading preferences in 31 countries.
The ARFIS survey was the subject of a recent talk by Diane Mizrachi, titled "Preferring Print in a Digital World: Studies of Students' Academic Reading Behaviors," at the Carnegie Mellon Qatar campus for the Gloriana St. Clair Distinguished Lecture in 21st Century Librarianship.
Mizrachi, the social sciences and undergraduate instruction librarian at the University of California, Los Angeles, discussed the importance of ensuring equity in the classroom by accommodating students who may struggle with assignments when readings are only available in digital format, but are unable to afford increasingly costly paper-based texts.
The low cost of digital-only materials means it is unlikely instructors will return to exclusively assigning print readings. But the research demonstrates that not all students are learning effectively from digital materials.
"Students in lower socioeconomic strata who do not have ready access to electronic devices and printers or cannot afford print textbooks might be settling for the least expensive format over the most optimal learning experience," Mizrachi said. "The ARFIS survey and the Carnegie Mellon Qatar study demonstrate that an inadvertent outcome of higher education's efforts to negate the effects of the 'digital divide' — the gap between those who have access to technology and those who don't — may be the creation of a 'print divide' that favors students who can afford it."