May 09, 2017
Chemistry Senior Recognized for Student Service
By Emily Payne
Josh Zak has figured out one of life's greatest secrets. Giving to others is easy if you love what you do.
A chemistry major and Japanese minor in Carnegie Mellon University's Science and Humanities Scholars (SHS) program, Zak is a familiar face on campus through his involvement in a number of student service organizations. He is an active member of Fringe, an independent social and service organization, and Carnegie Mellon's UNICEF chapter and president of the honor society Mortar Board. Zak also served as head counselor during First-Year Orientation and led Spring Carnival's booth committee. The Andrew Carnegie Society Scholar and member of Phi Kappa Phi traveled to CMU's Qatar campus with the IMPAQT program as part of the 2016 student team to help bridge the Pittsburgh and Doha campuses.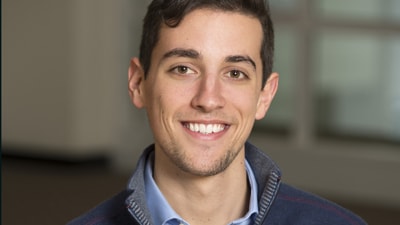 "All of the service I do is to honor the services that have already been rendered onto me," Zak said. "I think it's important to acknowledge what your community has done for you and at least give that much back to it, and that's what I try to do every day."
His dedication to the university community has earned him the Carnegie Mellon Alumni Association's 2017 Student Service Award to be presented May 19 at the 67th annual Alumni Awards.
"It's great when people recognize the work that you're putting in, and it's nice to know that what I'm doing is being felt across the community because that's always been the goal," Zak said.
The trick to balancing all of his responsibilities, Zak said, is remembering that it's never truly work if you love what you do.
Loving what you do is what first led Zak to Carnegie Mellon. When he was accepted to the university, Zak was able to take advantage of a broader scientific- and humanities-based education through the SHS program. For Zak, who plans to pursue a Ph.D. in inorganic materials chemistry, the two go hand in hand. Or rather brain in brain.
"If I have a day with a lot of science and engineering courses in a row, I get stuck in this logical left-brain mindset. The humanities' courses I've taken, especially for my minor, take me out of that mind space and let me be creative and do more reasoning style, right-brain thinking, which has helped me balance myself academically," Zak said.
His Japanese courses are helping him adopt a more global perspective while his science courses allow him to apply the fundamentals of chemistry and engineering to his interest in renewable energy research.
Working as an undergraduate researcher in the lab of Professor of Chemistry Stefan Bernhard, Zak's research relates to synthesizing molecules and characterizing their photophysics for use in various photoredox catalysis processes. The goal is to shine visible light on the synthesized molecules to facilitate chemical reactions that can be of use in other applications like splitting water molecules into oxygen and hydrogen, the latter of which can be used as a clean fuel source, for example.