May 12, 2017
Soon-To-Be #cmugrad(s) Tell Their Stories Through Social Media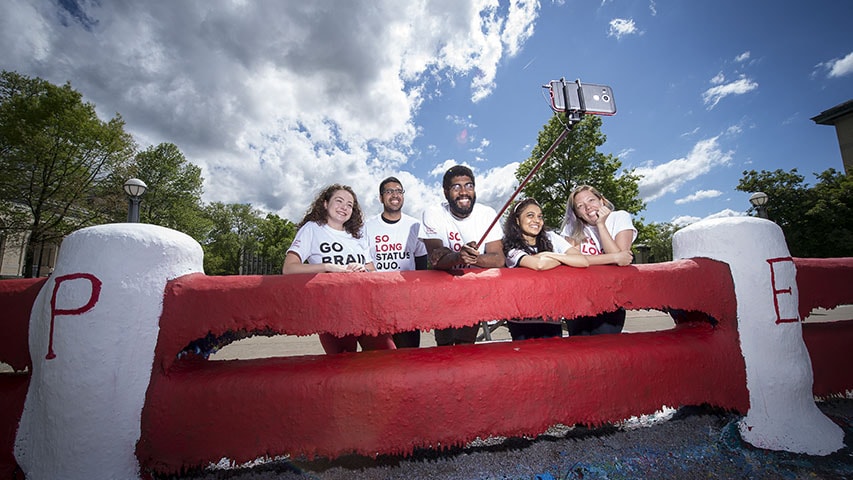 Eight graduating students participated in the #cmugrad social media ambassador project. From left to right, they are Sarah Gutekunst, Susheel Khetarpal, Nate Biggs, Roja Malligarjunan and Lauren Renaud. Students not pictured are Laura Howell, Jordon Bolden and Trevor Hadick.
Carnegie Mellon University launched a social media ambassador project to provide a window into graduating students' experiences in each of CMU's seven colleges. For five weeks, students shared photos from their work with student organizations, research, classwork and leisure time.
Here are their stories.
Sarah Gutekunst, Dietrich College of Humanities and Social Sciences
Bachelor's degree in professional writing, minors in linguistics and French and Francophone Studies
Gutekunst spent her last semester wrapping up her senior honors thesis, a narrative recipe collection drawing on the signature dishes of CMU students' grandmothers. The project was inspired by Gutekunst's Grandma Sue.
Gutekunst said her favorite moment at CMU came when she changed her major to professional writing on the advice of Tim Haggerty, director of the Humanities Scholars Program.
"Professional writing has been the perfect fit for my interest in language because it emphasizes that communication is a human tool, which cannot exist free of its context," she said. "This major gave me the confidence to unlock my creativity."
Gutekunst will work this summer at More Than Words Fine Papers, a specialty stationary store in Carnegie, Pa. Following that, Gutekunst plans to move to New York City.
#cmugrad social ambassador Sarah Gutekunst works on her thesis, a narrative recipe collection inspired by her Grandma Sue, in the sunshine. pic.twitter.com/teFo8JCqdz

— Carnegie Mellon (@CarnegieMellon) March 30, 2017
Nate Biggs, School of Computer Science
Bachelor's degree in computer science, minor in physics
Following graduation, Biggs is headed to Google in New York City, where he will be working as a software engineer. It is a "dream job" for Biggs, who also is interested in getting involved in Google's education programs and bringing to them some of the lessons he learned as a teacher's assistant and orientation leader at CMU.
Helping students find their passion at a young age is a mission close to Biggs' heart. He said it was his interest in computer science early on that helped drive him through school.
"Even if it's not computer science, if people find their passion at an earlier age," Biggs said, "it provides motivation for them to work harder, and they're more likely to succeed."
Nate Biggs, @SCSatCMU senior & #cmugrad social media ambassador, showed some #TartanPride & supported the women's lacrosse team last night. pic.twitter.com/tX5igiK9oo

— Carnegie Mellon (@CarnegieMellon) April 4, 2017
Laura Howell, Tepper Business School
Master of Business Administration
Howell capped off her master's degree program with a study abroad trip to Hong Kong. It is now one of her favorite CMU memories.
"Hong Kong and China completely surprised me," Howell said. The experience not only taught her how to do business in China, but she learned more about herself "as a person of the world."
After graduation, Howell will be moving west for a job with Abbott Vascular in Santa Clara, Calif., where she will be working as a product manager for one of their medical devices.
Laura Howell, MBA candidate @teppercmu & #cmugrad social media ambassador, meets The Great Wall. #cmusocial pic.twitter.com/fAyXexRste

— Carnegie Mellon (@CarnegieMellon) April 4, 2017
Lauren Renaud, Heinz College of Information Systems and Public Policy
Master of Science in Public Policy and Management
Renaud came to CMU in fall 2015 to develop her quantitative and data visualization skills and apply them to social justice. In the past year, she has done data analysis for the Family Independence Initiative, a nonprofit that works with low-income families to help them get out of poverty, and she recently accepted a full-time offer with them.
She also has helped build the group Students for Urban Data Systems, a collaboration of students and community members who use data for social good. Renaud said the organization helped connect her to Pittsburgh organizations such as the Alliance for Police Accountability and Western Pennsylvania Regional Data Center,
"It has been great meeting people outside of my program and outside of CMU in addition to my class experiences," she said.
Jordon Bolden, College of Fine Arts
Bachelor's degree in drama
Bolden plans to move to New York City following graduation. He aims to pursue acting, record pop music, and advocate for LGBTQ and biracial issues.
"The passion and drive instilled at CMU has inspired me to turn ideas into actions," Bolden said.
Bolden said he wants to leave a mark. At CMU, his chance came during this past year's Playground when Bolden and fellow students turned his album "Saga" into a stage production.
"For me, it was the tears of people that I thought I had nothing in common with that proved to me that we are so much more than our differences and that alone was a huge step for me at Carnegie Mellon."
Jordon Bolden (@JABsinger), #cmugrad social media ambassador & @CMU_CFA senior, wraps up on-camera audition scenes w/classmate, Lea DiMarchi pic.twitter.com/jmb3ee3sqc

— Carnegie Mellon (@CarnegieMellon) April 12, 2017
Roja Malligarjunan, College of Engineering
Master of Science in civil and environmental engineering with a focus in advanced infrastructure systems
Malligarjunan said it has always been her dream to attend CMU, where she learned about the broad spectrum of job opportunities open to civil engineers.
"Since it's not a conventional program, I've had more flexibility in choosing courses of my choice, giving me more job opportunities to explore," Malligarjunan said.
Following graduation, Malligarjunan will embark on an internship with Lind Engineering in Concepción, Chile, where she will work as a building information modeling engineer.
Her time at CMU has left her with fond lifelong memories, including performing at events organized by the Indian Graduate Student Association. 
Roja Malligarjunan, @CMU_CEE #cmugrad social media ambassador, has "enjoyed every brick" (pun intended) of building CMU @ASCETweets's booth! pic.twitter.com/nmggRUNQ4c

— Carnegie Mellon (@CarnegieMellon) April 20, 2017
Susheel Khetarpal, Mellon College of Science
Bachelor's degree in biological sciences
Khetarpal will start medical school in August at the University of Pittsburgh School of Medicine.
Since the summer following his first year at CMU, Khetarpal has been working on lung cancer research at the Hillman Cancer Center at UPMC Shadyside Hospital. He also has been involved in collaborative learning at CMU, as well as Bhangra, an Indian dance traditionally done while celebrating the harvest.
Khetarpal said CMU's community can be very collaborative.
"I've noticed how very open people are and how friendly people are to share their ideas and their strengths and learn from others," Khetarpal said. "Everyone's really accepting and super engaging with each other, which is something I've seen in all of my clubs and activities."
Trevor Hadick, College of Engineering
Bachelor's degree in chemical engineering and engineering public policy
Following graduation, Hadick is headed to Dania Beach, Florida, for an 18-month management training program with Chewy, an online pet supplies retailer.
"They're in this really innovative space," Hadick said. "With such a young company, there's a lot of growth potential, both as an employee but also as a business."
Hadick's extracurricular involvement at CMU was instrumental in his education. He has been involved in student government, played in club soccer, served on the University Disciplinary and Academic Review Board and sat on the First-Year Advisory Board.
If he could pass on one piece of advice to incoming students, Hadick said it would be to get involved in organizations.
"It grows you as a person in ways that you might not even know," he said.
Today was #cmugrad social media ambassador Trevor Hadick's last day working @CMUEngineering Dean's Office. He's thankful for all he learned! pic.twitter.com/EfUigiTWeZ

— Carnegie Mellon (@CarnegieMellon) May 5, 2017