May 09, 2017
Allan H. Meltzer, Monetary Policy Expert and Historian of Political Economy, Dies at 89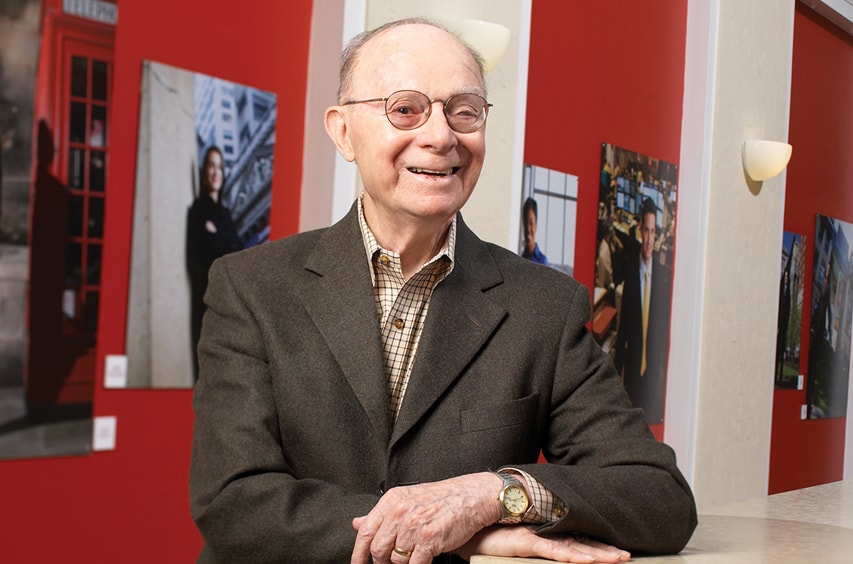 Internationally renowned economist and Carnegie Mellon University Professor Allan H. Meltzer, author of the seminal text "Why Capitalism?" and a magisterial two-volume history of the Federal Reserve, died on May 8. He was 89.
Meltzer, The Allan H. Meltzer University Professor of Political Economy at Carnegie Mellon's Tepper School of Business, was an important, globally recognized voice for reason in the increasingly politicized arena of monetary policy. He was the author of more than 10 books and 400 papers during his distinguished career.
He served as a consultant for several congressional committees, the President's Council of Economic Advisers, the U.S. Treasury Department, the Board of Governors of the Federal Reserve System, foreign governments and various central banks. He was also a member of the President's Economic Policy Advisory Board from 1988-90.
From 1986 to 2002, he was an honorary adviser to the Institute for Monetary and Economic Studies of the Bank of Japan. In 1999-2000, he served as chairman of the International Financial Institution Advisory Commission, known as the Meltzer Commission, which proposed major reforms of the International Monetary Fund and the development banks.
"Allan Meltzer had enormous influence on the political economy of the United States over a long and distinguished career," said Jim Rohr, chairman of the Carnegie Mellon Board of Trustees and former executive chairman and chief executive officer of The PNC Financial Services Group. "His deep understanding of monetary policy and close examination of the Federal Reserve contributed to policies that supported one of the nation's longest unbroken periods of prosperity."
"In his willingness to draw from different disciplines, his focus on practical questions of great importance, and his impact on society, Professor Meltzer embodied the spirit of CMU," said CMU President Subra Suresh. "His scholarship provides another compelling example of Carnegie Mellon's extraordinary contributions to modern economics."
Born in Boston, Meltzer attended Duke University with a law career in mind, but he took a course in economics and was forever changed and thus began an academic career that spanned nearly 60 years at Carnegie Mellon. He earned a bachelor's degree in economics from Duke in 1948 and moved to California, where he did graduate work at UCLA and worked as a teaching assistant.
Meltzer was active in civil rights while attending Duke University as an undergraduate. He also worked with the Southern Conference for Human Welfare and was involved in getting Henry A. Wallace on the ballot in the U.S. Presidential election of 1948.
He completed UCLA's economics program and won a fellowship from the Social Science Research Council and a Fulbright Scholarship that allowed him to travel to France in 1955-1956 to write his thesis on French inflation during World War II. That work fueled his interest in macroeconomics, economic growth, inflation and employment, issues that remained of interest to him throughout his career.
After spending a year as a lecturer in the department of economics at The Wharton School, Meltzer joined Carnegie Mellon in 1957 as an assistant professor at the Graduate School of Industrial Administration (GSIA), later to be named The Tepper School of Business.
While at Carnegie Mellon, Meltzer began work on what is now considered the definitive history of the Federal Reserve in two volumes. During that period, he also ran a Congressional committee on the International Monetary Fund and authored many papers. But as it evolved, he worked almost exclusively on the book about the Federal Reserve, which took him 14 years to complete.
"Even as he made his mark in international scholarship and the economics of the times, Allan was a kind and thoughtful colleague who built strong relationships with his fellow faculty members in the Tepper School and across the university. Through his dedication to mentorship, he also instilled a passion for economics in countless students at CMU who were inspired by his work," said Provost Farnam Jahanian.
"Professor Meltzer stands as one of Carnegie Mellon University's most remarkable professors and most prominent scholars," said Robert Dammon, dean of the Tepper School. "He has educated generations of business students, and his impact and contributions to the field of economics, the Tepper School, and Carnegie Mellon University are significant and will be long-lasting. Along with the global community, Carnegie Mellon was fortunate to have Allan's brilliant mind and talents. He will be deeply missed."
In 1973, along with Karl Brunner of the University of Rochester, Meltzer co-founded the Shadow Open Market Committee, and from 1973-1999 served as the chair of the organization. Its objective is to evaluate the policy choices and actions of the Federal Reserve's Open Market Committee and to improve policy discussions among policymakers, journalists and the general public with the hope that wiser policy decisions will result.
During the financial crisis of 2008, Meltzer testified four times at the Dodd-Frank hearings on Capitol Hill. After the crisis hit in September 2008, he and Henry Paulson and his team at the Treasury went to work to try and save the economy. For a time, Meltzer also worked with the American Enterprise Institute.
In 1983, Meltzer received a medal for distinguished professional achievement from UCLA. He was named the distinguished fellow for 2011 by the American Council for Capital Formation and is a distinguished fellow of the American Economic Association. In 2003, he received the Irving Kristol Award from the American Enterprise Institute and the Adam Smith Award from the National Association for Business Economics. In 2009, he received the Distinguished Teacher Award from the International Mensa Foundation. In 2011, Meltzer received the Bradley Award, the Harry Truman Medal for Public Policy and the Truman Medal for Economic Policy.
"Allan Meltzer was one of the greatest economists of the 20th century. His path-breaking scientific work and effective advocacy revolutionized the theory and practice of central banking, and helped bring an end to the Great Inflation in the United States and around the world in the 1980s," said Marvin Goodfriend, The Friends of Allan H. Meltzer Professor of Economics in the Tepper School. "Allan's work has guided and motivated me ever since graduate school. It has been the greatest professional and personal privilege of my life to be Allan's colleague at Carnegie Mellon's Tepper School since 2005."
"Allan was a great friend and mentor. He was the reason I stayed at CMU to finish my education and we have remained good friends for over 60 years. I consider that an extraordinary result between teacher and student," said Henry Gailliot, Life Trustee at Carnegie Mellon and retired executive from Federated Investors. "I will miss him personally in terms of his ability to take current information and integrate and summarize it as part of the long sweep of economic history. That is a talent very few people have."
In the last eight years of his life Meltzer was studying constitutional law. Before his death he was working on the book "Regulation and the Rule of Law" with colleagues from Stanford University.
He is survived by his wife Marilyn Meltzer, sons Bruce Meltzer (Nancy Cooper) and Eric Meltzer (Ann King), daughter Beth MacIsaac, grandchildren Jamie O'Brien, Kate O'Brien, Avery Meltzer, Jonah Meltzer, Sophie Meltzer, Scott Meltzer, George Meltzer and Eleanor Meltzer.
Post a tribute in memory of Professor Meltzer on the Tepper School's Alumni Relations website at http://alumnihub.tepper.cmu.edu/Meltzer