March 09, 2017
CMU Delegation on West Coast Trip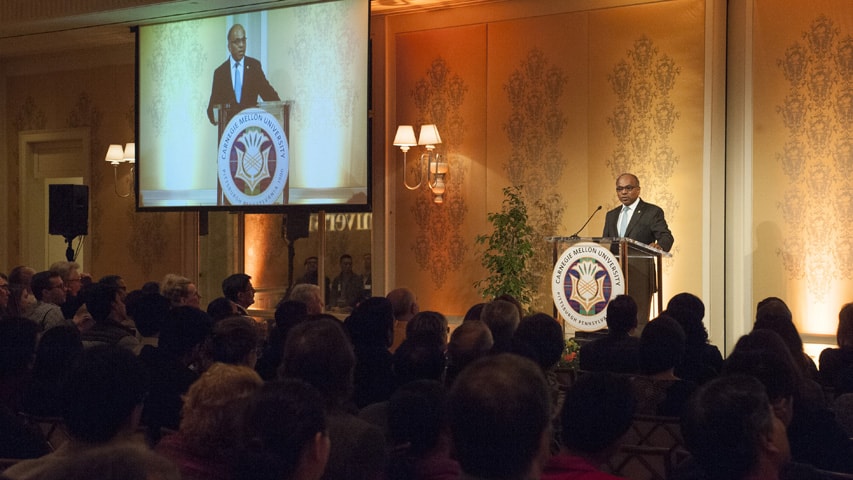 President Subra Suresh is leading a Carnegie Mellon University delegation that includes Provost Farnam Jahanian and many of the academic deans on a trip to California this week to meet with CMU's vibrant West Coast community of alumni, parents, and friends of the university. The trip is part of a series of engagements that also included major events in New York and Pittsburgh this past fall.
Carnegie Mellon operates a branch campus in Mountain View and an office in Los Angeles, where students in the Master of Entertainment Industry Management (MEIM) program spend their second year in the city taking courses taught by top entertainment industry professionals.
Suresh and CMU's Dean of the College of Engineering Jim Garrett spent time on Monday meeting with students on CMU's Silicon Valley campus.
The state boasts the largest number of annual incoming CMU students and is second only to Pennsylvania, in the number of alumni who reside here whose support is critical to CMU's continued success.
Suresh is speaking to alumni, parents and friends in Menlo Park, San Francisco and Los Angeles.
He said the meetings are meant to give alumni, parents and friends a chance to meet with CMU's leadership, have meaningful dialogue and to share the vision for the future of the university.
While speaking to hundreds of CMU community members Tuesday in Menlo Park and Wednesday in San Francisco, Suresh said he hoped they would come away with a sense of university pride and excitement; an appreciation of the challenges and opportunities now facing CMU; and a renewed level of engagement with the university.
Suresh said CMU is uniquely positioned to address many of the world's most pressing challenges citing there are few aspects of people's daily lives that haven't been touched by CMU in areas including brain science, advanced manufacturing, the science of leadership, entrepreneurship, public policy and the fine arts. Suresh said CMU alumni in California are shaping the world we live in today.
The president spoke about the university's priorities of recruiting and retaining  top talent, enhancing the CMU Experience; and enhancing excellence across the university.
If it's done correctly, he said, the enhanced CMU experience would build a foundation for years of success.