March 28, 2017
CMU Goes to Final Four in Urban Design Competition
By
Pam Wigley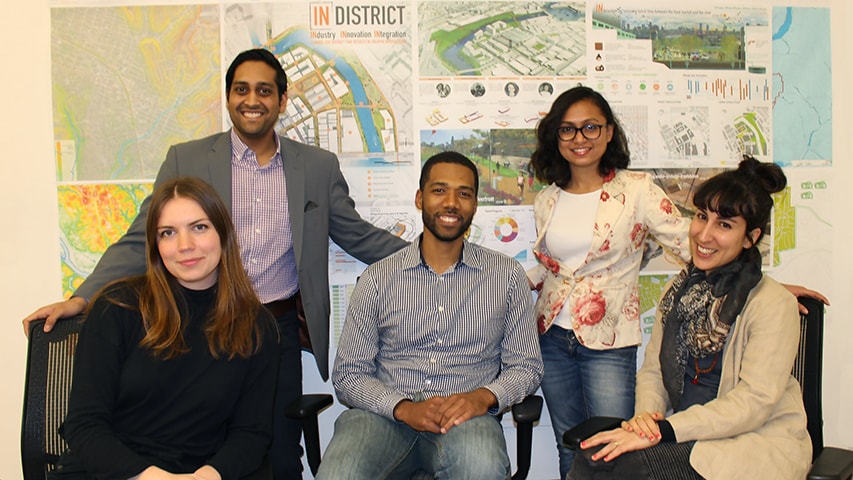 From left, Shannon Iacino, Varun Patel, Ernest Bellamy, Shruti Srikar and Lola Ben Alon will represent CMU in a national design competition in April.
For the first time, a team from Carnegie Mellon University is a finalist in the national ULI Gerald Hines Urban Design Competition. The four teams in the finals will vie for the top prize of $50,000 when they present their work to the Hines Competition Jury in Chicago in April.

The CMU team, four graduate students from the School of Architecture and one from the Tepper School of Business, was one of five teams from CMU that competed against 120 teams from 58 universities in the competition. CMU teams earned honorable mentions in the past, but have never advanced to the finals until this year.

Asked to design a master-plan proposal to redevelop the North Branch Industrial Corridor in Chicago, the CMU finalists created "IN-district," a strategy that preserves and celebrates the historic context of the area by revitalizing it into a new center for culture, innovation and industry. Their proposal included presentation boards with drawings, site plans, tables and market-feasible financial proformas, and addressed details, such as parking, sustainability, job creation, changing demographics and overall development goals of the city. Although it's based on a hypothetical situation, the competition reflects many real-life concerns of Chicago.

"They were well-organized from the very beginning," said Don Carter, a School of Architecture faculty member and the David Lewis Director of Urban Design and Regional Engagement for the Remaking Cities Institute at CMU. "It may have worked to their advantage that they didn't know each other; they met at a mixer at the Tepper School. They represent a rich mix of experience, diversity and areas of study."
 
Carter, along with Valentina Vavasis, an adjunct faculty member in the School of Architecture, served as the team's academic advisers. The team members are Lola Ben Alon, a doctoral student in Architecture/Engineering/Construction Management (AECM); Shannon Iacino, a master's degree student in Sustainable Design; Varun Patel, a master's degree student at Tepper; Shruti Srikar, a master's degree student in AECM; and team leader Ernest Bellamy, a student in the Master of Urban Design program.

CMU's team visited Chicago in March to look at the actual site and to evaluate their proposal's effectiveness. They will make adjustments before presenting their final work on April 6 in Chicago.
 
Bellamy, the team captain, said "This experience has been personally rewarding because of the opportunity to work in a multidisciplinary team with individuals who have strengths and talents outside my own as an urban design student."

He said it was refreshing to see different perspectives on similar approaches.

"Everyone brings to the table their own specialties and insights, being able to share not only from their personal experiences working prior to graduate school, but also what they are currently learning from the dynamic staff of professors we have here on campus," he said.

The competition was created and funded by Gerald Hines, one of the world's premier developers. It offers graduate students the opportunity to engage in a challenging exercise in responsible land use. Carter, a former jury member for the competition, said the projects usually focus on large parcels slated for redevelopment that pose design, financial and social problems.

In addition to the CMU team, the finalists are teams from Université Laval (Quebec), the University of Maryland and the University of Texas.