March 29, 2017
TEDxCMU Speakers To Urge Pushing Boundaries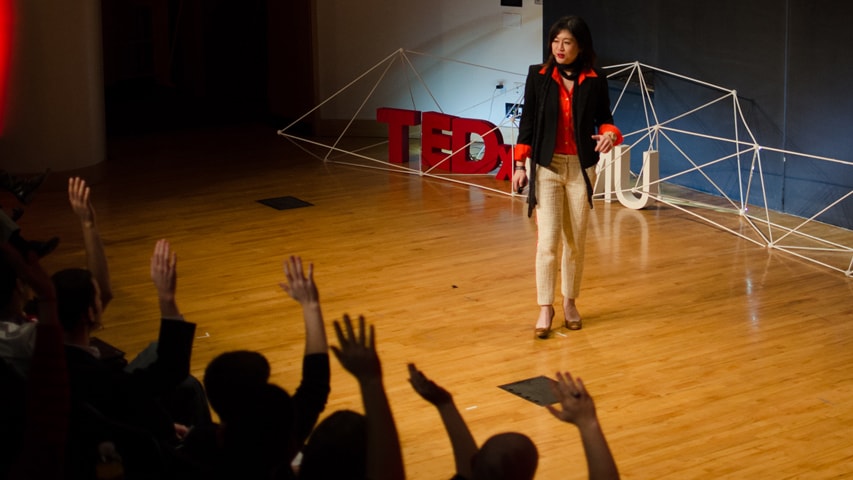 Jenn Lim spoke at TEDxCMU in 2013. Lim is the CEO and chief happiness officer of Delivering Happiness, a company cofounded with Zappos CEO Tony Hsieh to inspire science-based happiness, passion and purpose.
TEDxCMU 2017, a student-run conference designed to provide a TED-like experience, will be held on Saturday, April 1, at Carnegie Mellon University. The theme of this year's sold-out event is Pivot.
"To me, pivot means taking a change in direction that leads to improvement and innovation," Kishan Patel, a junior at CMU and president of TEDxCMU's team. "Through our theme, we hope that our speakers will inspire attendees to push the boundaries of their comfort zone and pursue their dreams."
Speakers in the series, including CMU President Subra Suresh, will offer talks on a variety of topics including photography, design, data science, happiness and artificial intelligence.
CMU faculty scheduled to give talks include Charlie White, head of the School of Art; Steven Chase, an assistant professor in the Center for the Neural Basis of Cognition and Biomedical Engineering; Rebecca Nugent, director of Undergraduate Studies in the Department of Statistics; Molly Steenson, an associate professor in the School of Design; and Jeff Schneider, research professor in The Robotics Institute and engineering lead at Uber Advanced Technologies Center.
In addition, the event will show two pre-recorded talks and performances by the Electro-Acoustic Ensemble and the CMU K-Pop Dance Club.
Nugent, associate department head for Statistics in the Dietrich College of Humanities and Social Sciences, said people need to embrace their inner data scientist and move away from the notion that data science is intimidating and only meant for a specific set of people.
"Humans do data science and statistics incessantly," Nugent said. "If I cross the street right now, will I get hit by that car? That's a probabilistic model of us looking at the car, looking at how much time we have and space and thinking, 'If I walk out right now, what is the probability? Am I safe?'
"We do this stuff all the time," Nugent said. "For some reason, we have this nervousness about seeing that we are skilled inherently in thinking about data and probability."
The first TED conference was a 1984 California event designed as a forum to share the best ideas in 'T'echnology, 'E'ntertainment and 'D'esign. It has since grown into a global movement.
The 'x' in TEDx signifies an independently organized event that aims to recreate the TED experience in which speakers give "the talk of their lives" on a local level.