March 09, 2017
School of Art Master Candidates Open "FAM," March 24
By
Lauren Goshinski
and
Pam Wigley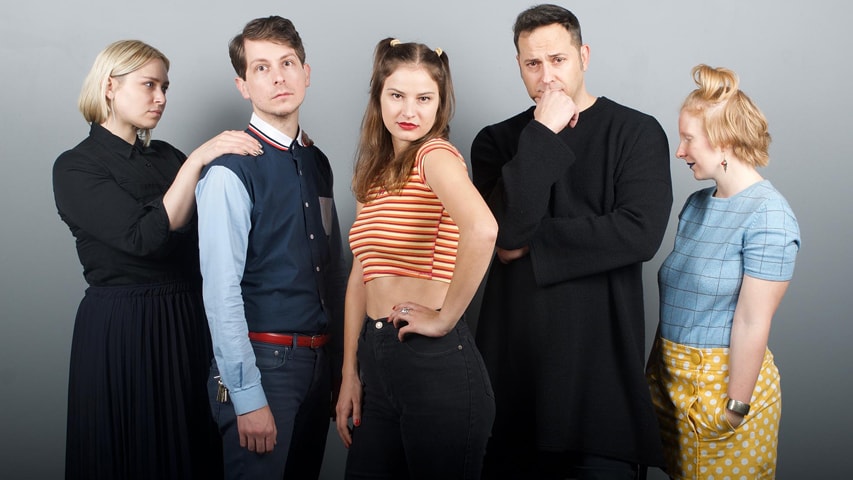 The MFA Class of 2017 (l-r): Kevin Brophy, Adam Milner, Hannah Epstein, Moses Williams and Brittany De Nigris.

Carnegie Mellon University Master of Fine Arts candidates will present their final work in "FAM," the School of Art's 2017 MFA Thesis Exhibition, opening 6-8 p.m. Friday, March 24, in CMU's Miller Gallery.
The free, public exhibition, which runs through April 16, features new work by artists Kevin Brophy, Brittany De Nigris, Hannah Epstein, Adam Milner and Moses Williams, and showcases large-scale installations, sculpture, video and augmented reality artworks.
The works will be introduced during "All There," an artist-led evening from 6-8 p.m. Wednesday, April 5, in the gallery.
"The concept of family has been hijacked by privilege, defined by heteronormative structures, and destroyed across decades of global expansion and individual attrition. So what is the family — the "fam" — that we claim today?" asked Charlie White, the Regina and Marlin Miller Professor and head of the School of Art.
"The reality of family is far messier than anything on screen; no credits will roll at the close of our days, no wardrobe changes will remove the stains of guilt and regret. A family fills this gallery, in all of the complexity, anxiety and turbulence of the real thing. This is Fam today," White said.
About the Artists:
Hannah Epstein (AKA hanski) is a folk-media artist working at the cross-section of textile and experimental games (#gamestallations #fyberspace). As a folklorist, Epstein's work reimagines ideas of authenticity and authorship through informal, bottom-up, storytelling techniques, which blur the line between "outsider art" and reified canon (#fauxcore). For FAM, Epstein proposes a vision of the new homemaking where a fictional family, The FamilyTM, livestreams their daily life onto YouTube. For Epstein, the home is no longer a private refuge, but an internet-connected, semi-public, performance space.

Kevin Brophy is a reality artist: An illusion trying to change the world. Her multidisciplinary practice mimics the cultural dominant to evaluate socio-political power structures and their effect on the individual. She is just a placeholder — not to abandon those who suffer shared prescription. With the increasingly pervasive Social we are now more identity than self. And, it is hard to say 'now,' to pretend like it is new. Through exaggerated forms of communication, she critiques in a satirical and self-implicating way. Magic Erasure Correctives is a transformation movie from the '90s. Queering product descriptions, bodies on affect: Micro-movements on QVC, micro-needling to breathe, micro-aggressions cut deeper. Some language to take back, and some language to defeat. Magic Erasure Correctives is full-on ambivalence — problematic in its dangerous prescriptive, too. And, it is set in dystopian futures now. A mirror shows the self and a small enclosed environment; a smartened mirror shows identity in an ever-expanding network. Our connection will never be lost. And, we are heterotopic, it's complicated.

Brittany De Nigris is currently building shelters and escape routes. Her fragile support-structures will inevitably release themselves in order to become something else; they are hovering (sometimes quivering) for now. Her recent practice has been an ongoing investigation into materiality shattering in an effort to define, for herself, a poetics alive within the substances surrounding us — a making and continuing of the world. Tear down the house and build a boat! is a daydream that extracts from times, places and words previously recorded, extracts from the ground and the air, and collapses these fragments together into one billowing moment.
Adam Milner points to a longing embedded in daily life, a desire to relate to material and social worlds, drawing from the hoard, the archive and the collection. He longingly searches for traces of bodies or signs of life in his everyday, and sometimes turns up empty; things begin to stand in for people, often replacing them. Obsessive documenting, gathering, or collecting results in archives, which confuse subjectivity, letting bodies become objects and things become people. The works stem from practices both social and hermetic — bartering for locks of hair from friends and strangers or collecting every belly button among thousands of magazines as a kind of clunky analog image search — and this duality exemplifies the blurred categorization of things. Indeed, often the bodies of objects blur with each other or with the people who cling to them. Bodies are porous things, absorbing their surroundings and leaving traces behind. The idea that the things of this world are active or vibrant is inherent in questions of archivability with artworks, or "contamination" when working with a pre-existing archive.

Moses Williams explores the murk of affectual and bodily relations that ranges from the subtle to the imposing, positing a kind of emotional anthropology. Working in sculpture, performance, video and installation, he confronts notions of intimacy, sensuality, ritual, loss, the uncanny and the spiritual. Through these co-mingling ideas and the use of often-disparate materials, his work explores the resonant, pliable and emergent qualities of day-to-day experience. In his projects, the familiar becomes complex, mutable and, at times, adverse in order to challenge dominant systems and taxonomies in contemporary western culture. The palpable, affectual, and emotive aspects that move in and amongst bodies and objects, are the central mode of his performances and the connecting thread of his practice. The act of engaging with materials and participants is a process of foraging for the unseen, opening new modes of understanding through direct experience. In FAM, Williams' sculpture and video merge to offer a conduit to another reality, an experiential narrative that reflects on potentials lying just beyond the expected. The work deals with themes of relationship, empathy and somatic awareness. It is to some degree a sci-fi meditation on enduring loss and suffering through intimacy and sensual experience.
Learn more about the exhibition and the March 24 reception.