March 29, 2017
Greek Sing
Fraternities and Sororities Unite To Support Children of Parents with Cancer
By Abby Simmons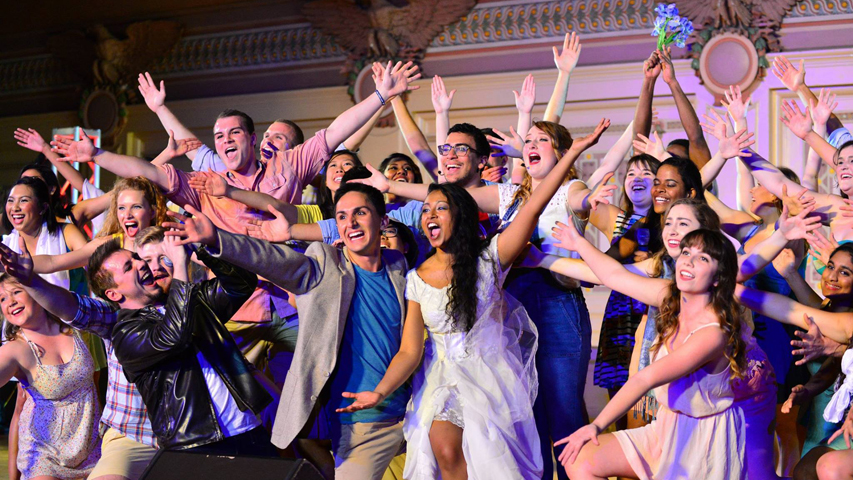 "Mamma Mia" is performed during Greek Sing 2016. Photo by Jason Chen
Carnegie Mellon University's Greek community is stepping up to help children cope while their parents battle cancer.
CMU fraternities and sororities have set a goal of raising $150,000 over the next two years for the university's Camp Kesem chapter, which trains college students to run and manage a free summer camp for children of parents with cancer. This year's fundraising effort culminates with Greek Sing at 5:30 p.m. Saturday, April 1, in Soldiers and Sailors Memorial Hall in Oakland.
The show, which features 13-minute musicals written and performed by students, will include Disney favorites "Hercules," "The Little Mermaid," "Moana" and "Peter Pan." Three original productions are on the playbill, along with Broadway hits like "Little Shop of Horrors" and "The 25th Annual Putnam County Spelling Bee."
CMU's Camp Kesem chapter, founded in 2014, hosts about 45 campers between the ages of 6 and 18 annually at Camp Sequanota in Boswell, Pa. Approximately 30 student volunteers run the camp, set for Aug. 13-19.
"There are a lot of CMU students, especially Greek students, who are counselors for the camp session over the summer. It's a good way for us to benefit a charity students directly work with here," said Greek Sing Co-chair and Sigma Chi brother Gus Henry, a senior who is majoring in information systems and human-computer interaction.
While some funds will help to operate the camp, part of the money raised from Greek Sing will help start a Camp Kesem chapter at the University of Pittsburgh. CMU chapter co-directors David Stone, a junior business administration major, and Ansley Sharna, a senior biological sciences major, will accept a check at Greek Sing along with a child and family who have benefited from the camp.
In addition to Greek Sing, many fraternities and sororities took creative approaches to fundraising this year. Delta Gamma bought more than 130 pounds of yams and hosted "Delta Yamma," an opportunity for students to send a message to friends written directly on a yam with an edible marker. Alpha Phi hosted a blacklight Zumba party, and Kappa Alpha Theta and Alpha Sigma Phi joined forces to sell fanny packs for Spring Carnival. Local restaurants also dedicated a portion of their proceeds to the fundraising effort.
Alpha Chi Omega sister Stephanie Kane sang and danced her way into the role of overall co-chair this year.
"It's my favorite night of the year to be Greek," Kane said.
The senior dramaturgy major used the experience to apply skills she developed in the School of Drama.
"I feel like I am able to offer creative solutions to a lot of problems the chapters are facing, like how to tell a story very quickly — especially a story that might be unfamiliar or challenging," Kane said.
Greek Sing involves the entire campus community. Schools, colleges and departments buy program ads, while alumni and parents often provide sponsorships. The Andrew Carnegie Society Scholars donated $2,000 to the event as part of their annual philanthropic program.
Faculty and staff serve as judges. This year's panel of judges includes David Kosbie, associate teaching professor of computer science; Lance LaDuke, artist lecturer in euphonium; Gizelle Sherwood, assistant teaching professor of chemistry; Shernell Smith, assistant director in the Office of the Dean of the Student Affairs; and Bonnie Younts, teaching professor of French.
Awards are presented for the best performances and the most money raised by a single chapter, but Greek Sing is a time when fraternities and sororities unite for a common cause and friendly competition.
"It's hard to be unfriendly when you are putting on a musical," Henry said.
Greek Sing Adviser Ashley Christ, a staff member in the Office of Student Leadership, Involvement, and Civic Engagement, has been impressed by how passionate the students have been about hosting a philanthropic show.
"It's not about, 'Let's have the best fundraiser, let's raise the most money.' It's, 'How can we support each other to help raise that goal and make a good impact?'" Christ said.
Tickets are available for advance purchase and will be available the night of the show. Doors open at 5 p.m.