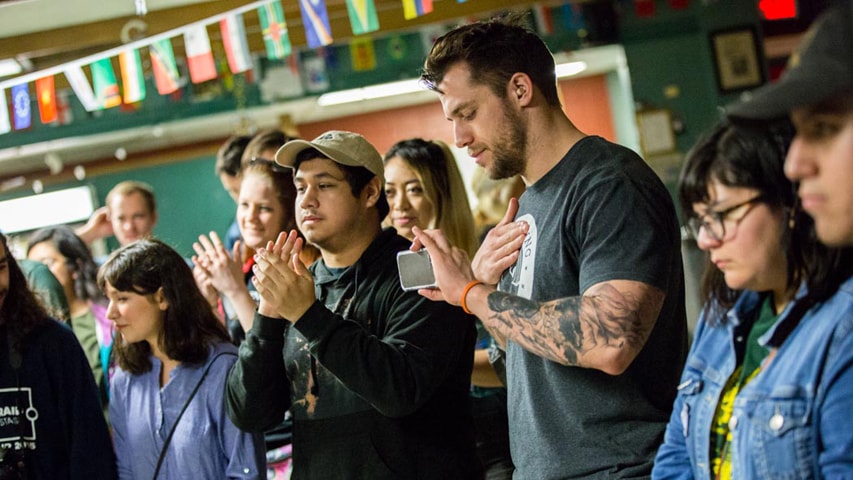 March 17, 2017
#CMUatSXSW
Carnegie Mellon Makes Strong Showing at Premier Entertainment, Technology Festival
By Laura Kelly laurak(through)andrew.cmu.edu
At times, South by Southwest seemed like southwest Pennsylvania.
"I love the Pittsburgh connection. It's a great town and Carnegie Mellon [University] is probably the best university for robotics."
That's what Steve Case, co-founder of AOL and co-founder and CEO of Revolution, said to CMU's Courtney Ehrlichman after her company, RoadBotics, a Carnegie Mellon spinoff that uses technologies to monitor and assess the need for roadway maintenance, took second place in the Mayors' Meetup Pitch Competition.
Loved hearing @SteveCase speak so highly of Pittsburgh and @CarnegieMellon, while pitching at @sxsw https://t.co/TaJmRgsYjp

— Courtney Ehrlichman (@c_ehrlichman) March 13, 2017
Companies like RoadBotics and a strong partnership with Carnegie Mellon were among the reasons Alex Pazuchanics, public policy adviser for the City of Pittsburgh, was invited to speak about the Smart City Initiative, an effort that aims to leverage advanced technologies to improve and enhance transportation and energy systems.
"[Pittsburgh's] challenge is two-fold. We are now growing and we're seeing an influx of population as a result of a transition to a technology-based economy anchored by the University of Pittsburgh and Carnegie Mellon University as world-class institutions for cybersecurity, robotics, advanced technology and advanced manufacturing," said Pazuchanics, who is also a student in the Heinz College's Master of Public Management program.
"Pittsburgh is small enough to get everyone in the room, but with our strong partnerships with CMU and Pitt, when we do, the world takes notice," he said.
Carnegie Mellon's Master of Entertainment Industry Management (MEIM) program participated and hosted several events throughout the week (March 10-16). Carnegie Mellon-specific programming included talks from industry leaders, such as 20th Century Fox, CBS Films and AOL.
"The sessions were really great," said Emily Ellis, a MEIM first-year student. "They pulled together people from different aspects of the film industry. We talked to people who did more of the analytical side of things looking at numbers and ratings, but we also heard from producers. One of them was Richard Gladstein who produced 'Reservoir Dogs' and 'Pulp Fiction.' It was amazing!"
On the interactive side of the festival, Carnegie Mellon hosted "Between Two Thistles," a takeoff on Zach Galifanakis' "Between Two Ferns," with Dean of the School of Computer Science Andrew Moore and Deloitte's Chief Technology Officer Mark White. Their conversation focused on artificial intelligence.
@CarnegieMellon thanks for having me. Love this program and these students.

— michael j lambie (@mjlambie) March 11, 2017
Anok Yerdi, a 2005 Heinz College alumnus and former Deloitte employee, was among the CMU alumni in attendance.
"Primarily, I came back to reconnect with everyone. Also, I wanted to learn about artificial intelligence. Look who spoke! It doesn't get better than this - the dean of Carnegie Mellon's School of Computer Science and the CTO of Innovation of Deloitte Consulting!"
What happens when you ask your phone a question? @CarnegieMellon @asms_edu @asmssusan @ASMS_Jayne @CareerPlanAU #SXSW #NVIUS2017 pic.twitter.com/ot0AgovksI

— Wendy Perry (@waperry) March 15, 2017
Moore also gave a talk, "AI in America: Preparing Our Kids," in which he emphasized computer science and programming can, and should, be accessible to all.
Moore said at the rate technology was advancing, a million current middle school students could each invent amazing new applications.