March 17, 2017
CMU Honors Renowned Feminist Artist Birnbaum with New Award
By Pam Wigley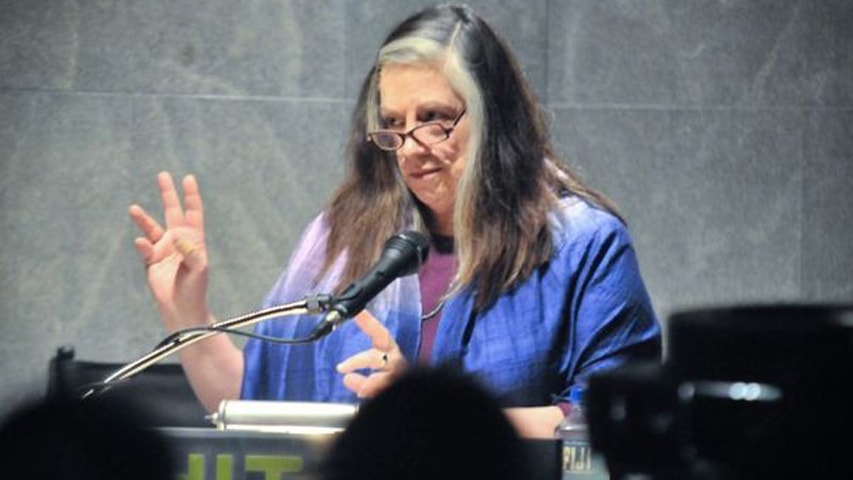 Dara Birbaum speaking at the Whitney Museum. Photograph by Tiffany Oelfke, curtesy of the Whitney Museum of American Art

Carnegie Mellon University's School of Art has created the Birnbaum Award in honor of renowned feminist artist and alumna Dara Birnbaum, a trailblazer and pioneer in the media arts since the 1970s. The Birnbaum Award will be presented annually to a graduating senior whose work exemplifies art at the intersection of media and technology.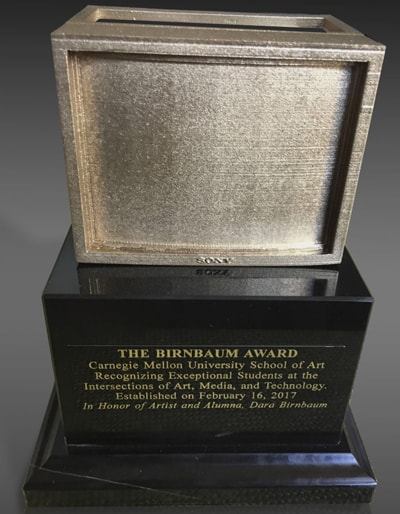 The award was announced during a reception at the Sky Room at the New Museum in New York City by Charlie White, the Regina and Marlin Miller Professor and Head of the School of Art.
"Dara's contribution to contemporary art's discourse is fundamental to how we understand the effects and influence of media in mass culture today," White said. "It is our honor to create this award, which will serve to recognize a graduating senior each year who carries on Dara's tradition of creating exemplary work that bridges art, media and technology."
Birnbaum's work was recently featured at CMU's Miller Gallery in an exhibition titled  "Hacking / Modding / Remixing." Curated by Angela Washko, a visiting assistant professor in CMU's School of Art, the exhibition featured 22 female artists, designers and developers, and showcased their technology-driven and sometimes humorous work, channeling feminist voices from the 1970s to today.
"Kiss the Girls, Make them Cry," the 1979 seminal video work by Birnbaum, manipulates off-air imagery from the television game show "Hollywood Squares" (1966-1981). The work, she said, is "amongst the very first media art works to address the language of popular television and Top 10 songs. Its unusual and bizarre repetition of that television banality still rings as true today."
Birnbaum, a 1969 graduate of CMU's School of Architecture, said while a new generation of artists is providing commentary on contemporary mass media, a more critical social commentary - especially in regard to women - has yet to be confronted.
"Voices from a younger generation of women artists will, hopefully, again select and dissect those images that now dominate the mass media. The challenge remains to gain control of the imagery, revealing its hidden agendas and to formulate alternative voices and visions," she said.
White said Birnbaum's work serves as a catalyst for CMU students.
"They will be honored to carry this award with them from Carnegie Mellon, just as we at the university are honored to call Dara Birnbaum an alumna who truly serves as an inspiration to us all," White said.