March 23, 2017
Athletes, Actors Sport Dramatic Connections
By Brendan Donovan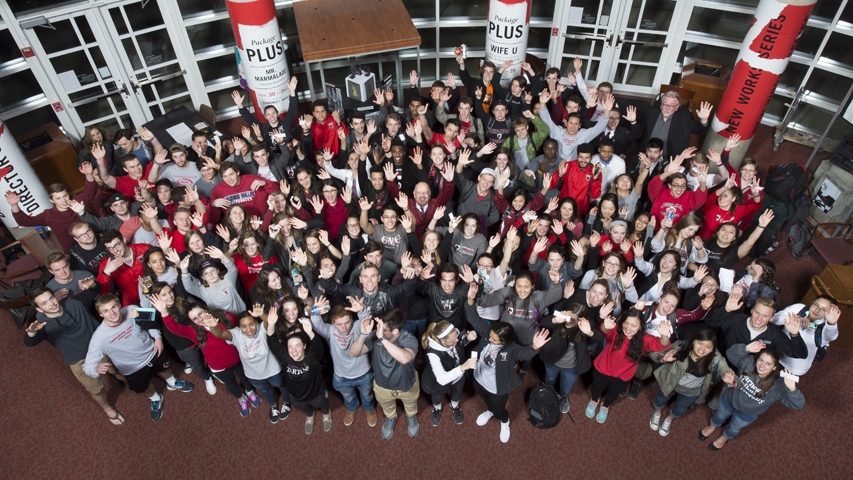 Although they may seem worlds apart, drama students and student-athletes are performers, and at Carnegie Mellon University they are connecting now more than ever.
 
Thanks to a suggestion by the Student-Athlete Advisory Council (SAAC), a program evolved that helps these two student groups see how similar they really are. At a SAAC meeting in late 2016, Joshua Centor, director of Athletics, Physical Education and Recreation, and CMU Provost Farnam Jahanian were inspired by student-athletes' comments about attendance at their games.
 
Centor said the students wanted to see more people there, so they started brainstorming ways to see greater school spirit within the university community. That led to the idea about other student groups attending sporting events if the student-athletes returned the gesture. The idea grew into "Tartan Night at the Theater" and, eventually, became a ticket exchange between the School of Drama and the Department of Athletics.
 
"The motivation is simple. There are incredible things happening on this campus, and the ambition is to expose our students to as much of that richness as possible," Centor said.
 
Working with School of Drama Head Peter Cooke, Centor planned for the athletes and the drama students to take turns attending each other's "performances," in this case, a basketball game (CMU vs. NYU) and a production of the spring musical, "Ragtime." At each event, students, faculty and staff had time to interact, helping them to develop a greater understanding of each other's hard work and dedication to their practice.
 
"I think doing this sort of exchange is awesome," said Jason Cohen, a senior stage management major. "We spend a lot of time in the theater, and it's good to get out and see other things."
 
Prior to the basketball game the groups gathered for a pizza party, and they quickly found common ground. Before "Ragtime," students and staff gathered for a group picture in the Purnell Center lobby, and many athletes stayed after the show for a talkback with cast and crew. 
"I haven't had time to get out to a lot of the drama productions, so I was really looking forward to this," said Ryanne Ege, a freshman business major on the women's soccer team.
 
"The athletes are trapped in the gym like we are in our work. So it's great to share our experiences, which, when you look at them, are very similar," said Alexis Chaney, a graduate student in costume design. "I hope this sort of thing happens more often."
 
Cooke also recognized the similarities and was very happy with the exchange.
 
"Athletics and theatrical practice are both highly disciplined activities that, in turn, share a raft of traits including exemplary stamina, skill, determination and personal courage," he said. "This was a wonderfully like-minded collaboration."