March 27, 2017
Arts Greenhouse Shares Power of Art, Music with Local Youth
By Pam Wigley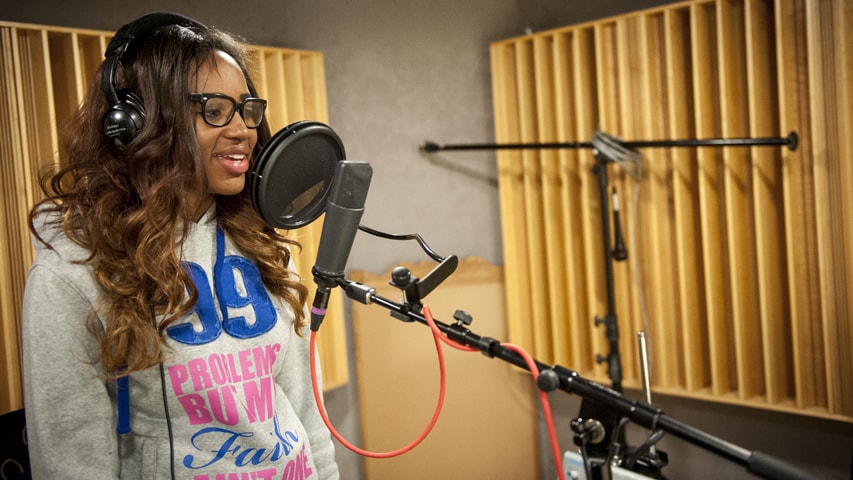 Arts Greenhouse participant Destiny Callwood works on a song in the Vlahakis Recording Studio.
Shad Ali may not have a green thumb, but things are thriving in his greenhouse.
Ali is the head instructor/music mentor for Arts Greenhouse, an organization dedicated to changing the lives of young Pittsburghers by enabling them to tell their stories through creative expression. Using poetry, hip-hop, the humanities, drama and music — among other art forms — Ali is helping students to fine-tune their talents and find ways to share their gifts with each other and the community.
"The program is about trying to get these kids to bring out their artistry," said Ali, a Pittsburgh native who has been in his mentorship role since fall 2016. "Creative self-expression is something being looked at in school systems across the country. It expands minds and learning capacities, and this program allows that to happen."
"I've seen firsthand the power of art and music. It means a lot to the kids to find their own great gifts and share them, whether they're performing or behind the scenes as producers and engineers in the studio." — Shad Ali
Originally a program within Carnegie Mellon University's Center for the Arts in Society, the Arts Greenhouse has grown since its founding in 2002. Students in grades 6-12 from throughout Pittsburgh gather in CMU's College of Fine Arts every Saturday from 1-5 p.m. They participate in workshops that focus on social issues and the arts, taught by visiting professors from within the university, student volunteers and professional artists from Pittsburgh's burgeoning hip-hop community.
Perhaps their favorite part of the program, though, is when they hit the Vlahakis Recording Studio and work toward producing an album that's the culmination of their time within the program. They also perform on campus and in the community.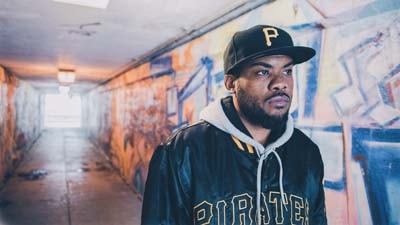 Shad Ali
Riccardo Schulz, a teaching professor in the School of Music, also works with the Arts Greenhouse and manages the recording studio, which is used by musicians from the CMU community and the broader Pittsburgh region.
"The Recording Studio at Carnegie Mellon is a wonderful resource for creative musicians," Schulz said. He said over the years the Arts Greenhouse participants have formed friendships and their own community to support each other.
"They get to express themselves and show rapid progress in developing their thoughts and ideas. To work in a professional recording studio is a huge benefit for them as they take part in this process, and a source of pride, because they can share their art with friends and family through the recordings they make," he said. "I'm constantly amazed to see their individual strengths in character, their outlooks on life, their interest in social issues, and how inspiring they are as young people the challenging world of today."
Stefano DiDonato, a senior at Pittsburgh's Creative and Performing Arts School, started at Arts Greenhouse when he was in eighth grade. He mostly records students performing and found his love for the art of engineering and mixing a couple years after coming to the program.
"Arts Greenhouse is a great program for anyone who wants to explore their talents and work on them because there are a lot of artists in Pittsburgh and people necessarily don't know about them," he said. "This is a great outlet for them to express themselves."
DiDonato said he has learned a lot from Arts Greenhouse's instructors, and he'll miss that knowledge base when he graduates.
"We go really in-depth with these conversations that you usually don't get anywhere else," DiDonato said.
The program introduces students to the arts, although Ali said it's sometimes hard for students to travel to Carnegie Mellon on a weekend when public transportation services are running on a limited schedule. To be more accommodating, he said, there's been talk about moving the meeting to a weekday to make it easier for more students to participate.
Ali works hard to introduce students to the Arts Greenhouse, cultivating new members by contacting school representatives and meeting students at the hip-hop classes he teaches at the Obama Academy of International Studies on Tuesday afternoons. A rapper, Ali performs throughout Pittsburgh and says his work is inspired by "life happenings," which he calls "the driving force behind my work." It doesn't hurt that he was born into the arts; his father was a painter, sculptor and "all-around artist."
"I've seen firsthand the power of art and music," he said. "It means a lot to the kids to find their own great gifts and share them, whether they're performing or behind the scenes as producers and engineers in the studio."
Interested people can learn more by e-mailing Ali at shadali320@gmail.com or by visiting the Arts Greenhouse website.