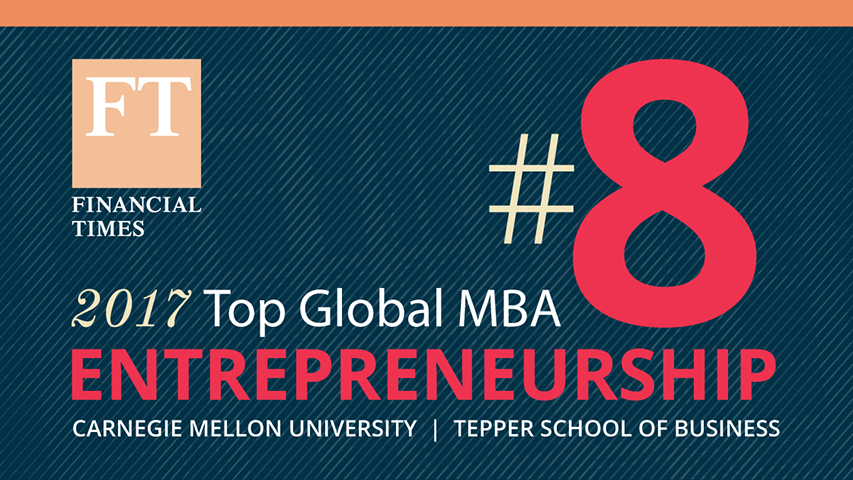 July 03, 2017
Tepper School of Business Ranked #8 in Financial Times Ranking of Global MBA Programs for Entrepreneurship
Swartz Center for Entrepreneurship is key driver of school's #6 slot among U.S. business schools
The Tepper School of Business at Carnegie Mellon University was recognized as the eighth best MBA program for entrepreneurship in the 2017 Financial Times global rankings.
The ranking is based on information gathered from surveys of business schools and their graduates from the class of 2013 as part of the 2017 Financial Times Global MBA Ranking. Among the U.S. schools ranked, the Tepper School placed sixth in the nation.
The MBA programs were ranked on 12 weighted criteria, including the percentage of MBA graduates who started a company, the proportion of companies that were still operating at the end of 2016, and the extent to which the skills gained during the MBA encouraged entrepreneurs to start a company.
"We are honored by this recognition and are proud that our track record of creating innovative startups is receiving global attention," said Robert Dammon, dean of the Tepper School. "Our success in the entrepreneurial arena is a reflection of the culture of innovation and collaboration that exists on the Carnegie Mellon campus and magnified by CMU's Swartz Center for Entrepreneurship."
The Swartz Center for Entrepreneurship, the university's innovation hub for students, faculty and alumni, will accelerate its activities in fall of 2018 with the opening of the Tepper Quad. The Tepper Quad, situated at the center of Carnegie Mellon's campus on a 4.5-acre space, represents a new model for collaboration and inter-connected research, teaching and learning.  
"This ranking is a testament to the entrepreneurial renaissance that is taking place in Pittsburgh," said Dave Mawhinney, executive director of the Swartz Center for Entrepreneurship. "The region is transforming and becoming a national role model for incubating technology startups."
Of the entrepreneurs in the Tepper Class of 2013 who were surveyed, 92 percent were continuing their enterprises at the end of 2016. Sixty-four percent of the entrepreneurs raised at least one-third of their equity via private investors, and 33 percent used their company as the main source of income. This is the first time the Tepper School has been featured in the Financial Times ranking for the top MBA programs in entrepreneurship.
One of the early pioneers integrating entrepreneurship in its curriculum, Carnegie Mellon has launched more than 200 startups in the last decade.  Among the hundreds of niche and national companies launched are ModCloth, acquired by Wal-Mart in 2017, Simple, acquired by BBVA in 2014, LearnBop, acquired by K12, Inc. in 2014, BlackLocus, acquired by Home Depot in 2012, RoBotany, Wigle Whiskey, and Flip Video Camera, acquired by Cisco in 2009.
A 2016 startup success story, RoBotany is a company transforming modern agriculture with its smart indoor produce farms that are herbicide, pesticide and chemical-free…and run by robots. "The entrepreneurship ecosystem at Carnegie Mellon University is the best in the world," said Austin Webb, Tepper MBA '17 and CEO of RoBotany. "Tapping into my MBA network helped us raise more than $750,000 in seed capital from firms founded by CMU and Tepper School alumni. We anticipate even more support in our upcoming Series A. This kind of support is making our dream a reality."