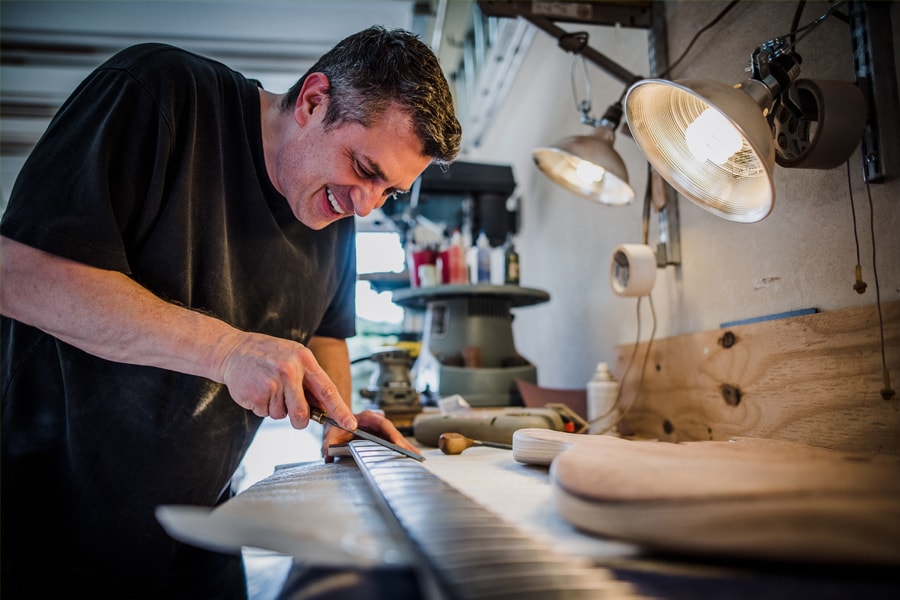 July 27, 2017
Alumnus Devon Smullen is All About That Bass
Carnegie Mellon University alumnus Devon Smullen's works of art are made to be played. His handcrafted bass guitars are strapped on by bass players worldwide, including Demonterious Lawrence, who has played bass for the Grammy-Award winner rapper Kendrick Lamar and Avery*Sunshine.
Other notable bassists using Smullen's instruments are Aaron Sands from the Grammy-Award winning band Jars of Clay; and Andy Irvine, who has toured with more than 25 artists internationally and contributed to more than 50 albums.
Each bass guitar that Smullen creates takes up to 120 hours to produce as he combines the beauty of resonant woods with design innovations. His instruments' features include rounded, comfortable fret boards; curved knob configurations that echo the instruments' visual lines; aesthetically pleasing recessed knobs; and ingenious wooden, magnetic electronic covers.
It all results in what Irvine describes as a one-of-a-kind tone, playability and aesthetic.
"It really comes down to the soulful personality of Devon's instruments — that is the intangible, that is the magic," Irvine said. "It is the soul, touch and vibe that sets them apart. I experience creative inspiration every time I pick up my custom Devon bass."
Smullen crafts two to three instruments each month, depending on complexity. Customers contact Smullen through his website to purchase a bass in finished inventory or have one custom built.
Smullen said he first explored his artistic talents at CMU's College of Fine Arts (CFA), where he earned his undergraduate degree in 1990.
"I started my whole art career at CMU," he said.
As an art major and music minor, he produced his first bass design, hiring a local Pittsburgh maker for the build. Eager for more, Smullen enrolled in an independent study to build one himself and found his calling.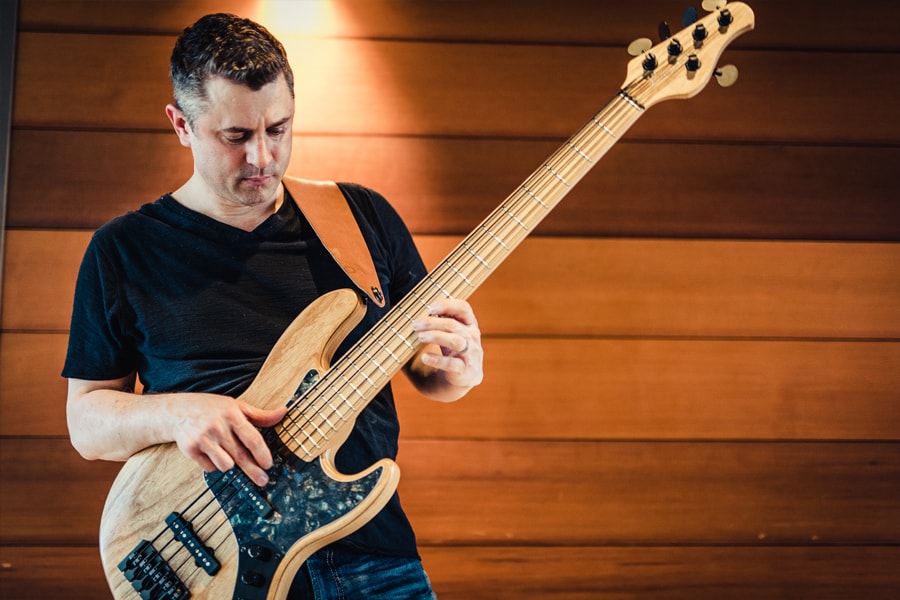 "When you're working with other people who are very talented, it makes you push yourself to excel in ways that on your own, you normally wouldn't." — Devon Smullen
Smullen credits CMU's culture of innovation, exploration and excellence with helping him to achieve his goals.
"When you're working with other people who are very talented, it makes you push yourself to excel in ways that on your own, you normally wouldn't," Smullen said. "And the talent didn't stop in CFA. There were so many intelligent people who I worked with — the professors, the students — and they really had that spirit of innovation about them. That is one thing I really, really remember about CMU."
Smullen said the then CFA dean, the late Akram Midani, called him in for a meeting prior to graduation. Midani complimented Smullen's talent, and reminded the student of the importance in exploring the world, trying new and different things.
"What he said really foreshadowed what has happened in the art culture," Smullen said. "The definition of art has moved beyond things that hang on the wall and become something that takes so many forms. I see bass making as just one of those forms."
CFA Dean Dan Martin agreed.
"Devon exemplifies how many of our graduates put to good use their multifaceted fine-arts education," Martin said. "Outlets for creativity have no boundaries."