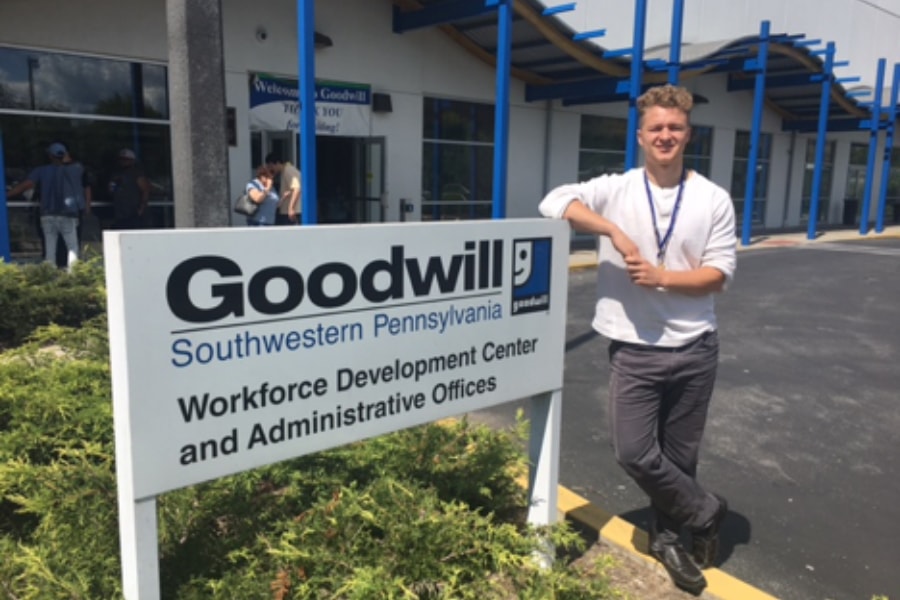 July 27, 2017
Internship Offers Goodwill Opportunities
By Sabrina Bodon
Media Inquiries
Mara Falk
Tepper School of Business
Quinn Zsido, a Carnegie Mellon University junior, is spending the summer working as a strategy consultant intern at Goodwill of Southwestern Pennsylvania.
Zsido, who is majoring in business administration and marketing with minors in social and decision sciences and Arabic, spends his days traveling across the region helping Goodwill with its hiring process and promoting effective communication between departments.
"One moment I am on site in a recyclables processing plant, hard hat and glasses on with notepad in hand, next I am interviewing an executive back at the office carving out the next best workforce opportunity," said Zsido, an outside linebacker for Carnegie Mellon's football team. "I have been dealt a great deal of responsibility as the position puts me at the forefront of the solution, but that just makes the opportunity more exciting."
Tepper School undergraduate students are recruited for internships from organizations across the country. The experience provides them with a competitive advantage when they graduate.
"Internships are an important part of the Tepper student experience," said Burton Hollifield, head of the Undergraduate Business Administration Program. "Students gain valuable real-world experience applying and implementing the concepts and tools they learn at Carnegie Mellon. Employers and graduate schools now highly value students with such experiences."
Zsido agreed that the Tepper School focus on real-world skills has helped him in his internship, in which he uses analytical and communication skills daily.
"Tepper really pushed those skills, and it goes a long way. If you can't communicate or network, it doesn't matter how talented you are," Zsido said.
Between football practices and games during the school year, Zsido participates on the Student-Athlete Advisory Council and the Undergraduate Marketing Club, and he is co-president of the Arabic Student Organization.
Zsido said he wants to leverage his academic experiences at Carnegie Mellon to find a marketing or consulting job in the Middle East. One of seven siblings, he has never stepped foot outside of the United States, but he hopes his experience studying at CMU-Qatar next spring can be a stepping stone for his future.