January 20, 2017
Experts To Discuss Teaching English to Non-Native Speakers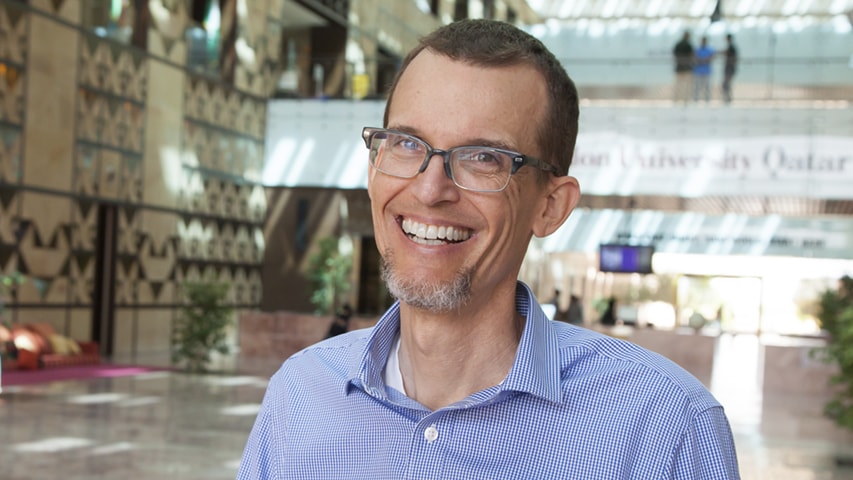 Carnegie Mellon University's Dudley Reynolds will lead policymakers and industry professionals at ​a February summit in Athens, Greece, to discuss the future of teaching English to speakers of other languages.
Reynolds, a professor of English at Carnegie Mellon in Qatar and president of Teachers of English to Speakers of Other Languages (TESOL) International, said the Feb. 9-10 summit, will also mark 50 years of the TESOL International Association.
"There's no question that the number of people speaking or learning English is increasing exponentially, and that change isn't going to stop anytime soon," Reynolds said.
"What it means to know English — in other words, what the standards are, what the rules are, what the normal way is to say something — those rules and conventions are changing rapidly. That's something we have to acknowledge and talk about."
Carnegie Mellon jumpstarted its English language teaching expertise when the university opened its Qatar campus in 2004. Reynolds arrived on the scene in 2007, having been recruited by David Kaufer, then head of Carnegie Mellon's Department of English, and Danielle Wetzel, director of the university's first-year writing program in Pittsburgh.
"Opening the campus in Qatar forced the issue," Kaufer said. "It was time for us to come to grips with the fact that while we have a writing program that is perhaps one of the best American writing programs in the country, we now needed to aspire to be one of the best writing programs in the world for global English."
And that cannot be accomplished by assuming everybody is going to write and speak American English, Kaufer noted.
"More and more people every year are speaking English and making English their own," he said. "We have to accommodate the fact that many of our students coming from other countries will never speak the exact English the inner circle speaks."
One challenge non-native speakers face is that the English language is filled with idioms tied to American culture.
"Understanding the meaning of phrases such as 'spill the beans' or 'let the cat out of the bag' is vital background for understanding even a simple newspaper article," Kaufer said.
Another aspect of teaching English to non-native speakers is helping international students acclimate to the American classroom.
"The American classroom is very different from many classrooms worldwide," Wetzel explained. "In Pittsburgh we had many international students who never raised their hands in class because in classrooms from some parts of the world, there is little to no discussion. If students were to raise their hands in those classrooms, that behavior could be interpreted as an inappropriate interruption."
Wetzel's mother was not born in the U.S., so she has seen firsthand how language can lock or open doors for people. She has been helping to build a team and a curriculum that can address the needs of CMU's international student population in Pittsburgh, which has nearly doubled in a decade.
She and Reynolds also are part of a Simon Initiative effort in writing and communication, co-directed by Kaufer and Richard Scheines, dean of the Dietrich College, to increase access to writing and communication-related experiences across the Carnegie Mellon system.
"We're often talking about excellence at Carnegie Mellon, and wow, if you're a student here who speaks multiple languages in addition to having amazing technical skills, you are going to be far ahead of students who aren't multilingual," Wetzel said.
"Our challenge is to get students to connect the importance of good communication skills to their future goals. Of course, this challenge is not unique to our multilingual students only," she added.
Kaufer framed the importance of communication skills in a larger context.
"As important as the technical skills are, and they are very important, what also determines growth in a profession is one's soft skills — one's ability not only to speak and write and communicate visually but to work well in diverse teams and even lead them," he said.
With respect to the design of English courses for Qatar, Reynolds said the priority is always to teach what the student needs, and that means understanding their current level of knowledge, their current competency in English, and the ways in which they need to use English.
"In a university, the kind of writing a student of business does is different from the kind of writing a computer scientist does," he said. "One is market plans. The other is a research report. When you've got both students in your course, how do you give them a foundation that will start them on the road to doing well in their specific disciplines?"
As an English professor, Reynolds enjoys working closely with colleagues in computer science, business, information technology and biology.
"I'll have a computer scientist come and say, 'Hey, can you take a look at this writing assignment?' or 'I'm not sure how to evaluate my student's writing.' Or sometimes it's me asking them, "What would be a good assignment for a class that would be interesting to a computer scientist?'" Reynolds said.
"It's a synergy that is very exciting. The Qatar campus is a sort of laboratory for higher education and what higher education can be, and I love that about it," he added.
Kaufer and others are building on this momentum, based on the knowledge that there is a global marketplace for people who can teach English as a second language.
Students concentrating in English as a Second Language in the Masters in Applied Second Language Acquisition program can obtain a TESOL certificate to enhance their teaching opportunities abroad. Doctoral candidates can obtain a TESOL certificate as an add-on to their degree.
Reynolds is excited about the ideas that will develop from the TESOL Summit and stressed that while someone may be a language learner, it has no relationship to their intelligence.
"They may be struggling with English but, especially if they've been admitted to CMU, they are an incredibly bright individual who knows a lot, who has a lot to offer the world," he said. "You've got to be careful not to let judgments about language ability cloud your judgment about them as an individual."
Those who wish to participate in the summit and online discussions are invited to register online.