January 26, 2017
Peter Cooke Named Member of the Order of Australia
By Erin Keane Scott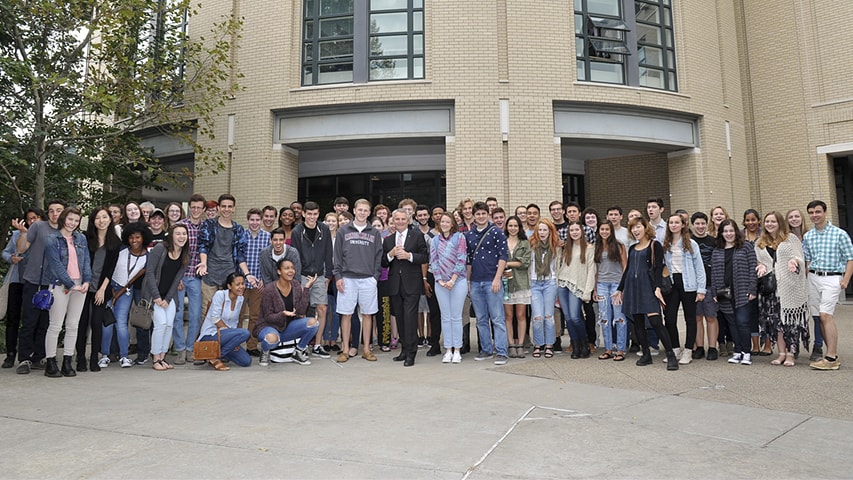 Peter Cooke, professor and head of the Carnegie Mellon University School of Drama, was named a Member of the Order of Australia in the Australia Day Honors List, which was announced today from the residence of the Governor General in the Australian capital of Canberra.
The Order of Australia is an order of chivalry, established in 1975 by Queen Elizabeth, II as a means to recognize Australian citizens for achievement or meritorious service. To receive this honor, one must be nominated by a fellow citizen. The Council of the Order of Australia reviews these nominations and makes recommendations for the awards to the government.
"The recipients of Australian honours and awards are very special men and women whose actions have set them apart and enriched our community across a broad range of professional, public and community service sectors," wrote Governor-General of Australia, Sir Peter Cosgrove.
"In their daily lives, these admirable people demonstrate those values that we as a nation hold dear-compassion, civility, dedication, courage, kindness, tolerance, and energetic ambition. They inspire us all to be more enthusiastic and giving, to uphold the responsibility of being fully engaged citizens."
Cooke is an internationally recognized theater practitioner, administrator and educator with more than three decades of experience in Australia, Asia, the U.S. and India, where he has been a visiting professor at the National School of Drama for the past 14 years.
"It is a great honor to receive this award," Cooke said. "I'm filled with pride for my country and am humbled to be considered among those helping to enrich the culture of Australia at home and here in America."
Cooke was awarded the Medal of the Order of Australia (OAM) in 2008. Today he was elevated to Member of the Order (AM), for "significant service to the performing arts, and education, as an academic and administrator, particularly theatre and dance."
"It is no surprise that Peter Cooke would be presented with an honor of this magnitude. He is a tireless and passionate advocate of the School of Drama, the College of Fine Arts and Carnegie Mellon University," said Dr. Subra Suresh, President of Carnegie Mellon University. "His professional and leadership activities have had a profound impact on the School of Drama and Carnegie Mellon."
"Dr. Cooke is one of the best heads of school I've known in my nearly 25 years at Carnegie Mellon and so deserving of this honor," added Dan Martin, dean of the College of Fine Arts. "Under his leadership, the School of Drama has solidified its position as the leading theater education center in the United States."
This honor will be conferred upon Dr. Cooke in a ceremony in Sydney in May.